Weather Eye
with John Maunder
Apart from the exceptional rainfall of 634 mm in May 2005, the graph shows a small decrease in overall May rainfalls over the last 120 years when two recent adjacent 50-year periods are compared. The rainfall for Tauranga for May 2018 was 71 mm.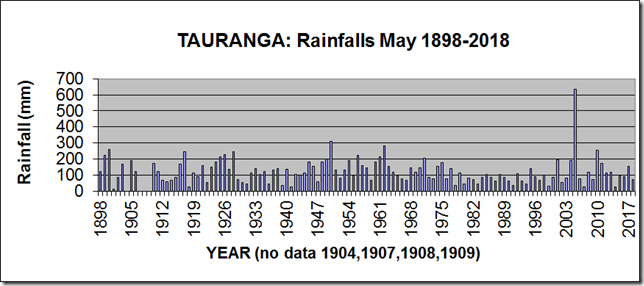 Since 1898, there have been 14 May months with a rainfall of 200 mm or more. In chronological order, the wettest May months are: 1899, 1900, 1917, 1925, 1926, 1928, 1949, 1950, 1956, 1961, 1962, 1971, 2005, and 2010.
In terms of dry May months, there have been only nine May months with a rainfall of less than 40 mm.
In chronological order, the driest May months are: 1901, 1918, 1939, 1941, 1978, 1991, 1999, 2007, and 2014.
Of particular significance is the exceptional rainfall in May 2005. I estimated that such a rainfall is likely to occur in Tauranga only about twice in every 1000 years.
This suggests that central government should have had a much more important role in the financial implications of these floods, which affected many areas of Tauranga in May 2005.
For further information see: https://sites.google.com/images/climatediceandthebutterfly/