Rogers is incommunicado this week, out on the high seas catching his dinner. So we've got a guest writer to pen some letters on letters.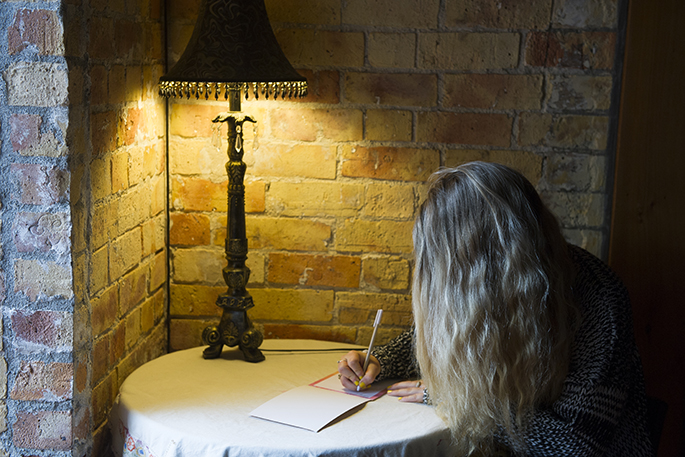 It was an innocent note penned after a high school graduation dinner one night in October 2011.
"Hullo my dear. Today I finally actionised (is that a word?) what I have been trying to do for a long time."
On the face of it, unexceptional. But fascinating because it's a very personal letter to someone the author hadn't met and might never meet. A future lover, suitor, perhaps even a husband.
"Letters and photos won't come every day," she told the phantom Mr Right. "But I will try to write and snap as frequently as possible. Love you, Cayla xxx."
And her expectations of Mr Right? "Absolutely none," she says. No tall, handsome, chivalrous prince of happiness walking into her life and sweeping her off her size sevens. "Just someone to adventure with, someone who loves me, someone to love," she explains.
Seven years later, the note is still in its envelope, unaddressed, unstamped and unposted along with another 119 very intimate and romantic letters in seven bundles – one bundle for each year.
"I just really like letters and notes," says Cayla, "and if I get a gift, I'm more interested in the card that comes with it."
This story started with a chat about the cost of a postage stamp and NZ Post struggling in an online world – deliveries just three days a week and the cost of a stamp rising "to cover significant revenue loss".
Because letter volumes have declined at a rate of approximately 60 million items a year, letters have become anachronisms in a time of text messages and emails.
But there are bastions of consumer support, and people battling for New Zealand Post – like one old buffer in Bureta who refuses to give in to corporate pressure to pay his bills online.
"They warn about bills getting lost, incurring late payment fees, bills getting wet. Well bunkum! They just want to save on a stamp."
So what about the sheer joy of a letter? Author Richard Carlson reckoned picking up a pen to write a letter "slows you down long enough to remember the beautiful people in your life" and "helps fill your life with pleasure and thanks".
A real letter that is – paper, ink, envelope and a kiss to seal. Someone has taken the time and made the effort to commit their thoughts and feelings to paper – their love, their sympathy, their gratitude, their hopes and dreams – and posted it.
And they have chosen you to be the recipient. There may be added treasures, a photo perhaps, a clipping, a lock of hair, a rose petal, a sticker or a $50 note.
Napoleon Bonaparte was a statesman and a soldier. He was also a prolific letter writer, and a very randy one at that. He would fire off steamy missives to all of his loves.
"How happy I would be if I could assist you at your undressing" he wrote the socialite Josephine Beauharnais. "The firm little white breasts, the adorable face, the hair tied up in a scarf a la creole."
Would that message have been better articulated in a natural flowing writing hand or Calibri Light in an email?
"Kisses on your mouth, your eyes, your breasts, everywhere, everywhere." No love, just lust. But the letter worked. She became Napoleon's first wife, and she also became first Empress.
A more famous letter was penned by Martin Luther King Jr, when he was banged up in Birmingham Jail for participating in a civil rights demonstration. Fellow clergymen urged him to drop his campaign of nonviolent resistance and leave the battle for racial equality to the courts.
King had time to ponder and respond, so he wrote a letter – a now very famous one – described as a bristling statement against social injustice, a rallying cry against social discrimination.
"We know through painful experience that freedom is never voluntarily given by the oppressor; it must be demanded by the oppressed. Justice too long delayed is justice denied."
There was another letter, written on the outside, and a much more humble one. The author was a young reporter who, aged 24, left his family home in Dunedin for a career in Auckland. He phoned home each week.
"Tortuous conversations about how safe the harbour bridge was, how you're more likely to be murdered in Auckland, and the weather." But his Mum craved a letter, "a decent letter", and she would harp on. "Don't they sell stamps in Auckland?"
So he grabbed a roll of teleprinter paper, banged out a 12 metre letter of banalities on his Olivetti portable and posted it off in a cardboard tube. Not the world's longest letter at 290 metres, but enough to stop the complaints.
The letter is probably the most simple and heart-warming way of telling someone your exact feelings, of expressing yourself. And so the letter became a valuable tool for "Clarice".
"I would struggle to articulate my thoughts in a discussion," she says, "so I started writing down my thoughts to get my point across clearly and concisely."
She did this with her parents when she had issues or concerns, "to the point that when I came out as bisexual, I told my parents in a letter and I left it on their bed to read while I went out."
Clarice says her letter enabled her to raise a sensitive issue without that initial sense of confrontation. It also gave her parents time to gather their thoughts, "because often people react in a completely different way when they haven't had time to process it".
It worked. "Mum and I ended up crying, and she told me she would love me no matter."
There are many famous letters, such as the one from Gandhi to Hitler which read: "Will you listen to the appeal of one which has deliberately shunned the method of war." Gandhi could have saved himself a stamp.
Then there's Queen Elizabeth who, while writing to President Eisenhower who had developed a liking for drop scones after a visit to Balmoral Castle, said: "I never sent you the recipe of the drop scone. I now hasten to do so." A good scone is the business of supreme commanders.
Allegedly, the FBI wrote to Martin Luther King and said: "King, look into your heart. You know you are a complete fraud and a great liability to us all." History and a Nobel Peace Prize tells us otherwise.
On Sunday, December 10, 2017, almost six years to the day after penning the first of her 120 love letters, Cayla wrote the last.
"So this is it," it reads. "Today I am a bride. Today I am YOUR bride." Mr Right had happened along. "To be honest, I don't know how I feel. I am both excited and nervous," she told him.
But she had found her someone to adventure with, someone who loved her and someone to love. "If you have read this far, congratulations. And hey, it was fun. I love you."
We all love a letter that ends well.