Winston Watusi
Music Plus
As Matariki events continue, calls are out to create a public holiday.
This isn't a new thing. Just as Matariki rolls round annually so do voices asking for it to be recognised as a new holiday.
Each year they get louder.
Many people now seem in favour of skipping Queen's Birthday and instead shifting the holiday to Matariki.
After all, the first Matariki stars appear only a week or so after the Queen's Birthday holiday. As Stuff journalist Glenn McConnell pointed out: "Queen's Birthday is the worst public holiday.
"It is not the Queen's birthday and no one gets any presents."
There is certainly a good argument that we have failed to properly recognise Māori holidays or moments of significance.
Quoting Glenn again: "Waitangi Day is the only holiday which realises people who aren't Pākehā also live in New Zealand."
I suspect this issue isn't going away. All sorts of Matariki events have already taken place and there's another this weekend at the Historic Village where Auckland group Wai.Tai take up residence for the day on Sunday (July 14), firstly running an afternoon workshop, then performing an evening concert.
Wai.tai
Wai.Tai is a collective of musicians under the direction of Robyn Kamira, who writes in both Te Reo Maori and English, while fusing world music with Maori rhythms and vibes. Accompanying Robyn, who plays banjo and guitar, are Te Auripo Kamira (ukulele, vocals), Krissy Jackson (fiddle), and Antony Royal (bass). They present songs from around the world in Te Reo Maori as well as Robyn's original songs. The idea is that the concert will be at 5pm and, before that, from 2.30pm you can take part in a workshop, learning one of Wai.Tai's original Waiata in Te Reo. Then you'll be able to sing it at the concert.
The group will also take a deep dive into the meaning of the song and the cultural contexts behind it. This should allow people to take the song home with them, knowing exactly when and where to sing it.
If that sounds a little dry or intimidating, be assured Robyn and her ever-changing band of musicians have received rave reviews all over and promise to be a whole lot of fun.
And now for something completely different...
Lazy fifty
If classic rock is the bag you're into then there's a gig at The Mount next week that may interest you.
Lazy Fifty, from Gisborne are coming to town and sent over a copy of their debut CD, Fifty Shades Of Lazy.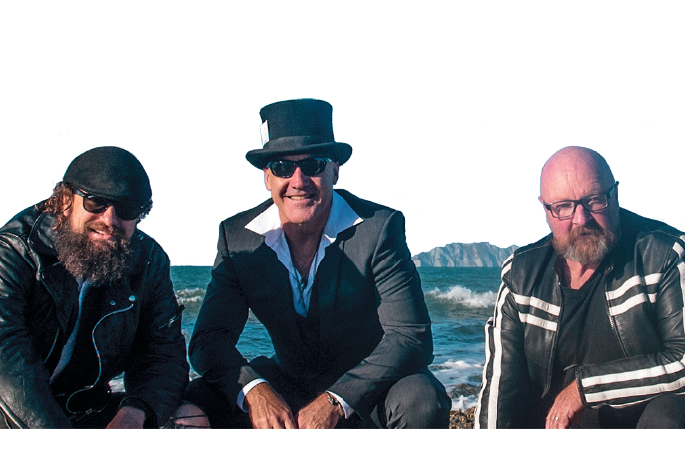 I guess these days you'd describe Lazy Fifty as a bit of a retro throwback to simpler times, when guitars shredded and the pub music world was ruled by descendants of Jimi Hendrix, Thin Lizzie, Led Zep, ZZ Top and any number of guitar rockers.
That's where Lazy Fifty fit in and indeed they do a covers show specialising in exactly that.
But the album – while not straying too far musically from those roots – is all original.
I like the cover art and its skeleton designs. Musically, bits reminded me of bluesy sixties' trios such as Free though the band strays towards metal with songs such as Round And Round where guitarist Adrian Athy conjures patented death metal tones on his grungy rhythm guitar.
He also shreds away quite entertainingly on a number of songs including Lady In White, which before its big build up marks the album's first downbeat moment and shares common DNA with House of The Rising Sun. John Coffee Blues, Fly Away, and I'm On The Move also feature fine guitar workouts.
This is very much a textbook definition of blues rock, whether of a funkier variety on Table Full of Ex's or slow and minor a la Gary Moore, or even with a punk inflection as on the opener Guilty. The album was pretty much recorded live in the studio from what I understand so that's exactly what you'll get at the Mount Mellick next Friday (July 19, 9pm), though the night will probably lean more towards those classic rock covers.
It's free.