Winston Watusi
Music Plus
Let's check in with the old fellas today.
It's something I do from time to time and specifically this week we're talking about Bruce and Bob. I guess at 69 now Bruce counts as an official old fella, even though he's nearly a decade younger than Bob at 78.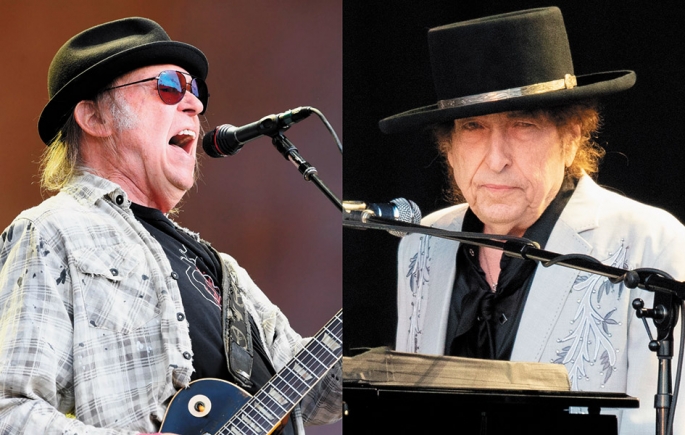 Both have released music recently and Bob's been busy live, headlining concerts in London's Hyde Park and Kilkenny just last week along with another grizzled old-timer Neil Young (73 and counting). In Kilkenny they even sang together for the first time in 27 years, a duet of "Will The Circle Be Unbroken".
As I say, both have released new music recently. Springsteen has taken something of a left turn and it's taken me a few weeks to write about his latest, Western Stars, because I had - and still have to an extent - issues with it, ones that have blocked me from enjoying its undoubtedly manifold pleasures.
Mr Dylan, on the other hand, hasn't released any "new" new music since 2012. That was the last album of original Bob songs, the serious and evocative Tempest, complete with its 14 minute Titanic-set title track.
However, in the intervening seven years Dylan would appear to be on a solo mission to keep CD sales buoyant. Allow me - because it is a truly spectacular list - to briefly itemise the various releases that have come from the Nobel prize-winning singer...
Lotsa Bob
Firstly there were five CDs worth of swing songs, Bob's "Sinatra albums", Shadows In The Night (2015), Fallen Angels (2016) and Triplicate (3CDs, 2017).
Then there were these collections from the archives, many also available in 1CD, 2CD, and various other sized sets:
2014 Basement Tapes Complete 6CD
2014 1964 Fiftieth Anniversary Collection 9LP
2015 The Cutting Edge 1965-1966 18CD
2016 The 1966 Live Recordings 36CD
2017 Trouble No More 1979-1981 8CD
2018 Rare Performances 1962-1966 2CD
2018 More Blood, More Tracks 6CD
2019 The Rolling Thunder Revue 14CD
In case you're wondering, that's 95 CDs and 9LPs. In that same period he has also played roughly 700 concerts and had several art exhibitions. So, not exactly what you'd call slowing down...
The new set, the fourteen CD deep dive into 1975's Rolling Thunder Revue, is an expansion of the fifth of Dylan's "Bootleg Series" (2002) which was a double CD of highlights of that tour.
Long reputed to be the most exciting run of shows in his entire career (and also including the likes of Joan Baez, Roger McGuinn, Mick Ronson, "Ramblin' Jack Elliot and others), the new set includes five of them in full as well as three discs of rehearsals and one extra disc of rarities.
It is, Dylan fans will attest, breath taking and wonderful and full of surprising gems. For a different view, I played one concert to a friend in the car and before I could find the second disc he had put on headphones to stop the pain. So perhaps not for everyone...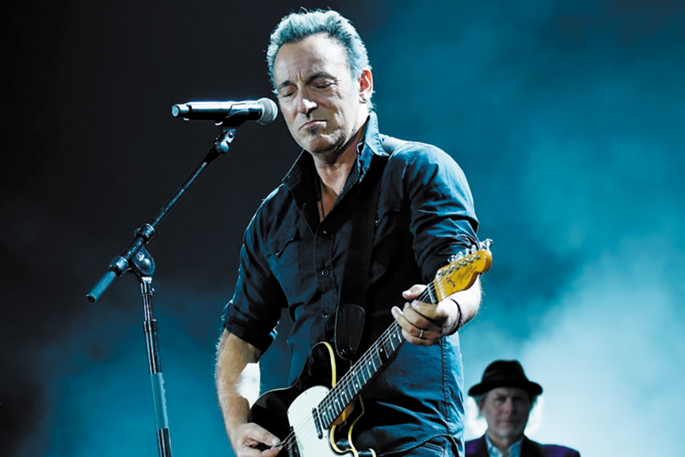 New Bruce
Bruce on the other hand, has a brand new album of brand new songs but has drawn his musical water from a very different well to anything previous.
Western Stars isn't too much of a lyrical departure, though his working class battlers are now ageing stuntmen and cowboy actors and everything seems set in a faded California twilight. It's a paean to restless America, the first two songs featuring hitch-hikers, others tracking heartbroken losers in dead-end desert motels.
Where it really departs is in the musical arrangements. Bruce has ditched rock accoutrements and grabbed the Hollywood Strings straight off early seventies Jimmy Webb and Glen Campbell muzak. And it's too much for me. Sometime they even play the same lines that the E-Street Band would rip up. I hated this simpering sound back then and I still hate it. The songs just about rescue things but, be warned: Bruce is travelling through a different landscape and is driving firmly in the middle of the road.