Winston Watusi
Music Plus
It's always nice to welcome the year's first album launch.
At least I assume it's the year's first. What with being January - the time of beaches, barbecues and cocktails – there may have been a couple already while I was distracted by summer fun.
But this Sunday (January 26), on the long weekend created to allow us the opportunity to celebrate Auckland, B-Side Band launch their latest album, Ship Of Fools, at Jack Dusty's Ale House in Bureta.
B-Side Band can rightly be considered veterans of the Tauranga music scene, having spent over a decade now creating their particular brand of rockin' bluesy rockabilly, and releasing half a dozen albums and the odd EP. Over the years the band has grown and evolved, becoming ever more confident in their own particular idiosyncrasies and direction. Ship Of Fools is an impressive piece of work, their best to date I would say.
At the core of B-Side Band is the duo of Paul Parkhouse and Simon Elton. Paul writes songs, sings and plays saxophone and many harmonicas; Simon writes songs, plays rhythm guitar and sings.
History
They started as a three-piece with drums but no bass, playing a mixture of those slightly ignored songs of the fifties and sixties – hence the name B-Side Band – and their own tunes. With time there have been changes of drummer and the balance has tilted towards the band's own songs. And they've added another guitarist.
Thus the line-up for a while has seen Paul and Simon accompanied by Ian "Beano" Gilpin on drums and Mike Kirk on guitar.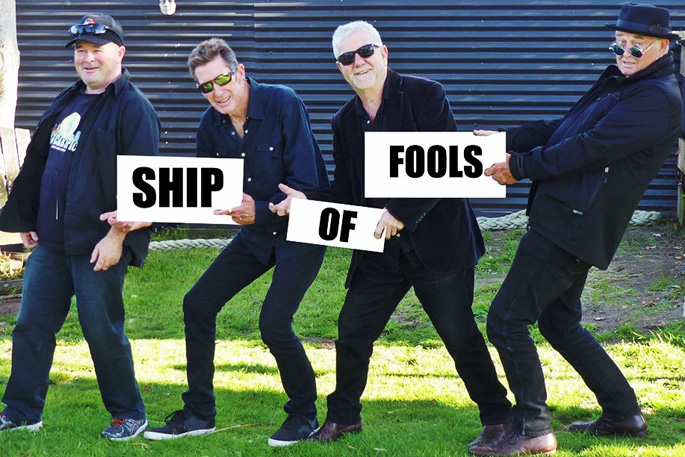 This latest album was recorded at The Boatshed Studio by Nigel Masters who contributes more than a few instruments. It comprises ten new songs, seven of Paul's, two of Simon's and an instrumental cover of that old South African classic, Tom Hark. Coincidentally, Tauranga band The Whittakers also recorded the tune on their 2018 album A Slice of The Whittakers.
B-Side Band have actually been a bit quiet in 2019, though they've been playing regularly at the monthly blues nights at Jack Dusty's as well as performing at the Waihi Beach Hotel.
Over the winter months, Paul took a bunch of new tracks to the Boatshed Studio and, working mainly with Nigel Masters, recorded them. Simon also had three unreleased songs so finished them off at the Boatshed and Ship Of Fools was born. Nigel's recording and Tim Julian's mastering are both first rate – the recording sounds rich, warm and alive.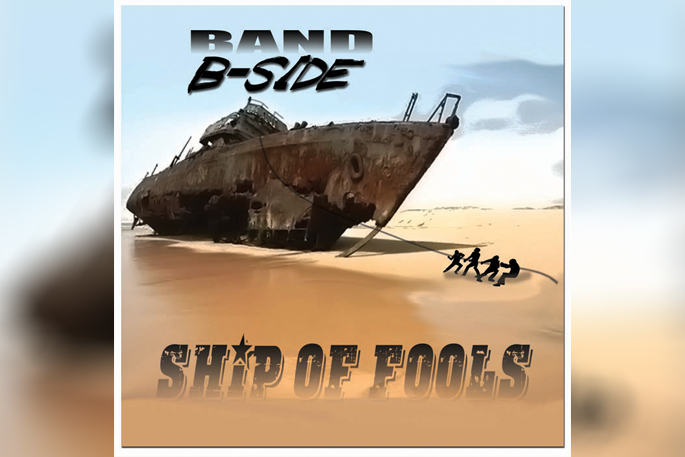 The album
And it's a great album. Paul has now settled comfortably into a bad-boy rock 'n' rolla persona and has produced songs that sound like instant classics and are tough and self-deprecatingly funny.
Things open with Cool Down... Tay Street, a smooth bluesy groove capturing the Mount and the surf in all its melting summer heat. Elsewhere he knocks it out of the park with a series of bluesy rockers: Trigger Happy, The Man Who Couldn't Say No, and his wonderful ode to Tramadol, Tramhead. This Little Town is more meditative, with piano, woozy guitar and astute observations of small town life while I'm Coming Home is a driving blues with tough harp and coruscating guitar from Mike Kirk.
Simon's songs are very different: as Paul's songs get tougher and more focused, Simon's become ever more whimsical. He contributes an eccentric bit of musical history with The Birth Of British Rock 'n' Roll and delves into Kinks-like pop with the delightful Steppin' Out. And of course there's Tom Hark which, with Paul adding multiple harmonica lines, is really rather good, transcending any notions of kitsch that memory conjures.
I'd suggest you check it out. I imagine it is, or will be, on various digital platforms and it's down at Record Roundabout at the Historic Village.
At the official launch - Sunday 3pm at Jack Dusty's - they'll be playing selections from their various albums as a four-piece before being joined by Nigel Masters' bass for the last set to play songs from Ship of Fools.
And it's free - what's not to like?