Winston Watusi
Music Plus
Last week I started looking at live music in August. This week? More of the same.
I know I keep going on about it, but for someone who keeps a constant eye on the music scene in the Bay, seeing well-known acts returning is like welcoming old friends back, each one making life's "new normal" a little more comfortable and as things used to be.
So when I see names like Paul Ubana Jones, Albi And The Wolves and Kokomo back on the Eventfinda and Under The Radar listings it makes my heart sing a little. And more music is on the way.
Next Wednesday, August 12, is the monthly blues jam down at Jack Dusty's Ale House in Bureta. These restarted almost immediately after we dropped a couple of lockdown levels and their popularity is a sign of welcome normality.
Last month's bash saw a fantastic list of players there including Hurricane Eli - formerly the Grant Haua Trio, Craig Norman and Dexter, Kaos, Tracey McDonald and Friends, Richard Allen, Brownie Brown, Tim Armstrong, Wayne Melville, and Mike Kirk. There was also the hard-working house band, Chill Factor, of course. These nights, the second Wednesday of each month, are free to attend and kick off around 7pm.
Trio return
And another sign that we're reverting to "virus, what virus?" territory is the imminent return to town of The Andrew London Trio. The Wellington swing group have been frequent visitors over the past few years in this and the band's previous incarnation Hot Club Sandwich.
The core of the trio, Andrew and his bass-playing, singing wife Kirsten, have had a particularly busy time in lockdown sending out a number – five I think at last count – of concerts live from their Kapiti home and even writing collaborative songs with an on-line audience. The shows are all kicking around the web, a mere Google away.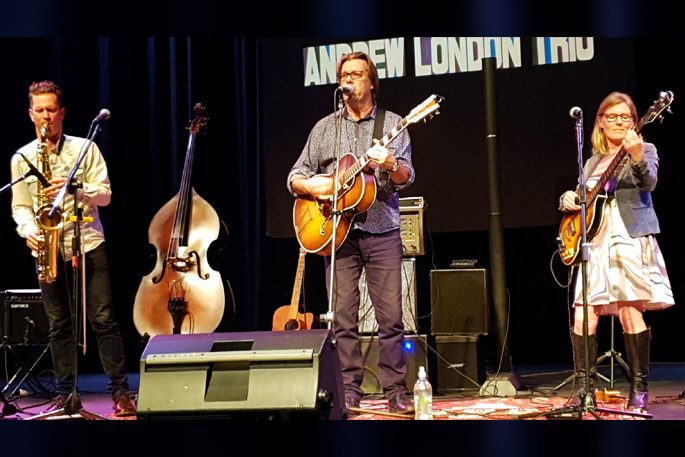 Andrew and Kirsten, along with saxophonist/flautist/singer James Tait Jamieson, are coming to the Quarry Park on Saturday August 29 for an afternoon concert starting at 2pm. Tickets are $25 on the door or can be reserved by emailing Rosie: waharaurosie@gmail.com
But the biggest event happening this month is undoubtedly the return, for the third year running, of Loserpalooza, which takes place at Totara Street on Saturday August 15, "Featuring 25 Loser bands across 2 Loser stages over 12 Loser hours. All Losers welcome..."
As you can see, they've gone all-in on the "loser" theme, but behind this is a serious event with all proceeds going to Lifeline. Last year they raised $5000 so if I can do my little bit by giving the show some publicity in advance then I'm more than happy.
25 Bands
Things kick off at 1pm and there are, as mentioned, 25 bands. I don't have space for a full list here but it includes excellent local acts Grown Downz and Threat.Meet.Protocol, who've now been around so long that they're practically veterans. There's also the band with about my favourite name in the country, Ayn Randy, and a unique outfit who have garnered much attention through their single-minded dedication to all things pizza, Diehards Of The Deep Dish.
But many bands are unknown to me so I enlisted concert organiser Slob Saget to offer a punt on "must sees". These are some of his recommendations...
First up, Dick Move, who are Auckland's pavlova-eating rebuttal to Aussie bogan punks Amyl And The Sniffers. Less bogan, more 'Charlene' Westie. Will make you dance until your limbs fall off.
Next, Contenders: 80s LA punk somehow re-imagined with a contemporary Hamilton twang. Enough new wave/rock 'n' roll energy to get the uninitiated initiated.
There's also Unruly, featuring some of the elite musicians of Wellington's fecund punk scene. With world weary members of Meth Drinker, TVX, Bonecruncher, Fantails and so many more.
And lastly, another local act, Hardthrob, who Slob describes as "More cheese than your Mum's macaroni. Tauranga homegrown heroes with a worrying obsession with '80s metal."
All this for a good cause and a mere $40. What's not to like?