Winston Watusi
Music Plus
These are, to say the least, trying times for musicians.
Faced with the current situation you can either postpone everything or push on through.
Amongst those taking the latter route are Jan Preston, Queen of Boogie-Woogie and resident of Sydney, who has just completed two weeks of Auckland isolation so she could come to Tauranga to record her new album. She is currently at Whakamarama's Boatshed Studio hard at work using the rhythm section of Nigel Masters (bass) and Ian 'Beano" Gilpin (drums). Then it's off around the North Island on tour at the end of the month.
Similarly local band Hybrid Blues had been building to the release of their debut album, recently finished at Welcome Bay's Colourfield Studio, when new levels threw a spanner in the mix. So while the virus rages all around and cancellations occur right left and centre, the boys in the band have been getting their proverbial ducks in a row.
Firstly, they have signed with an American music company. This is fantastic news and could presage great things. They are now represented by SGNB Records, an independent record label and music business service based in Denver, Colorado. SGNB say their aim is to support, promote and provide music business knowledge to emerging and established artists which is exactly what an inchoate band like Hybrid Blues need.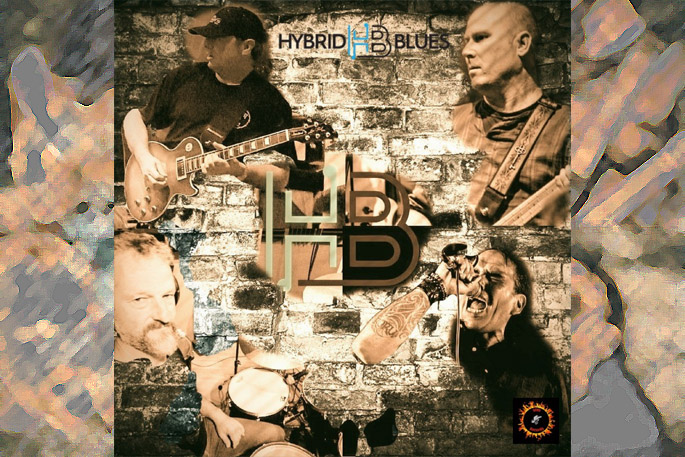 The album
The album – self-titled - is due for official release on September 13, which is when it will hit Spotify and other digital platforms and when the band launch it at a gig for Auckland's Blues Club. Hopefully. CDs will be ready by then too. I'll update with a reminder and details of where to get CDs. I've been lucky enough to have had a copy for a couple of weeks and have been really enjoying it.
Both the band and the album are the brainchild of singer/songwriter Roy Hudson. Roy's been oversees for some decades, playing in the UK in both metal band Koru and blues/classic rock band Loose Moorings.
Since returning to New Zealand he's been assembling a band, Hybrid Blues, to play his songs. After a couple of false starts and line-up changes the final quartet has now made their debut album and it's one that suits the band name as it explores the many genres that surround blues rock. There are songs with funk influences, country influences, hints of Latin rock, a little of what you might call stoner rock and more, but at its core is a band in the pub-rock-blues tradition.
And there are many fine moments here. Roy has a great rock voice, and is ably supported by the band, all songs sitting on Adam Pendred funky driving bass and Mark Schaumann's solid but sensitive drums. They do great work throughout, no small ask since Roy's songs show an impressive variety and are often rhythmically demanding.
Secret weapon
The Latin influence is on display on the album's opener; second track, Devil Within, takes a tough little riff and really works it while the band's secret weapon, guest singer Brooke Stinson, adds close harmonies. Then it's on to more driving blues rock with Little Boat and a story of running from the police in Raglan.
There really is a lot to like. I think my favourite song is next, English Lady, the whole thing sung in harmony by Roy and Brooke with some really tasty wah-wah guitar from Mike Everard. His playing throughout the album is a pleasure hear, whether on Led Zep-style rave-up Lonely Man (with more wah-wah) or cool 'n' clean, or shredding away on Rich On Love, the one song where Brooke takes lead vocals. She duets on another and nails both.
Foresaken and Ain't Got Time are both funky work-outs with effective backing vocals, making for a richly confident album, given added colour by judicious use of acoustic guitars and Tim Julian's tasteful piano. His production is sympathetic and clever, presenting the band in a way that can easily be reproduced live but adds subtle extra layers of interest for repeat listening.