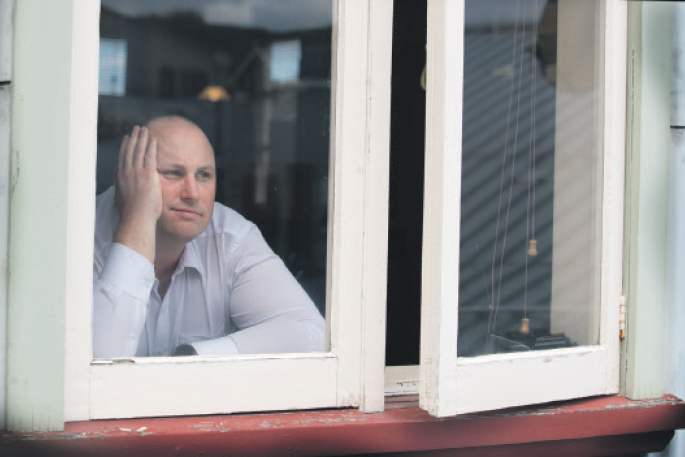 Ian Evans reflects on his 28 days in managed isolation on either side of the ditch. Photo: John Borren.
A month in a hotel doesn't sound too bad but when your worst fear is realised and you need to get back home to Australia quickly, it soon becomes an inescapable nightmare.
The news came in of a family emergency and with the shock came the reality.
The next available flight was over a month away but a call to a friend in the travel industry secured one within days.
Knowing we'd face at least six weeks apart at one of the hardest times in Ian's life was gut wrenching. I couldn't be there for him or his family. All I wanted to do was hug them and try to make sense of the situation.
"One of the most difficult parts was having to deal with what I needed to deal with without having the physical presence of my wife for support."
Welcome home
Ian's arrival in Sydney was confronting.
After a health check and immigration he's met by the defence force and federal police, then directed to a bus, accompanied by a police escort. In the city centre he's told he will be isolating at the Travelodge.
An 8m by 3m hotel room is home for the next 14 days. No time outside - just four walls and the hum of an air conditioner.
"I needed to keep myself mentally fit and not let my head go into the situation."
Ian worked remotely a few hours a day, filling the rest of his time with TV, social media and occasional computer games.
When screen time got boring he would take photos of the outside world. He positioned himself by the window for the six minutes of sun that would crack through the Sydney skyline into his room.
Ian gave daily updates about the washing on the apartment balcony across the street until it got taken in after eight days.
Exercise was also a challenge.
"It was nine footsteps from one end of the room to the other, so I moved a piece of furniture and I could turn nine steps into about 14 by walking in a circle. I would try and do that for five minutes, then I would run on the spot for a minute."
The routine was rounded out by 20 push ups on the window sill repeated three times.
Days revolved around meals. In Sydney, a catering company was used and meals usually consisted of meat, carbs and veggies, except for breakfast which would be either cereal or if you were lucky a 'hot' breakfast, delivered the night before and microwaved.
The daily support he received from staff was amazing. Nurses called for a daily health check and a psychologist would check in every couple of days.
Staff deserve respect
"It's important for people to know that the workers on the other side of it, generally speaking, do a fantastic job and they deserve to be treated with respect because they haven't asked for this situation either."
The only time Ian had a personal interaction was for the two COVID-19 tests. Nurses in full PPE swabbed both nostrils and the back of his throat.
"I could feel the first nose swab in the back of my throat.
"It's uncomfortable but not painful and your eyes water for a while afterwards."
The first breath of fresh air on his release day made even Sydney's air taste sweet.
"When I got out, it was mixed feelings as much as it was exciting to finally leave a small hotel room. It was also the start of dealing with a situation that nobody really wants to deal with."
On the return journey Ian knew what to expect but the challenges were different.
"All I wanted to do was get home and you were so close to home."
The biggest difference was the ability to leave the room and the Stamford Plaza in central Auckland was a nicer hotel.
"You could get out of the room. Getting fresh air and some sunlight made it a little bit more tolerable."
The food was also a big improvement with a menu and a few options rather than the 'you get what you get and you don't get upset' approach at the Sydney hotel.
Ian worked full-time in Auckland and tried to get outside at least once a day.
Much as he didn't want to be there in either country it was a necessary part of the process to stop COVID at the border.
"It's a crap sandwich that everyone travelling has to take a bite out of."