Winston Watusi
Music Plus
We're taking next week off, so this'll be the last column before Christmas.
Traditionally for this one I try to include a bunch of recommendations for Christmas presents, involving local music.
That's becoming a little harder with each passing year. It's the exhortation to "go out and buy local music for Christmas" where things fall a little flat. It's getting harder and harder to suggest that y'all rush out and buy local CDs when, a) most of you now don't own CD players and b) because of a) many artists now aren't actually producing CDs. It is something of a feedback loop.
Even local guitarist Sean Bodley didn't release a CD this year. He still released an album, but for the first time it was only on digital platforms. Sean doesn't play live a lot and reckons it is simply impossible to sell CDs at the moment except at live shows. He has a point.
His album, which was previewed on a series of singles that came out through the year, is called Neon Daydreams. It comprises nine instrumental tracks and is available on Spotify, Apple Music and the usual digital platforms. If you want to buy a copy you can do so through Bandcamp where you'll also get an extra bonus track. I'll strongly recommend a listen: there are a variety of moods and the playing is both melodic and immaculate. It's remarkable stuff.
And just staying on CDs for a second. If you want to give some local music for Christmas, head down to Record Roundabout at the Historic Village. As well as a pile of very cool vinyl and memorabilia, Tony Pill has a good set of local CDs for sale.
BARREL ROOM
Moving along... They're coming to town on New Year's Eve, playing at The Barrel Room, and they have a new album out. And it is on CD.
The Flaming Mudcats are about the best electric blues band in the country right now. They have been together for just over a decade and comprise Craig Bracken on vocals, harmonica and sax, along with guitarist Doug Bygrave, bassist Johnny Yu and drummer Ian Thomson. All are fascinatingly individual players.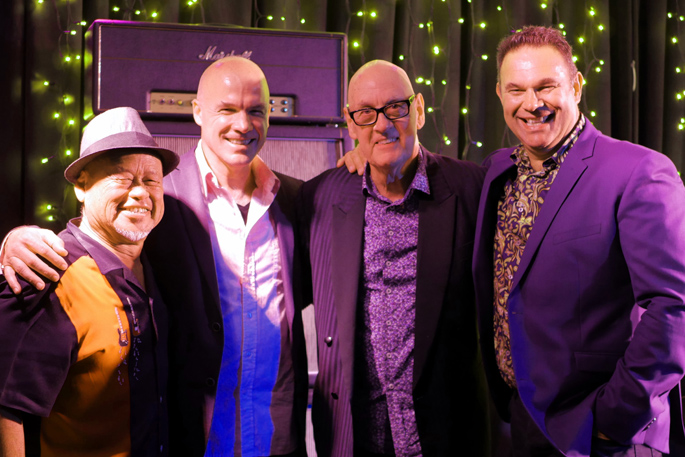 Craig does things with a harp that most don't, seeming to find notes and sounds that aren't there for other harp players. He's also a solid, commanding singer. Doug has a local connection, having played here in the eighties in bands such as The Sensational Gutter Brothers; he has a unique guitar style that sits somewhere between the cool elegance of Jimmy Vaughan Texas playing and the more jagged intricate lines of West-side Chicago.
Ian Thomson began his long drumming career in Auckland "back in the 60s". He is a true legend of the music scene having played in several notable bands including The Dark Ages and The Underdogs. He doesn't sound like any other drummer. Hear him on the classic song "Sitting Here In The Rain".
YU TOO
And Johnny Yu? Born and raised in Hawaii then musically educated in San Francisco, he has performed, recorded and toured internationally with a bunch of Californian bands. He joined the Mudcats after moving his family to Auckland in 2017 and seems to have smuggled in an ungodly amount of groove with him from the Golden State.
And the new album, Forever And A Day, is simply stunning, adding a top-notch horn section for a number of tracks and really laying it down over a series of fourteen new original songs. The horns are led and arranged by Andrew Hall (saxes) and Mike Booth (trumpet) and they are some of the tightest and coolest horn arrangements you'll hear.
It kicks in with two said horn tracks, All Around The World and Shake it, both funky and soulful and sounding like classic blues and then heads off along many byroads of the blues highway: straight-ahead Thunderbird-style blues for On The Town; slick funk on Good Behaviour; Southern Soul on I'll Be Fine. It really is an impressive album.
On New Years Eve the boys will be playing from 9pm till late. What better way to farewell this savage year than with a hot blues band?