Winston Watusi
Music Plus
Last week Grant Haua launched Awa Blues, already probably the most significant Tauranga release of the year.
It was sent out into the world via a small and quickly sold out show at The Jam Factory which was live-streamed and has been viewed over seven thousand times. It has had rave reviews in the Netherlands and is already at the top of the French blues charts having achieved over 3000 advance sales in Europe after Grant signed to respected French blues label Dixie Frog.
I'm watching the gig streaming on Facebook as I write this, watching Grant playing his acoustic guitar, sitting on a cajon, a Cuban percussion instrument, accompanied by album producer Tim Julian, singer Delanie Ututaonga, and harp player Grant Bullot.
There's a statement on Grant's Facebook page which says: "Today is the day we have been all working so hard for. This has been a mission that has been 18 months in the making. Everyday a team of about 10 of us have been working hard to get to this point - 10 people from across the globe, across language barriers and across cultural divides, all pulling together behind this record."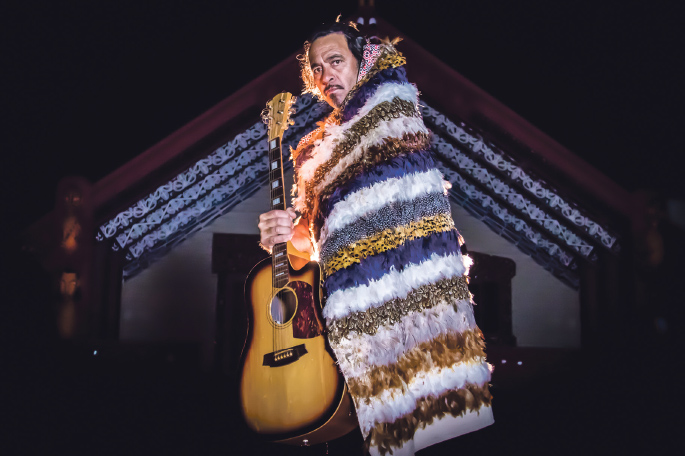 And that gives some sort of idea at the effort that has been required to get to this stage. Grant's album and image have been meticulously tweaked to the demands of an international record label and the resulting album and its accompanying videos are testament to Grant's dedication. It's also the best representation so far of his huge musical talents.
NEW CD
There are many things I find quite remarkable about this new CD, Awa Blues. It is essentially a collaboration between Grant and Tim Julian from The Colour Field recording studio in Welcome Bay. Grant plays the guitars and that cajon while Tim adds bass, keyboards and a bunch more percussion. There's also some bass from Jesse Colbert. That means the set has an unusual overall sound, something more intimate than a regular band setting, giving full expression to Grant's songwriting and tough emotive singing.
Things start with some of that toughness on Got Something before launching into This Is The Place, complete with Te Reo lyrics. It is a real statement of intent, a soulful and proud anthem for New Zealand that has been justifiably praised internationally. It also shows the influence of the French company, as there in the guitar solo slot is not Grant but Fred Chapellier, another guitarist on the label who was added to the track after Grant signed. It must be said he fits perfectly.
NEW SINGLE
The new single is up next – the video is on-line – another song that runs on another of the seemingly inexhaustible supply of unusual cool guitar riffs Grant creates.
As things progress there are many different flavours. Most accessible and fun is Tough Love Mumma, a lithe straight-ahead blues tune with catchy chorus and, again, a great video. Elsewhere there's a clean and fast little instrumental, Can't Let It Go, featuring some nifty guitar-picking, and Keep On Smiling, a rare example of Grant writing an unabashedly happy song, inspired by an old Mississippi John Hurt piece and a real joy.
All I can really say is I'm blown away by this album and what Grant has achieved. It is ironic that all this has and is happening during an international pandemic since the one thing I'm sure Dixie Frog want most is to get him over to Europe and touring. But it can only raise anticipation as people discover Awa Blues. I suspect it sounds a lot more exotic and unusual to those not living in New Zealand which can only be a good thing.
I was actually present many years ago when Grant recorded his first sides locally with a band called Moss. He was remarkable back then, already a fine singer, songwriter and guitarist, but to hear this album from a fully mature Grant Haua is really something special. You'll want to get it, and I'd suggest a CD if you can, something physical to hang onto, not just for the music but because it's going to be an important part of Tauranga musical history.
Kudos.