Daniel Hutchinson
From The Hutch
Mrs Pig was very tired and did not want to look after her three little pigs anymore.
So, she freed up some equity in her Te Puna lifestyle block to provide a house deposit for each of them and told them to leave.
They all did very well in the property market because it didn't even matter if your house was made of cheese, it doubled in value before it went mouldy.
Eventually, they all had enough equity to become property investors.
The first little pig put as little money as possible into his property portfolio and borrowed the rest.
His portfolio quickly grew until he had lots of houses which he rented out to other animals.
The second little pig did not have the same appetite for risk but had a similar investment approach, albeit with higher equity in each house. His property portfolio did not grow as quickly but he wouldn't lose everything if house prices went down.
Flipping houses
The third little pig went down a different road because he didn't trust the banks.
The other little pigs laughed as he laboured away renovating and flipping houses until he owned several rental properties which were unencumbered by loans.
He would have had many more except the Resource Management Act made it impossible to do anything quickly or cheaply.
This inability to build houses easily was the main reason the little pigs were getting so wealthy.
You see, the big bad wolf had been taking taxes off all the animals for many years but had not been putting any of that money into making sure there were enough places to build houses.
The population was growing, so lots of different animals now had nowhere to live. Supply and demand forces resulted in price increases.
What none of the little property investors expected was that they would be blamed for this, and it was a big shock when the big bad wolf came calling.
The wolf knocked on the first little pig's door.
"Little pig, little pig, stop buying all the houses or I'll huff and puff and make lots of disparaging remarks about you."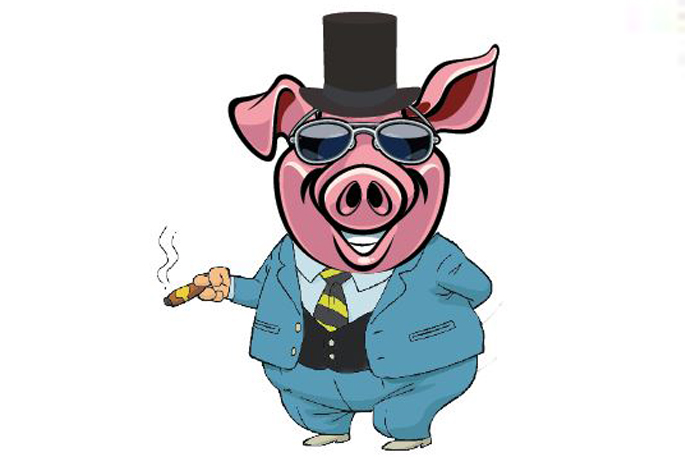 Larger deposits
"No," said the little pig. "Not by the hair of my chinny, chin, chin. We are a free-market economy and you can't do that."
So the big bad wolf introduced legislation forcing the little pig to make his rental properties warm and comfortable at great cost. It huffed and puffed at the banks and forced them to demand larger deposits from the little pig.
Eventually it blew down the little pig's low-equity property investment model.
The first little pig consolidated his equity into fewer homes and joined the second pig in a family trust and they continued on their merry way.
House prices kept rising.
By now, the big bad wolf was very hungry for a solution and very mad. It tried building its own houses but it wasn't very good at it. It decided to get rid of the Resource Management Act and replace it with something else. But that would take years and would probably just make it worse.
So it paid the second little pig a visit.
"Little pig, little pig, stop going to auctions and inflating property prices, or I'll blow your houses down."
The little pig replied: "No, not by the hair of my chinny, chin, chin. I'm a long-term property investor with a sensible amount of equity and no re-named capital gains tax will hurt me."
Baby boomers
But the second little pig and his brother watched in horror as the big bad wolf took away their ability to claim interest as a business expense.
"You can't do that," screamed the pigs as they ran to their accountant. They tried putting rents up to stop the portfolio from losing money, but the bleating from the tenants was unbearable.
Everyone was miserable, except the third little pig. He was smoking cigars with his brothers when the big bad wolf came calling.
"Little pig, little pig, sell your houses to first home buyers cheaply or I'll blow them all down."
"Good luck with that buddy," said the third little pig. "I'll hang onto my houses until they meet the bright-line test."
The wolf huffed and puffed, but no matter how much wind it produced it could not bring down property prices. It scrambled on the roof and started climbing down the chimney.
The three brothers quickly boiled up an election pot full of baby boomers - each one had been sliced and diced by the wolf's investor rules.
Too late, the wolf realised what was about to happen and it plunged into a scathing pot full of boomers, still seething from the loss of their passive income.
The end.
daniel@thesun.co.nz