Winston Watusi
Music Plus
Today's paper arrives on the first day of October; three quarters of the year has passed.
It always seems at around this point that the year has rushed by, and this year the feeling is particularly intense.
I put it down to the things we haven't been able to do. The year has passed quickly because it's been kind of a blank: fewer concerts, fewer meals out, fewer sporting contests, just less of everything really. If the year seems shorter perhaps it's because there is less to look back on.
Now it's October 1, which is a surprisingly prestigious day, though as Michael Caine would say, not a lot of people know that.
It is, for instance, International Coffee Day. If you need an excuse to drink coffee, this is it. But that's just the froth on the proverbial cappuccino.
It is also the first day of Breast Cancer Awareness Month.
It is also International Raccoon Appreciation Day, though celebrations of that are generally muted in New Zealand, possibly due to the lack of raccoons in need of appreciation.
More relevant to us, it is also World Smile Day.
World Smile Day has been celebrated on the first Friday in October since 1999.
You might be pleased to hear this was the brainchild of the man who invented the "smiley face" logo in 1963, Harvey Ball, a commercial artist from Massachusetts.
In Ecuador
But wait, there's more! In Ecuador it is Día del Pasillo Ecuatoriano, a celebration of music in honour of the country's biggest star Julio Jaramillo, born on this day in 1935.
Not to be outdone, Americans have named October 1 all of the following: National Manufacturing Day; Fire Pup Day; National Homemade Cookies Day; and National Hair Day.
If you can't find something to celebrate there, then you really don't know how to celebrate.
Meanwhile, in Britain it's World Vegetarian Day and at the United Nations it is International Day of Older Persons.
And in case that isn't enough, it's Chinese National Day, Botswana Day, Cypriot Independence Day, Nigeria Independence Day, San Marino Investiture Day and – bet you didn't know this! - Uzbekistan Teacher's Day.
Let's move to cultural news...
Bob Dylan's latest dump of unreleased material, this time a mere five CD set (or a stripped-down two CDs) explores the early eighties with The Bootleg Series Vol. 16: Springtime in New York 1980–1985.
It was really this period that fans noticed Bob's propensity for leaving his best songs off albums. There was also a tendency, after the musically rigorous Infidels, for artificial eighties production techniques to overwhelm songs.
Dylan fans will be blown away – actually, the two-disc set should blow away most folk – but casual listeners may wonder at this unceasing musical archaeology.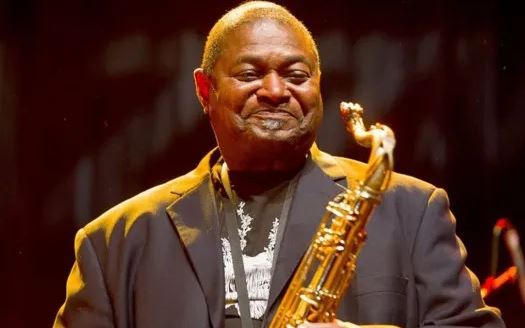 Pee Wee Ellis
Pee Wee
Also in the music world, I note with sadness the passing of legendary sax player Pee Wee Ellis.
Born in 1941 and taught by Sonny Rollins, Ellis played with James Brown from 1965 to 1969 - arranging and co-writing several key songs - and many more, including George Benson, Hank Crawford and Esther Phillips.
But you might know him from music he made between 1979 and 1986, when he worked with Van Morrison's band as an arranger and musical director.
He returned to that gig from 1995 through 1999, eventually playing on 13 Van Morrison albums. R.I.P. Pee Wee, thanks for the music.
Moving to books, Quentin Tarantino's first is out now and very good it is too.
Once Upon A Time In Hollywood is designed to look like a sixties' dime-store paperback and sits alongside the film in its own right, an addition as opposed to a retelling, all written in droll "pulp fiction" patois.
It is immensely enjoyable.
In other literary news, Chuck Palahniuk, author of Fight Club, has become the latest big name to serialise their work online, announcing a deal with newsletter platform Substack.
Palahniuk's sixteenth novel, Greener Pastures, will be published in regular subscriber-only instalments from Monday.
It follows similar deals with Salman Rushdie's and Patti Smith amongst others. Palahniuk is no stranger to experimental publishing: he has released two graphic novel sequels to Fight Club as well as two books for colouring in.