Update 11.30am: Air Crash investigators are heading to the scene of a light aircraft crash at Tauranga Airport this morning.
Emergency Services were called to the airport about 11am this morning after a Cessna crashed on one of the runways.
A Northern Fire Communication spokesperson told SunLive a Cessna crash-landed at the airport but there were no injuries and the incident was still under investigation.

He was unable to give any other information at that time.

A reporter at the scene says the plane was at the Mount end of the run way and had damage to the nose of the plane.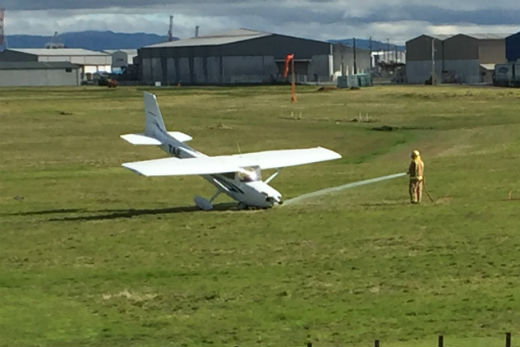 I
Supplied.

A police spokesperson says the plane had gone off the end of the runway and into a small creek and there was one person on board and the had gotten out of the plane and appeared to be fine.

A Tauranga City Council spokesperson says the aircraft is privately owned with only the pilot on-board and it crashed landed at the end of the airport runway. The pilot has walked away from the plane with no injuries.

The spokesperson says there was a minor disruption of 15 minutes to Air New Zealand services. All services are now back to normal.

Earlier 11.26am: A light aircraft understood to be a single engine Cessna has crashed at the Tauranga Airport.

A spokes person for the New Zealand Fire Service confirmed a Cessna has crashed at the airport and no one was injured.

Earlier 11am: Information is coming to hand of a light aircraft crash at Tauranga Airport.

Emergency services are heading to the airport after a report of an aircraft crashing at the airport.

SunLive will bring you more information as it comes to hand.

If you have information please call 0800 SUNLIVE or email photos to newsroom@thesun.co.nz