Electric vehicle owners are gaining in numbers and begining to appear in groups at public events, after years of being treated like vegetarians at a barbecue,
About 20 electric vehicle owner/drivers turned up at Bayfair on Saturday as part of the International Drive Electric Week. The electric vehicle owners are driving the length of the country as part of the week's events and gathered at Bayfair to plug in and charge up.

Electric vehicles on the Bayfair fast charger. Photo: Chris Callinan.

Bayfair Shopping Centre has been a leading force in sustainability practices in the areas of energy, water and waste over the past decade, and turned its focus to environmentally-conscious drivers earlier this year by installing electric vehicle charging facilities.
Bayfair currently has two free chargers for electric vehicles and two mobility scooter charging points. In partnership with Powerco and Charge Net NZ, there is also a user-pays fast charger onsite for shoppers wanting to fully charge their vehicle in the time it takes to buy and drink a cup of coffee.
"As a business, we are always working on initiatives to try and minimise our impacts on the environment, and hope that this event will be another way in which we can do our part by heightening the awareness of today's widespread availability of plug-in vehicles," says Bayfair Shopping Centre manager Steve Ellingford.
"The wider international event will help to highlight some of the benefits that electric vehicles bring, not only to individuals, but the environment we live in.
"Since installing our electric vehicle charging stations, it has enabled us to become a platform for local owners to connect with others and discuss the electric vehicle experience and the practicalities of charging while you shop. We have found that just by sharing these stories, it is often what sparks interest in members of the community replacing their petrol-powered cars for an electric vehicle."
An Audi Etron supplied by Farmer Auto Village will be displayed in-centre throughout the week, and information will be available to take away for those that want to learn about the benefits of driving electric vehicles.
With events taking place around the country, the week is designed for die-hard electric vehicle fans, and those new to the scene, to share information on the current situation in New Zealand and what steps are being taken to increase the uptake of electric vehicles. Internationally, it has been found that promoting public awareness by electric vehicle advocates is one of the most successful ways to increase uptake.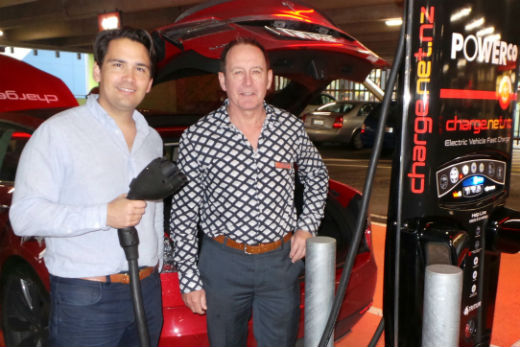 Transport Minister Simon Bridges and Bayfair manager Steve Ellingford. Photo: Chris Callinan.
Transport Minister and Tauranga MP Simon Bridges opened a fast charger in Thames this week, the first for the region.
"Thames provides an important link between Auckland and Tauranga and the Coromandel. As a popular tourist route, I hope the presence of a fast charger also allows visitors to our country to consider an EV for their rental vehicle."
International Drive Electric Week 2016 is the largest celebration of EVs that the country has ever hosted, and includes two more charge station unveilings in Auckland and Nelson
"Public charging infrastructure has an important role, to help ease range anxiety and facilitate longer distance travel.
"While the cheapest and easiest way to charge an electric vehicle is overnight at home, having public charging infrastructure enables New Zealanders to use EVs for longer distance travelling."
Since the first fast charging station was installed in Northland in May 2014, there are now more than 30 public fast charging stations, says Simon. More than 100 other charging stations have also opened up around the country.
• Electric vehicles take advantage of New Zealand's renewable electricity and create 80% fewer CO2 emissions than a petrol or diesel car;

• The cost of charging an EV is equivalent to paying 30 cents a litre for petrol;

• There are charging stations appearing all over New Zealand; at shopping malls such as Bayfair Shopping Centre, supermarkets, airports and even petrol stations;

• With only around 20 moving parts, compared to around 2,000 for a petrol or diesel powered car, there isn't a lot to maintain in an electric vehicle. There's no oil to change, no spark plugs to replace and no gear box to service – just a simple electric motor, tyres, brakes and wiper blades.