A boogie boarding adventure at Kulim Park turn into a mystery when Murry Milgrew stepped on a strange creature.

Sandy Fenton and her friend Murray Milgrew were towing Sandy's six-year-old son Levi Roper on his boogie board through knee deep water at Kulim Park on Monday, when Murray stepped on a strange creature.

At first he thought it was the neck of a dead swan.

He scooped it up with the board and took it back to shore to examine.

"It looked very prehistoric," says Sandy.

"Neither of us go fishing and we were curious. It was soft with no eyes, not even holes or indents where the eyes once were. It had quite a few snails on it. It had a spikey fin on top."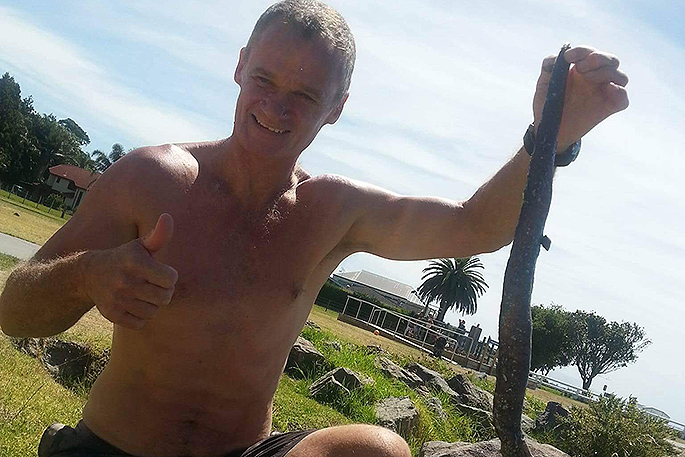 Murray Milgrew with the creature.

They posted a photo to Facebook asking if anyone could identify it.

Suggestions quickly came in.

Perhaps it was a moray eel, snot eel, lancet fish, swan, the best sock puppet ever, a hag fish, a taniwha, the Mount Mauler or an alien.

One pointed out that the eyes were rotted or eaten out, and thought it was a moray eel, adding the quip, "put your hand in a crack and you don't get it back, it's a moray".

Sandy and Murray ended up throwing it to the seagulls, who they say seemed afraid of the creature, but they're interested to know if anyone can identify it.