The first, in what is expected to have the potential to become an annual event in Welcome Bay, has gone off with a bang.
Tye Park Fireworks extravaganza lit the Welcome Bay skies last weekend, marking the finale of the inaugural family friendly event.
Welcome Bay centre manager and organiser, Anna Larsen says more than 4000 people stood in awe of the fireworks from Tye Park on Saturday night.
"Feedback has been phenomenal," she says. "People have really and truly enjoyed it."
"It was so laid back, the behaviour was impeccable with no trouble, everyone was amazing, the music was great and the fireworks were spectacular."
She says her father, one of the Bay of Plenty's oldest surviving ammunition technicians also joined in on some of the behind-the-scene action, helping to set off fireworks.
"He had a lovely time chatting with the pyro technicians," she says. "And they enjoyed hearing his stories about the good old days.
"He told me it's not quite the thrill of the good days, when he used to press a plunger to send a charge down the line to detonate explosives, now you just press a button on a laptop.
"It's quite amazing though, they all still speak the same language."
She says some issues were raised by local residents in regards to parking and a delay in the fireworks start time.
"Unfortunately the contractor we hired didn't set up traffic management," she says.
"There were also a few people who were annoyed the fireworks were delayed. The moonlight was so bright we delayed it for a little bit.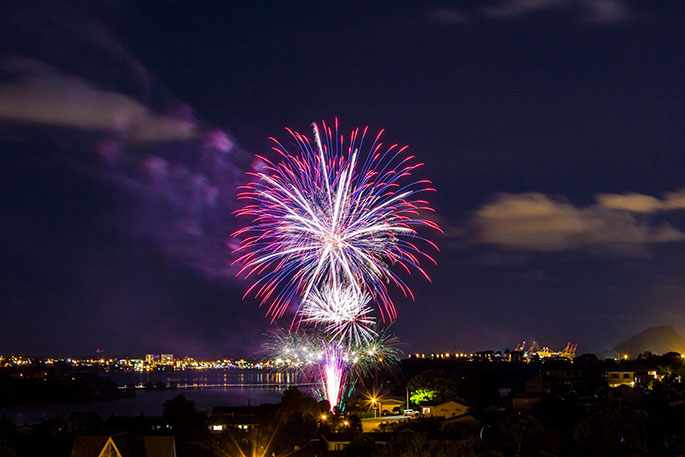 "Those same people however ended up coming up to us at the end and telling us how great it was, so they were definitely worth the wait."
"The whole thing was fantastic and we want to send out a big thank you to our sponsors and everyone who volunteered and helped out."
She says in conversations prior to the event with one of its main sponsors, Tauranga City Council, there seems to be the potential for the event to run again next year.
"When I was speaking on the phone to council I said 'next year I'll do this differently… oh I'm speaking as if it will be an event next year', they said they don't see why it can't go ahead."