The Bay of Plenty township of Edgecumbe has fallen well short of getting all its flood-hit families back in their homes by Christmas, but not for want of trying.
About half the 250 families forced out by April's stopbank failure have returned, including a score who'd feared the worst because they lacked insurance.
A wall of water from the Rangitāiki River ripped through the town, damaging more than 300 homes and forcing most its 1600 residents to flee.
"If I'm in the house on Christmas Day, I'll be over the moon," says retiree Brian Simmons.
"I'm gonna sit on the floor with a bottle of Johnny Walker Black Label and thoroughly enjoy myself."
Retiree Marion Hopkinson's husband died eight years ago.
"I couldn't afford my insurance so I'd lapsed it," she says.
"I was in the midst of getting it back again ... when the flood hit."
Initially, she thought her home had escaped without damage after the river flooded the town. However, next day water unexpectedly flowed in up to knee height.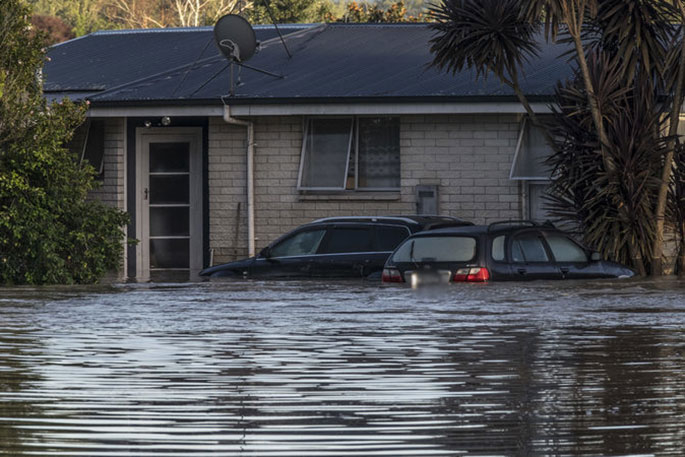 Water poured into the town in April. Photo: RNZ.
Surveying the damage later, somebody suggested she check out the Whakatāne District Council's Liveable Homes scheme, a $750,000 fund combining donations with trade discounts to help rebuild uninsured and underinsured homes.
"Being on my own I wasn't sure which way to turn or where to go.
"My husband used to do all those kind of work," says Mrs Hopkinson.
Retired Whakatāne builder John Pullar was called in by the council, which initially said it aimed to get everyone home by Christmas.
"The initiative was that you didn't have derelict homes sitting in the community," he said.
He went about calling in every favour in his tradies' book to assemble a team of paid carpenters.
"My dear mother, she said, 'I'll put your floor coverings in'.
"She'd paid them just before she died, by about two days."
Her mother was 91.
Mr Pullar says the worry was up to 100 homes might need the scheme's basic do-up offer, but in the end about two dozen have been fixed.
"They could've well been sitting there, not fixed and everybody else getting fixed around them.
"So I think, y'know, when people get a bit uptight about what they got [and] what they're getting, you just need to point out that the community's all back together."
Brian Simmons is feeling a little put out - but only a little.
"Most of those that got in before us had no insurance, whereas we had insurance and we sort of seem to have got left on the back burner," says the 74-year-old.
But now he's focused on just one thing, getting the painting done and kitchen units installed so he and his partner can get out of their portacabin.
The Liveable Homes group had the benefit of a flood consenting process that made getting council sign-off faster, and the likes of free carpet and lino from Flooring Xtra in Tauranga. All the flood rebuilds got free insulation from the local energy trust.
Hori Clay is grateful for it all, including for a friend he said renewed his builder's licence to help do the work, and for his partner's son Boyce Kingi.
"He just had a quick, short meeting with us and he said, 'hey, if we're going to cry, we'll drown like that flood drowned the house'. He said, 'now, what are we going to do? Let's get into ."
There were still some elderly Māori people in town reluctant to ask for help, he said, adding his message to them was: "You put your hand up or we'll put it up for you."