The Katikati library and community hub building is ahead of schedule, with the floor likely to be poured on Monday.
"We're expecting the library panels to be going up in the coming weeks too," says Western Bay of Plenty District Council communications team leader Alistair Gray.
The intention is for the building to be completed mid-2018.
The total budget for the project is set at $4.5 million and includes construction costs, fees and contingencies.
While the current estimated cost exceeds this amount, Council has the flexibility to delay or leave out some elements of the project during construction to remain within the budget limit.
The construction project was approved on the condition it is achieved within the $4.5 million budget.
Council has approved the project and appointed the construction company Watts and Hughes Limited to build the library for $3.8 million on the former Dunning Block at 21 Main Street.
The library will be double-storied and includes the Council service centre building and a single-storey community hub.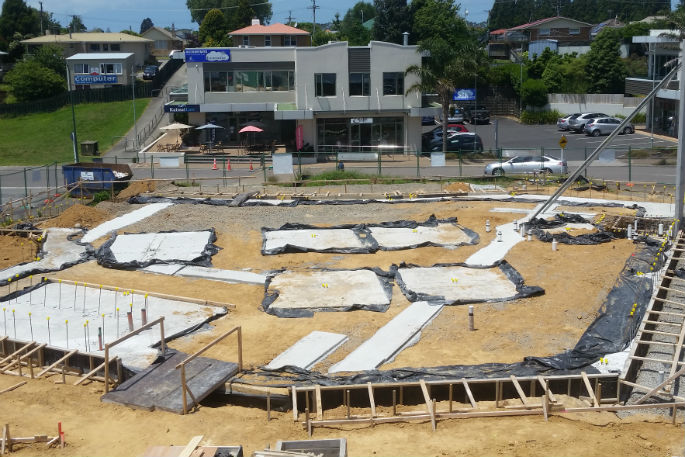 The Katikati Library has been planned for in Council's Long Term Plan (LTP) since 2012 and the project was consulted on with the community through the Council's 2015 LTP, and Annual Plan processes.
The property at 21 Main Street was purchased in March 2011 and identified within the Katikati Town Centre Plan as a suitable location for a Library and Service Centre.
In the course of consultation with the community and the Katikati Community Board, the concept of a community hub as part of the area office/library was advocated and agreed by Council in March 2016. External funding of $350,000 for the hub was obtained through a Lotteries grant.
Tauranga-based firm First Principles Architects designed the two buildings.