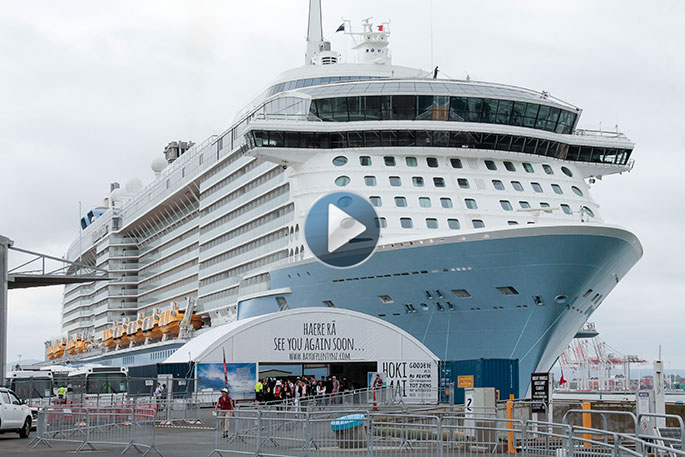 Click the image above to watch the video
The 168,666 GT engineering and technological marvel, Ovation of the Seas, will arrive in Tauranga on December 22 for the first time this season.
Having successfully made waves with Ovation during her maiden visit in 2016/17, Royal Caribbean has upped the ante this summer with the megaship set to make 29 port visits in New Zealand, up from last season's 16.
Dunedin is set to benefit the most from the extended second season with seven visits, while Tauranga will enjoy three visits from the US$1billion ship.
In 2017/18, 90,000 visitors will be guests on the Royal Caribbean family of cruise lines, up 20 per cent from 75,000 in 2016/17, and delivering an injection of more than NZD$50 million to the New Zealand economy in passenger spend alone.
According to an industry report released earlier this year by the New Zealand Cruise Association, more than 236,000 passengers travelled to New Zealand during the last season, and that figure is set to grow to 344,000 by 2018/19.
Meanwhile, figures released in June by the Cruise Lines International Association show cruising has surged in popularity locally with a record 90,184 Kiwis having sailed ocean cruises in the last 12 months – up 36 per cent.
By itself, the Ovation of the Seas has capacity for 6000 guests and crew and has attracted a new clientele of cruise tourist with features like rock climbing walls, trapeze circus school, dodgem cars, FlowRider surf simulator, and a restaurant by Jamie Oliver.
Managing Director Australia and New Zealand, Adam Armstrong, says having a Quantum class ship like Ovation established in these waters is the culmination of a decade of innovation from Royal Caribbean.
"Ten years ago, our philosophy was to bring the world's most cutting-edge cruise product to New Zealand's doorstep," says Armstrong.
"Today, we continue this proud tradition of delivering Kiwis the world's best holidays at sea – most recently with the Ovation of the Seas. And, we make a commitment to Kiwis that they can expect continued excellence in cruising from Royal Caribbean for the next 10 years."
Joining Ovation of the Seas is Royal Caribbean's family-favourites Voyager of the Seas and Explorer of the Seas, known as the South Pacific Sisters and culinary ship Radiance of the Seas.