Tauranga Yacht Club hosted an unusual request recently, with a crew from BBC television series Coast visiting to see what is in the water that produces so many successful sailors.
The popular British programme, which has been running since 2005, is hosted by historian Neil Oliver and explores the relationships between people and the coastal environments they live in.
And it is the long list of Tauranga sailors that have appeared on yachting podiums across the planet - including Olympian Molly Meech - that brought him to the Bay of Plenty.
"The whole idea of Coast is to look at the way in which living on the coast and working on the coast has shaped people's lives in the present and in the past," says Neil.
"As a team we were fascinated to come and see why it was that one sailing club was producing Olympians and America's Cup winning sailors and all the rest of it.
"As the commodore and the rest of them were at pains to explain, by nature it happens to be very useful stretch of water.
"It's quite protected. There are islands offshore that protect it from any big waves and big weather, so it's relatively safe.
"At the same time there are currents, little tricks and little unexpected surprises that test the seamanship of the experienced and the inexperienced.
"That means that kids who do their apprenticeship in that bay get a very useful introduction to sailing. They learn skills in Tauranga that they can take with them anywhere in the world.
"They are happy to say that if you can sail off the coast of Tauranga, you can sail anywhere."
The visit included a sailing lesson from Molly, who gave Neil advice on the handling of the notoriously tippy P Class dinghy.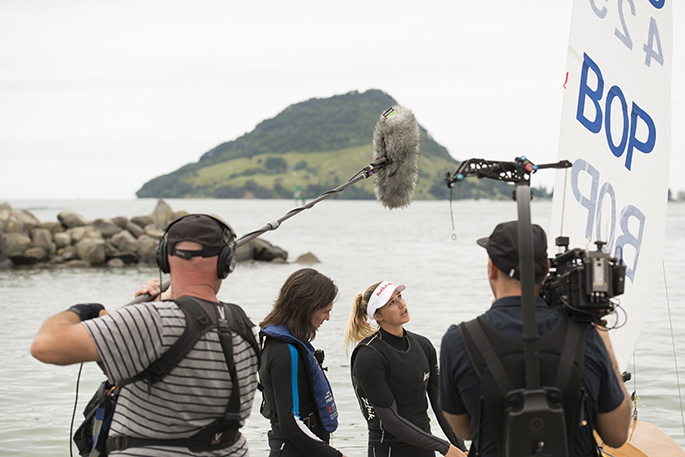 Neil Oliver, Molly Meech and the film crew. Photo: Nikki South.
Molly won the 2013 49er FX World Championship and a silver medal at the 2016 Olympics alongside Alex Maloney. During the 2015 ISAF Sailing World Cup, the pair competed in the women's 49erFX competitions, winning in Miami and coming second in Weymouth. They again won in Miami to start the 2016 season.
Molly and older brother Sam both won gold medals this week in the Sail Sydney Regatta, along with Tauranga's Tom Saunders who won silver, and Trent Rippey and crew Josh Porebski who also won silver.
"God help her, she was trying to give me some instruction on how to sail a P Class dinghy," says Neil. "That meant that I spent most of my time in the water.
"I spent a lot of time turning the P Class dinghy from capsized to upright, then climbing back into it in preparation to fall out again.
"Apart from anything else, I think weight distribution is crucial, especially if you are an adult weight. And if you make the slightest mistake, it's an early bath.
"Molly was an absolute gem. I had a lovely day with her and the club were great. It's fantastic to see all those kids, who have the unrivalled opportunity of getting sailing practice with Olympians and people who have gone all the way to world domination."
While Neil has been taking sailing lessons in the Bay of Plenty, the weather news from home in Stirling, Scotland is a complete contrast.
"My wife has been sending me photos of snow in Stirling," says Neil. "Our boiler has failed, the central heating's gone off and the big worry is frozen pipes.
"I'm down here slathering myself in factor 50 trying not to get cooked alive while my family are fighting the snow and ice.
"I'm not the most popular person at the moment. I have to hide my sun tan on Skype."
Coast has been traversing the coastline of Britain for 12 years, with Neil starting as the show's archaeology and social history reporter before taking on the main presenting role.
In 2013, Auckland production company Great Southern TV convinced Neil and the BBC to embark on an Australian version for Foxtel, based on the BBC format. It proved a ratings smash.
The magazine-style program features experts from different fields in an appealing and accessible mix of travelogue and social history documentary.
Neil had never been to Australasia before 2013. Since then he's spent well over a year in total filming three seasons of Coast Australia, mostly accompanied by his wife and three children.