He's competed in every Mount Monster so far, but Hamish Miller finally broke through for victory in New Zealand's premier long distance surf lifesaving race yesterday.
The 19-year-old eased home in 2hrs 20mins 36secs in the Dexion-sponsored event, held over 25km and four legs along the sun-drenched Bay of Plenty coastline.
Miller led from the start after setting a cracking pace in the opening 5km run and 1500m swim legs, carefully nursed his lead in the 12km ski paddle, then pulled away further in the final 6km board leg with the second-fastest time.
"I've had a few fourths and I've always seemed to be 20-30secs off the pace in previous years so to finally come away with a win on my home beach is pretty special," says Miller. "It was always going to be a bloody hard race but my tactic was to try and push the run - that's one of my strong legs. I needed a gap on the ski and the plan was to take a lead into the board, so I was pretty stoked how it worked out."
His Mount Maunganui training partner Declan Dempster snatched second, 1min 20secs behind Miller, after a withering final board leg, out-sprinting Frenchman Jonathan Despergers up the beach to the finish.
There was also a brand new winner in the female division, although Rachel Clarke is no stranger to success, having won the world surf ski series just a week earlier in Australia.
The former New Zealand ironwoman champion and Auckland policewoman used her ski strength to pull away, then held off teenagers Ella Kingi (Lyall Bay) and Hannah Baker (East End) despite limited time on her board.
"I was sitting around after winning the world series and thought 'why not give the Monster a go?' - I've done it in a team before but never as an individual – and managed to get my entry in about 3hrs before they closed," says Clarke. "The run was pretty hard but once I got about a kilometre into the ski, I felt really comfortable."
Meanwhile, Whakatane's reigning Coast to Coast champion Sam Clark finished 23rd in his surf lifesaving debut, clocking the third fastest run and eighth-fastest ski paddle but showing his lack of board ability to fade near the finish.
Former Olympic kayaker Steve Ferguson had the fastest ski paddle of the day, hauling in a slew of rivals to finish 11th overall.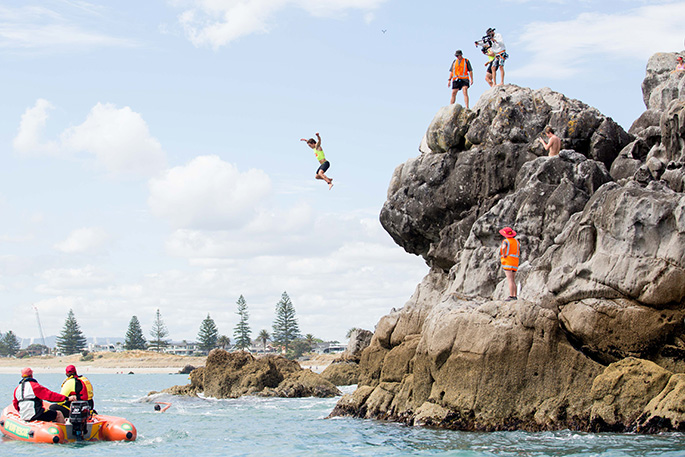 Hamish Miller leaps off Moturiki Island during the swim leg of the Mount Monster.
Mount Monster Results
Open men: Hamish Miller (Mount Maunganui) 2:20:36 1, Declan Dempster (Mount Maunganui) 2:21:56 2, Jonathan Despergers (France) 2:21:57 3, Ollie Puddick (Mount Maunganui) 2:22:57 4, Sam Shergold (Mount Maunganui) 2:23:48 5, Ben Keyes (South Brighton) 2:24:23 6, Luther Maxwell (Lyall Bay) 2:26:49 7, Joe Collins (Fitzroy) 2:26:59 8, David Long (Lyall Bay) 2:27:44 9, Josh Gallagher (Piha) 2:28:18 10.
Open women: Rachel Clarke (Mairangi Bay) 2:41:36 1, Ella Kingi (Lyall Bay) 2:42:22 2, Hannah Baker (East End) 2:42:59 3, Camille Rosa-Perotteau (Mount Maunganui) 2:47:38 4, Alexandra Edmonds (Lyall Bay) 2:51:23 5, Emma Walker (Piha) 2:53:30 6, Gabrielle Barnett-Bates (Lyall Bay) 2:54:29 7, Ruby Hikuroa (Lyall Bay) 2:56:18 8, Eva Albiston (Lyall Bay) 2:59:28 9, Bella Bassett-Foss (Waimarama) 3:00:56 10.