The pedestrian friendly street upgrade for Durham Street and Durham Lane is approved this week by Tauranga City council, signalling a transformation into a city scape featuring broad shady streets, paving, seating, garden beds and rain gardens.
Council will go out to tender early next year for a construction partner for the $6.1m project. Stage one construction is expected to begin in the second quarter of next year, with completion forecast for April 2019.
The pedestrian-friendly design will feature Durham Lane retaining functionality as a service lane as well as being a shared space that encourages and protects pedestrian activity. Over time, it is envisaged that businesses with active frontages on to the lane will emerge, and that the laneway will become an informal campus heart for students.
The vision for Durham Street and Durham Lane reflects the feedback Council received from the community, and the principles of the Tauranga City Centre Spatial Framework, says Mayor Greg Brownless.
"The Durham Street and Durham Lane upgrades are an essential part of realising the potential of the University of Waikato campus and the creation of a successful education precinct in the heart of the city. It is also in response to other major development in the area, including the Trustpower building," says Greg.
"Durham Street will become a much more pedestrian-friendly street and a key city centre thoroughfare. Durham Lane will be transformed into a unique laneway space that will see it become a vibrant hub for students."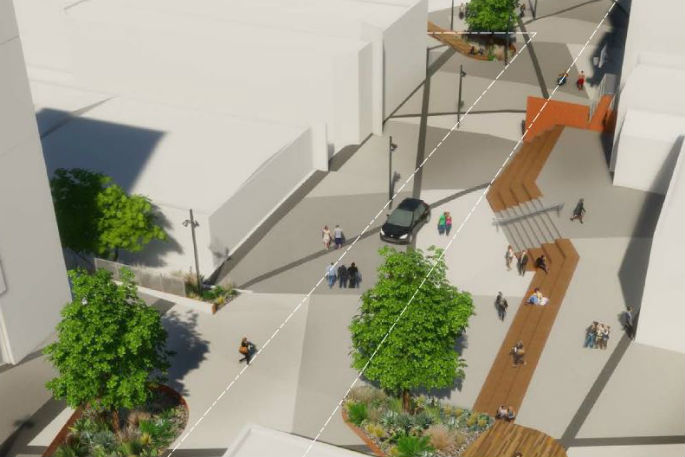 The transformation of Durham Lane into the campus courtyard. Photo: Supplied.
He said the aim is to create a vibrant city centre with streets that provide a: "Quality pedestrian experience, encourage walking and other non-car based transport modes".
Council resolved to split construction of the upgrade into two stages, says City Transformation Committee Chair Larry Baldock.
"The first stage of the upgrade will include the majority of Durham Lane, and the raised carriageway section of Durham Street, including the Durham Street and Spring Street intersection. This stage is expected to be completed by April 2019," says Larry.
"The second stage will begin once a decision is made on the location of the bus interchange, and to await the future construction of the student accommodation building on Durham Street."
A decision on the location of the bus interchange will be the result of a future Council call. If the bus interchange is located elsewhere, then the part of Durham Street that has been designed to allow for the interchange could either be planted or retained as on-street car parking, or a combination of these two options.