Darryl Judkins is building to become president of his own private railroad in 18 months-to-two years.
It's not quite like the ones that helped pave the American west, but it will fire up a passion that's been smoldering for 30 or 40 years, and it will be big.
"One that's creating a lot of shed envy." Shed envy?
Most model railway layouts would fit in a conventional bedroom, but Darryl's built a special stand-alone shed to house his model railway empire - 16 metres by 10 metres and 160 square metres all up. Add the mezzanine, and it's bigger than the average New Zealand house and stuck away on a large lifestyle block in Te Puna.
He doesn't like discussing money – "Not for the paper, thank you," says Darryl – but if you needed a ballpark figure, he reluctantly offers up $100,000. And that's just to house the project, not the project itself.
"It adds up", reflects Darryl. "I collected rolling stock for many years while I was working overseas. I would buy things online from time to time and have them shipped home." This stock is all packaged up on shelves on the mezzanine floor.
With trains costing anything from $150 to $400, he's probably spent more than $30,000 on stock and bits and pieces and maybe another $10,000 on the layout itself. "Tracks aren't cheap." The point being, model train layouts can be as big and as expensive as you like.
But all this talk of money is a bit disagreeable to Darryl, a bit unsavory.
Anyhow, when this mechanical engineer came home from Africa a couple of years ago, he decided to build a "decent" model railway. For 'decent' read big. Very big.
And when this enormous, complex and inclusive project eventually consumes his 160 square metre shed, including his wife's 10 metre air rifle range, what does a man do?
"Well, a man runs a railway," he says. And running a railway is much more complicated that just letting trains run round and round. That's what we, the uninitiated, don't understand.
First there's the planning and construction of the railway. Darryl's is being designed on a special computer programme. There's the construction, both mechanical and electrical, and then there's the scenery.
"Then I will have friends around, fellow eccentrics, and we will run the trains to a timetable." And for the purist, that's the essence and the object of the whole exercise. To run a layout to a timetable, just like the real thing.
"If it's a big enough layout, and has enough different parts, a number of enthusiasts can operate their segment, whether it be passenger or freight trains, from one place to another," he explains, "to a timetable."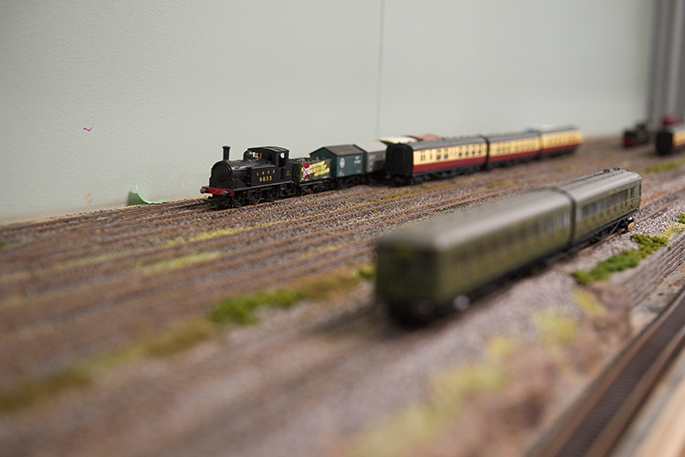 So it's all about focus, logistics and control - a team of enthusiasts making an operating plan work. "It's about trying to operate your own rail network, your own little paradise, your own little fiefdom."
It was Darryl who used the word 'eccentric'. "It's not unusual behaviour, not obsessive," he insists. "Not totally eccentric, only partially eccentric." He can see how others may see him. And he doesn't mind – as long as it all works positively for modelling and the Tauranga Model Railway Club, which operates out of the Fergusson Park Pavilion on Tilby Drive, Matua.
He says people are very open about their interest in model railways. "They don't go on diets or sing praises, although it is an acquired hobby if you like."
But some distinguished modelers do sing, if not praises. Rod Stewart is an unabashed modeler. He's even declared he'd rather be on the cover of a modeler's magazine than the cover of Rolling Stone.
That's another thing Darryl likes about modelling. It transcends status, money and fame. "We have a geo-chemist in our club, and truck drivers." It doesn't matter when there is a commonality such as modeling.
Some modelers do get obsessive. They're called "rivet counters". They will criticize anything that's not true to life. They will count the rivets on a loco to see if it matches the real thing. "Rivet counters" will not be welcome at Darryl's.
No, Darryl was never a train spotter. Yes, he would visit heritage railways like Glenbrook or the Glen Afton line. And yes, he would take a look at the trains in Africa when he was there.
"What started it all?" he ponders. "The power of steam I guess. Steam trains have a life."
All that hissing, puffing and heaving clouds of steam and smoke. Machines that come alive. They take on anthropomorphic qualities – inanimate things taking on lifelike qualities. That's all part of the romance of steam.
Ask Darryl if he has a favourite train and it's nothing flash. It's a wee, chunky, unpretentious steam workhorse. That probably tells us something about the man.
It's interesting that Darryl's brother is alongside for this build. They developed their interests in modelling on opposite sides of the world and came together again in a very impressive shed in Te Puna. So when will the Judkins brother's railway empire be finished? "Never – they are never finished," is the answer.
Like the real thing, they are always evolving, changing and improving.
The Tauranga Model Railway Club meets every Thursday night at 7pm at Ferguson Park on Tilby Drive, Matua.