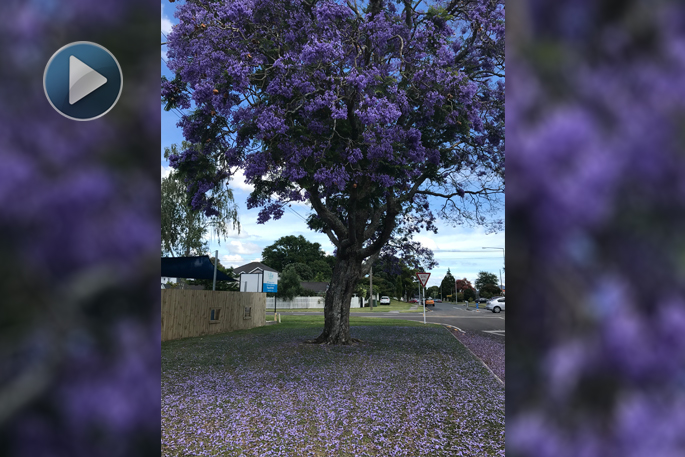 Click the image above to watch the video
Welcome to Jacaranda January! Across Tauranga there are many jacarandas flowering and creating carpets of purple.
In today's weather forecast we are expecting a mostly cloudy day with a few showers. Northerlies will be developing in the afternoon.
It's a one-clothing layer day today with a high of 23 and overnight low of 18 degrees.
Low tide is at 1.40pm and high tide is at 7.50pm. Sea temperature is 20 degrees. There's an average sea swell of .3m. Sunset tonight is at 8.36pm.
If you're going fishing today the best fish bite times are between 12 and 2pm.
This day in NZ history in 1938 was the first official NZ airmail flight to the United States. The airmail left Auckland for San Francisco on Pan American Airways' Samoan Clipper.
In world history on this day, in 758 the French began bombardment of Madras, India. In 1839 photography pioneer Louis Daguerre took the first photograph of the moon.
In 1903, President Theodore Roosevelt closed a post office in Indianola, Mississippi, for refusing to hire a Black postmistress.
Today is the birthday of Isaac Asimov, American writer of over 300 books including Foundation and I, Robot. Born in 1920, he said "The most exciting phrase to hear in science, the one that heralds new discoveries, is not 'Eureka!' (I've found it!), but 'That's funny...'.
He also said "People who think they know everything are a great annoyance to those of us who do."
Many are arriving for Bay Dreams at the ASB Arena today, so take care out on the roads to allow for the possible traffic buildup. To get involved in other activities across the Bay please check out our What's On page.
Have a great day!