It appears the weather eased last night and recovery and damage assessments will now be taking place in the Bay.

Last night Tauranga City Council posted on Facebook that the severe weather warning for heavy rain and severe winds in the Bay of Plenty had been cancelled.

"Tonight's king tides, due to peak around 11pm, should be manageable," says Tauranga City Council.

"Fortunately the weather seems to be behaving itself, which is a relief after the onslaught of wind that arrived with the peak tides this morning."
The Mauao base track is open
Caution is advised around all coastal or harbour walkways this weekend as not all damage will have been reported and assessed. Some walkways are closed.
The NZ Defence Force and the Red Cross will be doing community outreach today for people who have been badly affected by the weather yesterday.

Powerco contractors will also be working non-stop to restore power to homes that have been affected.

Thames-Coromandel District Council says all their roads are open, with Colville Rd open to one lane and expected to be open to two lanes later today.

"Our roading contractors are out this morning checking everything and will keep us informed.

NZ Transport Agency says Thames Coast Road (SH25) is now passable from Te Puru north, but remains closed between Te Puru and Tararu. There is severe damage to the road at Whakatete Bay.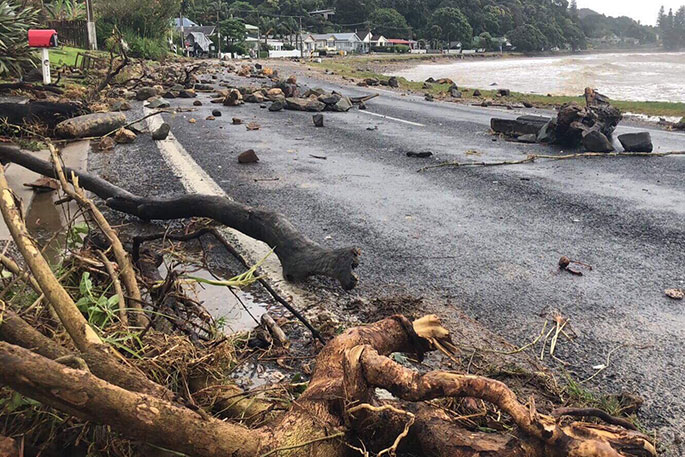 If you are trying to leave Coromandel the way out is through Whitianga to Tairua, traffic delays are expected.

The Pauanui water treatment plant was able to recommence production of water from late yesterday, but customers are asked to conserve water as demand is met and reservoirs refilled. The water being supplied in Pauanui throughout the weather event has remained safe and potable with no issues with quality.

The following public toilets are closed: Waikawau, Tapu, Te Puru Boat Ramp, Te Puru Domain, Adams Rd in Thornton Bay.

Hannfords Wharf is closed until it can be inspected by a marine engineer later today. Coromandel Wharf appears OK but will also be inspected. A number of private jetties leading off the main wharf there have been damaged and appear unsafe.

Darpetment of Conservation has confirmed the Pinnacles Hut is open. The road is open with some metal washout but still driveable for two wheel vehicles.

The Thames to Kopu and Kopu to Kaiaua sections of the Hauraki Rail Trail are likely to be closed due to damage to the foreshore stopbanks along which it runs. That damage will be inspected next week.

If you must travel, check NZTA's website here first for the latest information about road closures. You can also use their journey-planning website to plan the best route for your journey, taking into account known issues and traffic on state highways.

Waikato Regional Council has set up an online hub for rainfall and flood related information to help people more easily keep up to date with severe weather events in the region.

The rain should help replenish reservoirs and water tanks, but the Bay is still facing water restrictions due to high use and also filtering sediment and silt that will be coming through from this weather event.