It was a fair old dumping. Nearly 22ml of rain in just 12 hours with a deepening low pressure system promising another 150ml the next day.

"But it doesn't really help us," says Rodney Clark, the man who runs Tauranga City's water supply. "It doesn't fill tanks."
It seemed the heavens were delivering to a city where garden sprinklers are dirty words, certainly prohibited, where hosing paths and driveways is as anti-social as it is against the bylaws, and you can only "carefully" hose by hand before breakfast and after dinner.
And if that didn't scare us into more conservative water usage then total hose bans might. And possibly a ban on all outdoor water use.
"All of our pristine double A-graded drinking water being dumped on lawns," says Rodney. He suggests some alternatives for the lawn proud and passionate – like rain water harvesting or installing a bore.
To understand the Tauranga City Council water restrictions brought on by sustained and increased water demand and hot dry weather, it helps to understand the process. And why a day's rain does and doesn't help.
Tauranga has two streams supplying water – the Waiorohi on Oropi Rd and the Tautau at Pyes Pa.
"Good rivers, good water," says Rodney. "An ample supply of raw water all year, every year. We draw off the water, treat it and put it in storage."
That storage is replenished every day. And what is produced today is drunk tomorrow, normally about 39 million litres.
And at any given time there's two to three days of off-peak storage ready to go to town, ready to drink. But when summer comes early, like this year, when the big hot dry comes to town early in September, water engineers can get palpitations.
There's a sustained and increasing demand for water. A lot of people are irrigating lawns and gardens, holidaymakers are flocking to town driving up consumption of the precious AA-graded water to 52.5 million litres. That tests man and machine.
"It's not the supply of water, but our capacity to treat it. Then two or three days of treated water storage becomes one or two days."
So if we know we are going to crack 50 million litres a day, why don't we have the machinery to cope?
"We have a system in place to deal with normal demand of about 39 million litres – but to expect a city to put in place something that can run over 50 million litres like we have experienced, would be quite expensive."
Up until Wednesday the seven-day rolling average consumption of treated water in Tauranga was nearly 43 million litres. "And when you are running machines at high capacity for long periods, maintenance starts to back up. You have to throttle off to do ongoing maintenance," says Rodney.
He likens it to endlessly driving a car at 200km/h. "You can't not expect to pull over and change the oil every now and again."
And when the machines cracked 50 million litres a day early this summer – or "very high" – and there's not much rain in the forecasts, restrictions were imposed.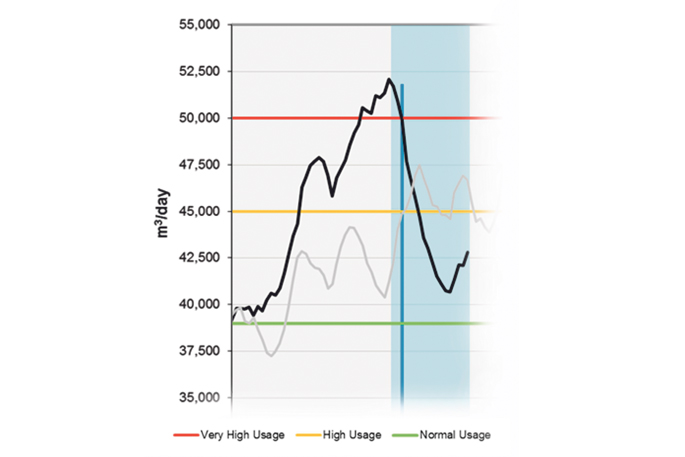 That spike - this summer's usage cracks the red "very high" line. Last year's usage is in grey.
"It worked, achieved exactly what was intended," says Rodney. Consumption dropped considerably – down almost 10 million litres a day – and that's very manageable. "Yep, it's been raining this week and that's good for us because it slows consumption." Rain means people stop frittering high quality drinking water.
"But it doesn't fill any tanks anywhere because we have got two good rivers whether it's raining or not." Again, the problems more about the capacity to treat the water and the fact there's only one or two days' storage of treated drinking water ready to go.
The engineers don't like to put a number on how much water they can produce, here are many variables. "But if we are pushed up around that 50 million litre mark, then we are tapped out," says Rodney.
"But we are very proud of our plants which produce high quality AA-graded drinking water." Even if it is getting dumped on lawns, and driveways and paths."
But it seems Tauranga has responded with good grace to the restrictions – well, mostly. A few people aren't happy, but most have complied.
"You can takes things like water for granted if you don't understand that it's a finite resource and you are flicking the sprinkler on, leaving it on and forgetting about it. Quite easy to do."
But the restrictions are serving as a "nice reminder" – hang on, we need to be a bit more conservative with what we are using.
And if the reminders don't register, then there are the self-appointed bylaw enforcers, the double-A water vigilantes, taking a very personal responsibility for out water conservation. "They've been helping us out and letting us know where people aren't complying."
So another reminder – you are probably being watched.
"The key messages are we have an ample water source, but it's the throughput to treat the water," says Rodney. "And storage-wise we have just one or two days' worth of storage sitting in the system and the plants are running all the time."
Globally the water industry is under scrutiny at the moment – more a quality than quantity issue.
"But the two go hand-in-hand. We can't produce massive volumes of high quality water for it to be used in an irresponsible manner."
Until the restrictions, people were doing exactly what they were entitled to do with water from the city supply lines – that's pretty much anything.
"But since the restrictions, people are being absolutely fantastic and so a big 'thank you' from me."
And in the distance, just beyond the horizon, there's the Waiari water supply scheme, another water supply scheme, our third water treatment plant, a $110 million project to irrigate a rapidly growing city.
"That'll help, a big plant, lot of infrastructure, that'll definitely take the pressure off, there'll be a lot more treated water capacity."
But not for three years, in 2021.