The coaching trio that took Tauranga City United to the Northern Premier Division via back-to-back promotions have made a surprise return to the Bay of Plenty football scene with Papamoa.
After a year away from the game following their difficult departure from United, manager Duncan Lowry and coaches Gary Darkes and Andy Birchenough will take the reins at the Gordon Spratt Reserve club ahead of the 2018 Federation Championship season.
Their initial remit is a simple one – improve on the disastrous relegation that saw Papamoa finish bottom of the Federation Premiership last term having lost all 22 of their league fixtures.
But true to form for a man who played against World Cup winners such as Didier Deschamps, Rudi Völler and Fabien Barthez during his playing days in his native Northern Ireland, Lowry's sights are set much higher than a mere victory or two.
"I'll be disappointed if we don't win the league and bounce straight back up this year," says the 53-year-old.
"The bones of a good club are already in place, and there's no reason why we can't become the biggest club in the Bay of Plenty. That excites me and drives me on.
"We're excited for all the right reasons, and we're not interested in becoming a feeder club to anyone else.
"I've got the passion back and can't wait to get started."
The passion that the former central defender refers to took a hammering following his contentious departure from Tauranga City United in 2016.
Following a difficult campaign which resulted in relegation from the top flight, Lowry and his team reflected on what they'd learned from a testing season and looked to use that experience as an education before moving forward.
A much harsher lesson, however, was just around the corner.
"To be truthful," says Lowry, "the Premier Division was a struggle with Tauranga, but the three of us learned more that year than ever before and we fully expected to grow as a team because of that.
"We were in the top four after six games, but we picked up a few injuries to key players and in the end we weren't big enough or strong enough. But I went to the end-of-season prize giving with my head held high.
"Then a new committee came in and asked us all to reapply for our jobs, and we walked out of the club because of that.
"We were trying to do everything right, but as the saying goes 'a new broom sweeps clean', and that's what the new committee did. We asked ourselves 'should we have to reapply for our own jobs?', and the general consensus was that it was an insult. That's what hurt me more than anything else."
As it turns out, it was a period of reflection that none of them had planned for.
"I was on the committee," explains Gary, "and the idea was to start an academy. But it's all about whether your face fits, and because there was three of us, that possibly made us a bit too strong for them. All of a sudden we didn't feel welcome, and that was obviously a problem.
"We had done all of our own fundraising and brought in our own sponsorship, so it wasn't as if there was any bleeding of funds to the first team. We were self-sufficient.
"But the club wanted to take a new direction and switch their focus, so that was that."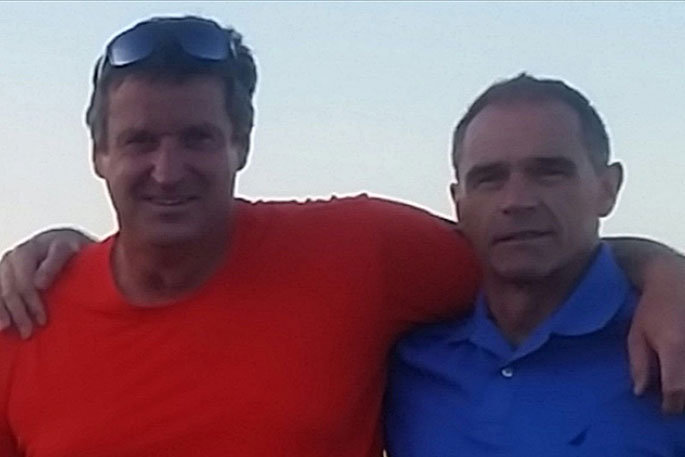 Coaches Gary Darkes and Andy Birchenough. Supplied photo.
Given their reputation as some of the most knowledgeable and experienced football coaches in the Bay, it didn't take long for news of their sudden availability to reach Papamoa FC's treasurer Paul van der Salm.
Initial contact was made swiftly, but it would be another year before Belfast-born Lowry, ex-goalkeeper Darkes and former Oldham Athletic midfielder Birchenough would sign on the dotted line.
"Paul has been at Papamoa since day one," explains Lowry, "and he got in touch when the three of us walked away from Tauranga City United.
"I wasn't interested in the job at that time because I needed a break. The three of us were hurting after what went on behind our backs at Tauranga and we needed time. On a personal level, I was ready for a breather.
"I needed a year out, and I've seen more of New Zealand in six months than I had in 28 years."
Fast-forward 12 months, however, and outlooks had changed. Football is a game that never fully leaves the system, and it was a matter of time before the trio would relight the fire that had been dampened down without ever being fully extinguished.
"Paul got in touch again and I finally went over to have a look at Papamoa," says Lowry. "I was very impressed with the set up, and it was better than I thought it would be.
"I spoke with a few people at the club, then called Gary and Andy to see if they were keen.
"It's a place that's growing and there's a lot of kids in Papamoa who are keen to play the game. Thousands of new houses have been built there and the growth of the area and the growth of the club can go hand-in-hand. It's one of the fastest-growing suburbs in New Zealand.
Gary adds: "A lot of clubs here seem to think that you don't need a successful first team – they do it the other way around and put the emphasis on youth without servicing their senior side.
"Our belief is that if you have a good first team, everything else will follow. Success breeds success.
"We want the community to get behind the club and the first team, and it's also important to build relationships with places like Papamoa College. We want to make friends with the right kind of people from the very start and be a welcoming club."