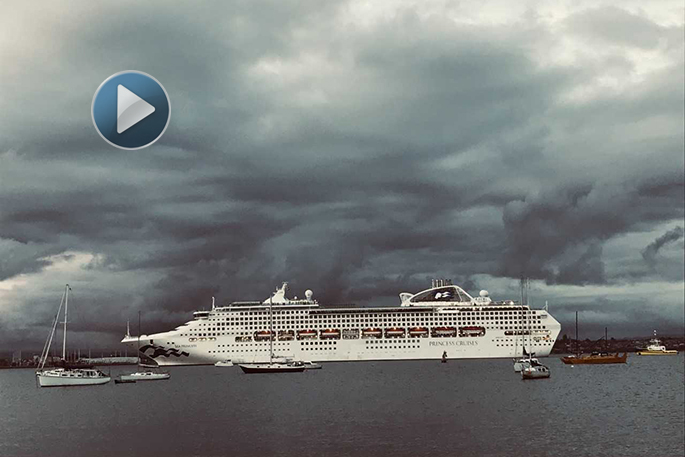 Click the image above to watch the video
Welcome to passengers from the Sea Princess, in the Port of Tauranga today until departing at 6.30pm.
In today's weather forecast we are expecting cloudy periods. A few showers, mainly in the morning and at night. Also northeasterlies developing.
It's a one-clothing layer day today with a high of 24 and an overnight low of 19 degrees. Humidity has dropped down to 77 per cent.
Low tide is at 11am, high tide is at 5.10pm. Sea temperature is 20 degrees. There's an average sea swell of .3m. Sunset tonight is at 8.36pm.
If you're going fishing today the best fish bite times are between 9 and 11am, and 9.30 and 11.30pm.
This day in NZ history in 1890 'Torpedo Billy' Murphy won the world featherweight boxing title. By defeating Irishman Ike Weir at San Francisco, Murphy became the first New Zealander to win a world professional boxing title.
This day in world history in 1846 American President James Polk dispatched General Zachary Taylor and 4,000 troops to the Texas Border as war with Mexico loomed. In 1927 a woman took a seat on the NY Stock Exchange breaking the all-male tradition. In 1955 Chase National and the Bank of Manhattan agreed to merge resulting in the second largest U.S. bank.
Today is the birthday of author Michael Bond, best known for his series of Paddington Bear children's books. Born in 1926 Michael wrote "If you really want something in this world, you'll never get it by sitting down and waiting. But if you go out and do things there's no knowing where you'll end up."
To get involved in activities across the Bay please check out our What's On page on the SunLive website. You'll also find Ben & Jerry's giving away free scoops of icecream today through to Monday at Marine Parade, just down from the Surf Cub, from noon until 5pm each day.
Have a great day!