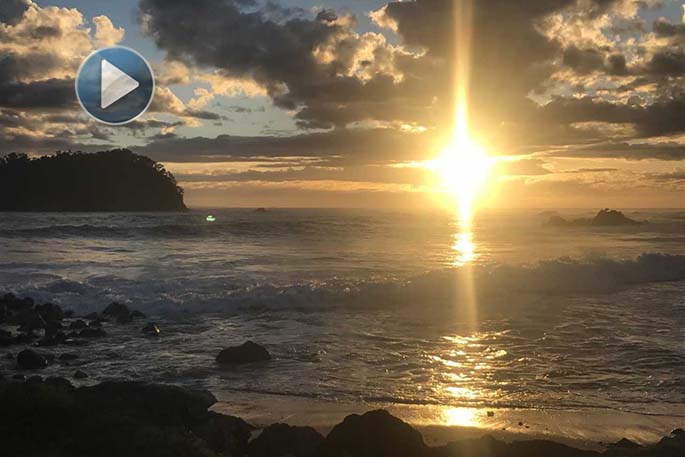 Click the image above to watch the video
In today's weather forecast we are expecting fine spells and a few showers. Also southeasterlies developing in the afternoon.
It's a one-clothing layer day today with a high of 24 and an overnight low of 15 degrees. Humidity is 80 per cent.
High tide is at 9.50am and low tide at 4pm. Sea temperature is a warm 22 degrees, and there's a sea swell of 1.8m. Sunset is at 8.23pm.
If you're going fishing today the best fish bite time is between 6am and 9am, and between 7.30pm and 10.30pm.
This day in NZ history in 1868 a killer storm swept the country. A cyclone swept south across the country from Saturday February 1. By the time it moved away on Tuesday 4th, more than 40 people had died.
On this day in 1931 Hawke's Bay was struck by an earthquake. When the deadly earthquake, measuring 7.8 on the Richter scale, struck at 10.47am, many buildings in central Napier and Hastings collapsed immediately.
This day in world history in 1690 the first paper money in America was issued in the Massachusetts Bay Colony. In 1783 Spain recognized the United States' independence. In 1920 the Allies demanded that 890 German military leaders stand trial for war crimes. In 1954 millions greeted Queen Elizabeth in Sydney on her first royal trip to Australia. In 1966 the Soviet Luna 9 achieved a soft landing on the moon.
Today is the birthday of German composer and pianist Felix Mendelssohn. Born in 1809 he once said "The essence of the beautiful is unity in variety."
To check out what's on today please go to our What's on page. Have a great day!