For Tauranga's Jo'el Komene, his taonga puoro are a connection to the soul. He has about 25 of the traditional Maori instruments he has made and taught himself to play. Different variations of their use double that number to around 50.
While he largely plays for his own enjoyment, you may hear some of his work on Maori radio, at public events, or in the background while watching Maori TV.
Jo'el, with whakapapa to Nga Puhi, Tainui and Tapuika, enjoys contributing to the revival of these ancient instruments and is holding a workshop at the Historic Village on Sunday.
Jo'el says the revival began with Maori composer and singer Hirini (Sid) Melbourne in the 1970s.
"Most of these instruments were in museums until Hirini and others starting asking questions: 'what do they sound like?', 'who played them?', 'when and why?' My workshops are all about contributing to that revival."
Jo'el says few people have an understanding of the instruments, including many Maori.
His own interest in taonga puoro began about 15 years ago when he took a paper on the 'Maori world of sound' while studying at the University of Waikato.
"I got to make a few instruments as part of the paper and my interest grew from there. I started making them and the lecturer invited me to some workshops." He has since gone on to complete a Master's degree on taonga puoro.
The instruments are all made from natural materials, including stone, clay, bone, shell and wood. Some of the more familiar ones used today include the koauau (flute), putatara (signalling trumpet) and purerehua (spinning discs).
"Some people give me the materials because they think they will be useful to me and some of the more rare materials, such as whale bone and albatross bone, are given to me by the Department of Conservation when they become available," says Jo'el.
All of his instruments have their own individual look and sound. "Although they might be classified as the same instrument, the dimensions and playing techniques are often slightly different."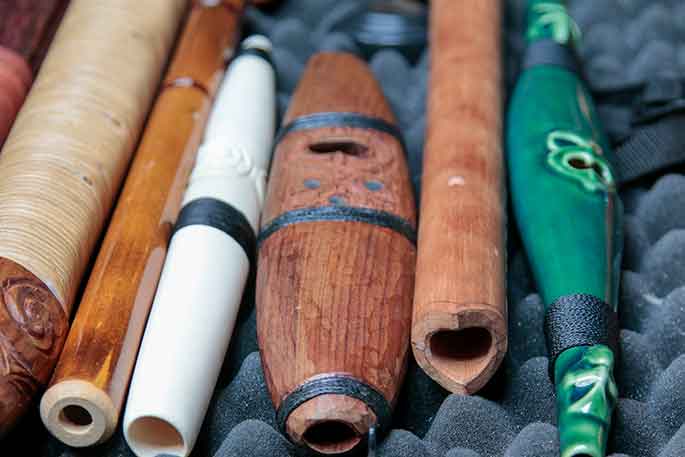 Jo'el, who is also a carver and a musician, experiments with the sound of the instruments as he crafts them. He describes them as having a "voice" rather than a sound.
"There's something about them that connects with a person's spirit. There are a number of myths and legends that tell us about their usage and give us some idea of what we should and shouldn't be doing.
"These help to ground us, and because they are made of natural materials it's an organic sound. It connects with the soul."
Jo'els favourite instruments are those played with the nose. "There is a very spiritual sound that comes out of it, particularly because it is the breath coming from the nose."
He admits that some people find playing an instrument with your nose "quite weird".
"I guess we're not used to blowing out of our nose unless we're trying to clear it, but once you get used it, it's great. It makes an awesome sound."
Jo'el's taonga puoro workshop will be held at The Artery in the Historic Village, 17th Avenue, Tauranga from 12.30-5pm on Sunday, February 11. To register phone: 07 571 3232 or email: info@theincubator.co.nz