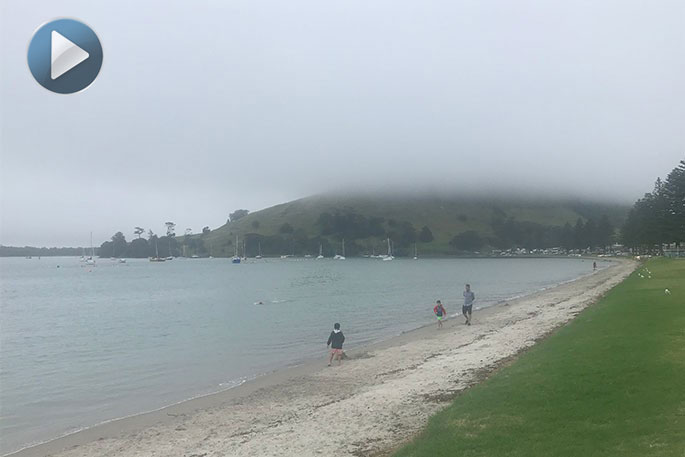 Click the image above to watch the video
In today's weather forecast we are expecting occasional rain, with a chance of it being heavy, but easing in the afternoon. Also northerly breezes.
It's a one-clothing layer day today with a high of 25 and an overnight low of 21 degrees. Humidity is 99 per cent.
Low tide is at 12.10pm and high tide at 6.10pm. Sea temperature is 21 degrees, and there's a sea swell increasing during the day to 1.5m early this evening. Sunset is at 8.13pm.
If you're going fishing today the best fish bite time is between 10am and noon.
This day in NZ history in 1869 a Ngāti Maniapoto war party sacked the redoubt at Pukearuhe (White Cliffs) in northern Taranaki, killing military settlers, family members and the missionary John Whiteley.
This day in 1983 Lance Cairns hit six sixes at the Melbourne Cricket Ground. At 44/6 in reply to Australia's 302, New Zealand was heading for an embarrassing defeat in the second final of the Benson & Hedges World Series Cup when Lance Cairns took guard with the bat dubbed 'Excalibur'.
This day in world history in 1542 Catherine Howard, the fifth wife of Henry VIII, was beheaded. In 1689 the British Parliament adopted the Bill of Rights. In 1865 the Confederacy approved the recruitment of slaves as soldiers, as long as the approval of their owners was gained.
In 1866 Jesse James held up his first bank. In 1914 the American Society of Composers, Authors and Publishers (ASCAP) was founded. In 1949 a mob burned a radio station in Ecuador after the broadcast of H.G. Wells' "War of the Worlds."
In 1968 the United States sent 10,500 more combat troops to Vietnam. In 1970 General Motors is reported to be redesigning automobiles to run on unleaded fuel.
Today is the birthday of physicist William B. Shockley. Born in 1910, he was the co-inventor of the transistor. It is also the birthday of American test pilot Charles "Chuck" Yeager.
Born in 1923 he was the first man to break the sound barrier. Chuck once said "You don't concentrate on risks. You concentrate on results. No risk is too great to prevent the necessary job from getting done."
To check out what's on today please go to our What's on page. Have a great day!