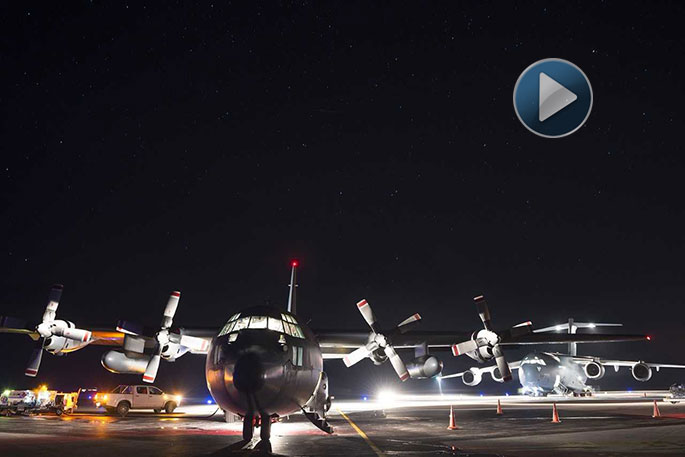 Click the image above to watch the video
The New Zealand Defence Force has delivered 12 tonnes of aid and disaster relief supplies to communities in Tonga affected by Tropical Cyclone Gita.
Air Commodore Kevin McEvoy, the Acting Commander Joint Forces New Zealand, said a Royal New Zealand Air Force C-130 Hercules carrying aid and a 10-member initial assessment team led by the Ministry of Foreign Affairs and Trade (MFAT) arrived at Fua'amotu International Airport on the main Tongan island of Tongatapu on Tuesday evening.
"Tonga is a close neighbour of New Zealand and we stand ready to assist our neighbours in times like these," Air Commodore McEvoy said.
The supplies from MFAT's emergency stores included 500 family hygiene kits, 200 shelter tool kits, 2300 10-litre collapsible water containers and 1000 tarpaulins.
The initial assessment team will help survey the damage caused by the cyclone and help Tongan authorities identify worst-hit areas, says Air Commodore McEvoy.
Air Commodore McEvoy says an Air Force's P-3K2 Orion aircraft has also just arrived in the area to conduct an aerial survey of the Tongan islands that suffered the brunt of Tropical Cyclone Gita.
"The aerial survey will help assess the scale of the damage wrought by the cyclone and help Tongan authorities determine the next steps in their emergency response."
He says the survey would focus on Tongatapu and the neighbouring island of Eua, and determine the damage to major infrastructure including airfields, ports and hospitals.
"The information from the aerial survey will help Tongan authorities identify worst-hit areas and mobilise resources where they are most needed."