A Tauranga-based company is the latest to provide aid to badly affected farming communities in Tonga, following the devastating impact of Cyclone Gita.
Heilala Vanilla, which is based in Te Puna, partners with vanilla growers throughout Tonga, including the island of 'Eua.
The company was established in 2002 by a New Zealand family - in partnership with a local family in Vava'u, Kingdom of Tonga - as an aid project following Cyclone Waka.
Since its inception, Heilala Vanilla has had a significant positive impact on the Tongan economy, providing employment and infrastructure across a number of communities.
The company has seen the hardship that these disasters cause and is working tirelessly to help those affected by Cyclone Gita, to get back on their feet as soon as possible.
'Eua is a community that Heilala Vanilla has a strong presence in, with vanilla plantations and partner growers spread across the island.
The island has a population of about 5,000 people and approximately 800 households divided between 13 villages.
The category four storm that devastated the main island of Tongatapu and the neighbouring island of 'Eua has left some villages completely destroyed, with limited access to food and water.
Heilala Vanilla CEO and Co-Founder Jennifer Boggiss has spoken with both the Heilala Vanilla team in 'Eua and her father John Ross, who happened to be visiting Tonga at the time Cyclone Gita hit.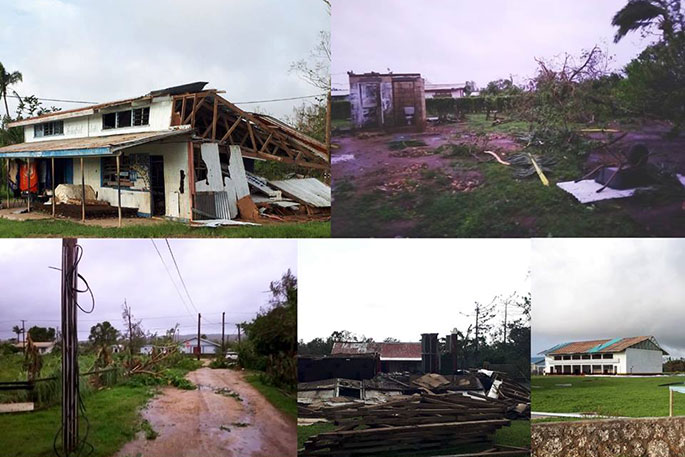 She received reports of widespread devastation to crops and buildings on 'Eua, with an immediate need for non-perishable food, as well as machinery to help clear the fallen trees and debris.
"We have been personally touched by this disaster, as 'Eua is home to over 40 vanilla growers. These communities are already vulnerable with limited resources to overcome natural disasters.
"We remain loyal to Tonga and will do whatever is required to support our team and community there."
Jennifer says Heilala Vanilla has been overwhelmed by the generosity of customers and suppliers and appreciative of their support for the relief efforts.
The foundation has received donations of goods and services from many businesses incuding:
• 1000 long life milk bottles from Lewis Road Creamery
• A selection of biscuits and snacks from The Griffin's Food Company
• Chainsaw petrol and oil packs by Stihl Shop
• Dart board and darts - Puma Darts
The donations and support will allow Heilala Vanilla to provide the following assistance directly to the villages on 'Eua;
• Non-perishable food supplies
• More than 20 chainsaws to clear cyclone debris
• Building materials to repair damaged and destroyed homes
• Clothing and disposable nappies for infants and children
• A second shipment of supplies will be sent to 'Eua High School in March
Jennifer says the company will cover all administrative and associated costs required for the foundation to carry out its work.
"The requirement for this relief is immediate and there's limited air freight to Tonga available.
"Heilala Vanilla is seeking the support of Air New Zealand and the New Zealand Government to expedite the initial shipment."
In addition Heilala Vanilla has also set up a donation page on their website to assist with the relief efforts. Every dollar of the funds donated will go directly to the people in need on 'Eua.
People wishing to support the Heilala Vanilla Foundation in helping the victims of Cyclone Gita can donate on the Heilala website.