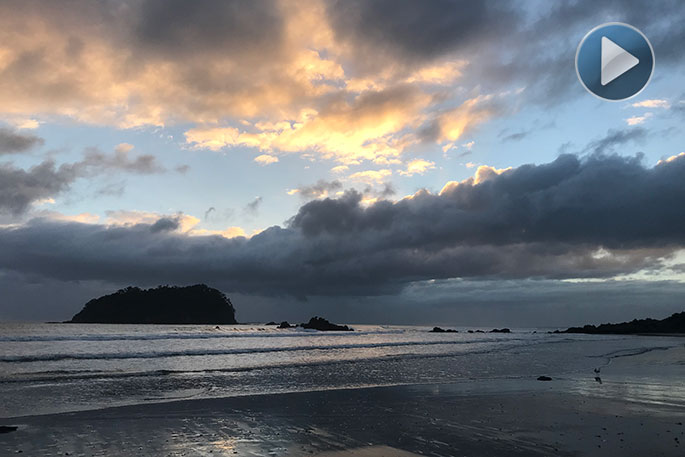 Click the image above to watch the video
In today's weather forecast we are expecting morning cloud clearing to a fine day and some westerlies.
It's a one-clothing layer day today with a high of 25 and an overnight low of 17 degrees. Humidity is 84 per cent.
High tide is at 11.30am and low tide at 5.50pm. There's a sea swell of 0.6m, sea temperature is 21 degrees and sunset tonight is at 8.04pm.
If you're going fishing today, the best fish bite time is between 4.30 and 6.30pm.
This day in NZ history in 1879 was the Kaitangata mining disaster.
On the morning of 21 February 1879, an explosion rocked the coalmine at Kaitangata, South Otago. Thirty-four miners died.
In world history on this day in 1775 as troubles with Great Britain increased, colonists in Massachusetts voted to buy military equipment for 15,000 men. In 1797 Trinidad, West Indies surrendered to the British.
In 1878 the world's first telephone book was issued by the New Haven Connecticut Telephone Company containing the names of its 50 subscribers. In 1885 the Washington Monument was dedicated in Washington, D.C. On this day in 1940, the Germans began construction of a concentration camp at Auschwitz.
In 1972 Richard Nixon arrived in Beijing, China, in becoming the first U.S. president to visit a country not diplomatically recognized by the United States.
Today is the birthday of author and humorist Erma Bombeck. Born in 1927 Erma who wrote the book 'The Grass is Always Greener Over the Septic Tank', also said "When I stand before God at the end of my life, I would hope that I would not have a single bit of talent left, and could say, 'I used everything you gave me'."
To check out what's on today, please go to our What's on page.
Have a great day!