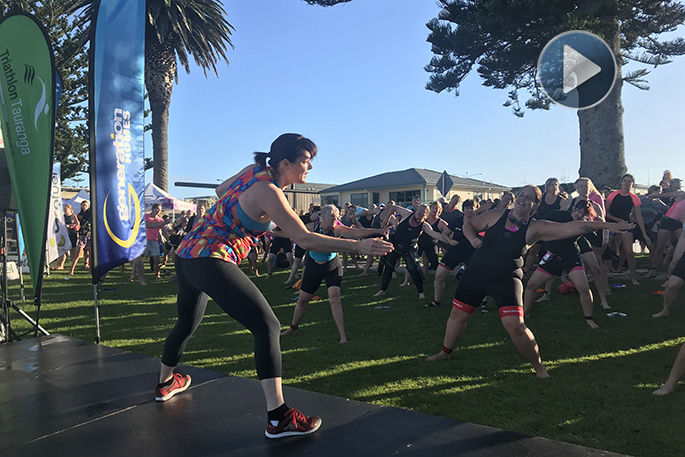 Click the image above to watch the video
Usually Sunday mornings for me at the Mount start with a quiet wander along to watch sunrise from a fairly deserted beach, followed by a coffee.
This morning was different. Roads were closed. Zumba was in the air. Men were wearing tutus.
It's the Sunday when hundreds of women from all over New Zealand swim eight minutes in Pilot Bay, clamber wet onto bikes, cycle down the Mall and around along the ocean and back, and follow that with run or a walk.
This is the fifth year and there are over 800 women entering. Plus men and children cheering them on.
There are so many 'best things' about this event. First of all the best thing is the backdrop - a stunning blue-sky cloudless day at the Mount - a dream of a place to visit for so many, and we turned on the weather to the max.
After the health and safety talk plus a reminder of the rules (eg "Swim don't walk") the Zumba beat gets the crowd moving. Iconic to this event, Zumba led by Tina Neville warms up the swimmers with a full-on energy-charged routine.
The next best thing are the organisers, with event director Miranda Clark leading a troop of positive-minded people with boundless energy. She decided to enter this year. I couldn't find her after the race - but I'm sure she made it, she's one of the most determined people I've met.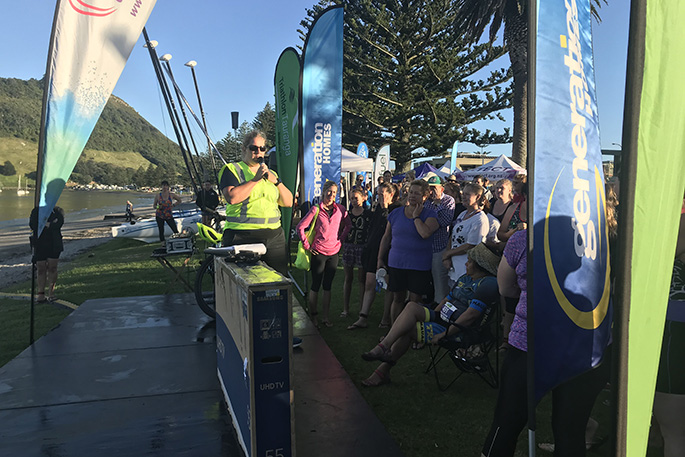 Event director Miranda Clark
And then there's the supporters and volunteers. Wigs and tutus, there should be a 'most quirky supporter' prize.
The next "best of all" are the entrants. I hesitate to call all of them competitors as I'm not completely convinced it's a hard out competition for every entrant. They are determined to finish it in their personal best time for sure, but some are here to overcome their own hurdles such as swimming 25 metres in the sea for the very first time. Over the last few weeks Miranda has been running practice sessions in Pilot Bay. Legend!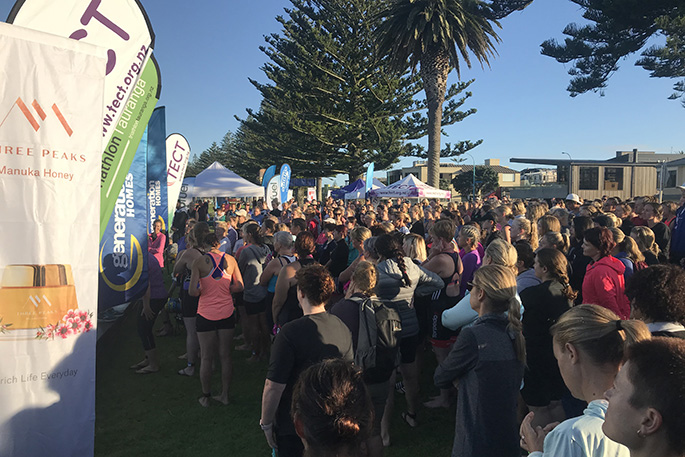 They come as friends, sisters, mothers and daughters to compete in this exuberant race which is like none other held at the Mount. A chance to compete in a triathlon and stand tall afterwards surrounded by incredible warmth and support.
My sister Yvonne Shaw from Fairlie, South Canterbury is competing in the mother/daughter section with my niece Dee Burnell from Hamilton. It's given me a first hand glimpse into the organisation that goes in to just getting here let alone bringing bikes and gear. Their first time competing in this event together, and they came in third!
Daughter and mother combo -Dee Burnell from Hamilton and Yvonne Shaw from Fairlie
A big shout out to the lifeguards who kept everyone safe and stopped the large orange ball from floating away.
Best day, great weather, and a sea of coloured caps. Music, fun and 800 women all going in the same direction. I love this event!