There's a good chance the North Island and the top of the South will be hit by thunderstorms today.
During the afternoon, wide areas of the country have a risk of thunderstorms developing.
Daytime heating and wind convergences should produce showers from the Tararua and Ruahine Ranges to the central North Island and Northland, where there is a low risk of thunderstorms as depicted on the chart.
However, for Taihape, Taupo, inland Bay of Plenty and the north of Northland,the risk of thunderstorms is considered to be moderate.
These thunderstorms may produce localised rainfall rates of 10 to 25mm per hour, and for northern Northland there is a low risk of severe thunderstorms producing downpours of 25 to 40mm per hour.
Over the upper South Island, showers are also likely to form over inland areas,and there is a moderate risk of thunderstorms in the afternoon and evening for Nelson Lakes and inland Marlborough, with a lower risk extending over the remaining ranges of Nelson and northern Canterbury.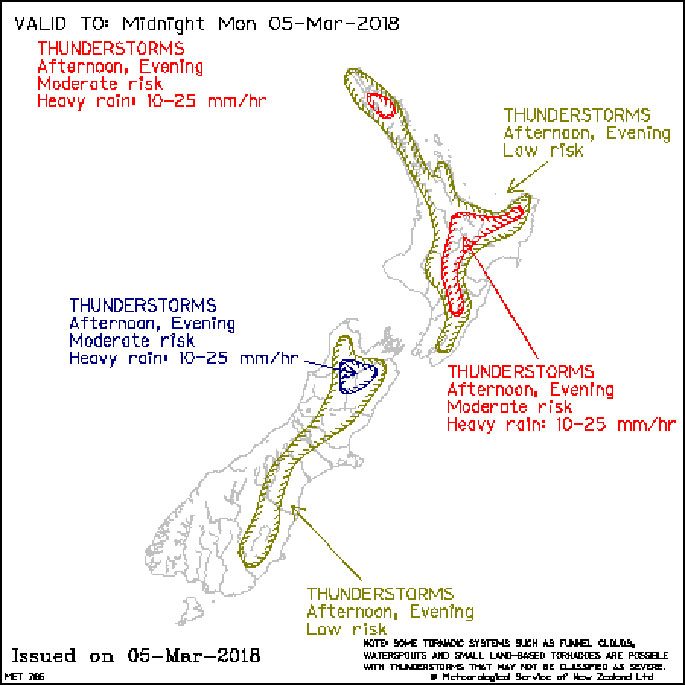 In Gisborne, a front is predicted to bring heavy rain on Monday morning. There's a moderate risk of thunderstorms with localised rainfall rates of 10 to 25 mm per hour - and possibly more.
The moderate thunderstorm risk - which extends to East Cape and Northern Hawkes Bay - is expected to reduce to a low risk by the evening.
Looking forward to the rest of the week, Tuesday is likely to be mainly fine in the west in the North Island. Cloudy periods with a few showers elsewhere.
In the South Island, rain is expected to spread north, clearing in the south and west later.
Wednesday in the North Island will likely see rain developing for most, but just a few showers in the north. Strong southerlies in Wellington region, possibly gale for a time.
In the South Island, morning rain may be experienced in the north, otherwise it'll be mainly fine with isolated showers.
Rain is predicted for most in the North Island on Thursday, easing to a few showers in the west and south.
The South Island is expected to be fine apart from morning and evening cloud and isolated showers about the south coast.
Visible satellite image this morning show plenty of clear sky over parts of the North Island, but Thunderstorms are possible for inland areas this afternoon. Check the details at https://t.co/BZWb7ZPiRd ^HM pic.twitter.com/3obiFWArvM

— MetService (@MetService) March 4, 2018