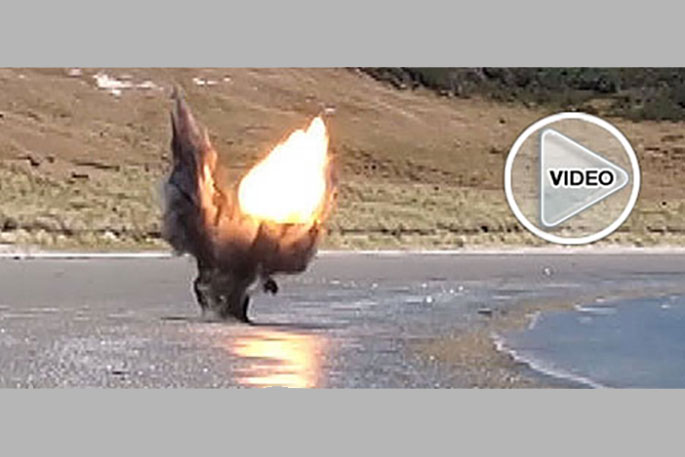 Click the image above to watch the video

A canister apparently containing phosphorus has washed ashore on the Coromandel.

Emergency services were notified about the object at Shelly Bay, Bowentown, just after 3pm.

The area is cordoned off.

There is no immediate danger to the public. However, people are asked to stay away from the scene.
NZDF's EOD team has been notified.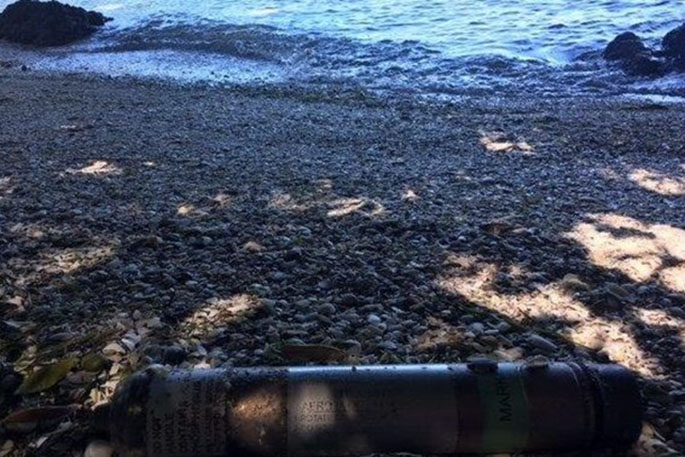 Photo: Canister washed up on Shelly Beach - NZ Police
Several of these devices have washed up on New Zealand's shorline, such as the one in the video in 2013.
The phosphorous flare rockets are fired from air force planes and supposed to ignite when they hit the surface of the water. A scuttling system is meant to sink the rocket, if it doesn't ignite.
In the 2013 case, Claire Rogers was walking the remote White Beach on the western shores of Great Mercury Island, when she found the grey cylindrical device rolling in the wash near the high tide mark.
It had the words "Danger do not touch. Contact Police."
The police contacted the military, who from the Rogers' description decided the device was an unexploded location marker flare head. The Rogers were asked to carefully carry it above the high waterline, so it would not wash away.
A New Zealand Defence Force spokesman says they do turn up occasionally, but does not know how many bombs turn up in "our little part of the world".
"They pop up every now and then all over the place. They could wash up in the Coromandel or it could be the top of the west coast."
He says the rockets are destroyed safely by administering a small charge and as long as people heed the warnings they will be okay.
Within hours, the Navy had despatched bomb disposal personnel and an army explosives expert.
The device was blown up on the beach.