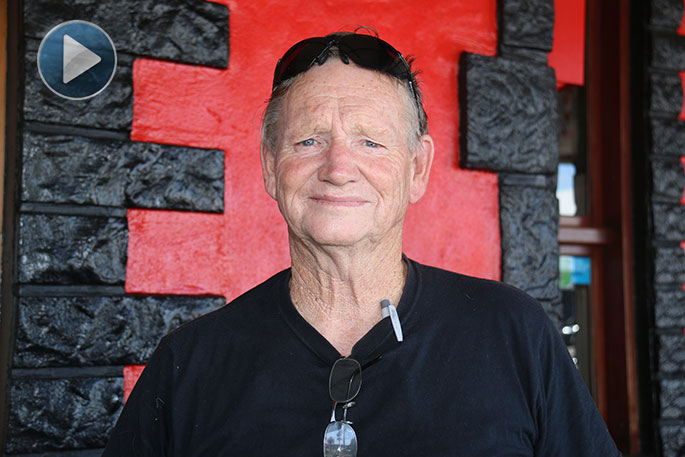 Click the image above to watch the video
Edgecumbe residents are contesting work which is currently planned to repair the stopbank.
The stopbanks of the Rangataiki River burst at Easter in 2017, causing massive flooding and widespread, severe damage to the township of Edgecumbe.
Edgecumbe resident, Graeme Bourk, says Bay of Plenty Regional Council's current plans to mend it are unreliable.
"Bay of Plenty Regional Council's plan is to shut down the road to rebuild the stop bank in the middle of College Road – a road which they also want to move over.
"They're planning on building a great big stop bank and taking away the old one. That idea is ridiculous.
"They've taken away the houses that were on College Road and that is where they are planning on building the new road.
"It's absolutely ridiculous," says Graeme. "They're bringing the river further into town which is going to make it more dangerous.
"They're not taking any notice of what we say and they won't meet with us either."
He says previous work regional council has done on the stopbank does not fill him with any sense of confidence in their abilities.
"They put sheet pile near a house just past the break back in about 2004 or 2005. They had to do this because the river was leaking into the nearby sections.
"Engineers at the time told them they needed to sheet pile across the corner which breached during the April flooding last year. They were told to sheet pile it and they didn't do it.
"I've told them they need to dig out by the Telecom tower on the other side of the river because there's about 100ft of land there.
"They need to dig that out deep there, come across the river, drag it out deep and then come across to where the break was, go four or five meters out into the river and put sheet pile in front of that, and build the stopbank there.
"That will put the river completely at least four meters more out of town. They aren't listening and they've already given out the contract."
Repair work on the stopbank is set to commence from 7am today, with closures in place between 46 and 80 College Road.
"We asked for a code of compliance before they started the job and they just ignored us. They said at one stage they were going to come to a meeting about three or four weeks ago, we made arrangements, had the date set and two days before it they cancelled.
"We're getting ready to do a march. They cannot guarantee our safety, and if they can't do that, they need to do something about it.
"It's similar with what's happening to people near the Awatarariki Stream in Matata, they can't guarantee their safety so all their homes have been bought off them to get them out of the area.
"If they can't guarantee ours either than they may as well close Edgecumbe down."
Graeme says a sense of fear still lingers in the town for some residents.
"So many people have moved out of the town, they're so threatened by the uncertainty of their own safety. There's been about four or five people that I know, since the floods, who have died of heart attacks or strokes and it's from stress.
"Some people are still scared every time they hear a storm is coming, but I'm not worried about it.
"They won't ever let that damn be so full that they have no storage in it. As soon as they hear a storm is coming they drop the damn, and they drop it a lot lower and quicker than they did the night of Cyclone Debbie.
"They didn't drop it until midnight. They said at the time they weren't allowed to drop it any lower, but they dropped it so much lower during Cyclone Cook, which followed Debbie.
"The damn was initially built to stop flooding on the Rangitaiki plans and generating power was a secondary thing.
"What happened is they made too much money out of generating power and so they turn around and said power is more important – it's just a joke."
The issues come on the back of recent figures released by the Insurance Council which show nearly all insurance claims which resulted from Eastern Bay flooding in 2017 have been partially or fully settled.
It's data which Graeme personally contests.
"They may have settled some of the claims, but the houses are definitely nowhere near complete. Some of the houses have got to be completely redone.
"Personally I've only just settled my contents claim and I haven't started on the house one yet because I still have to get quotes.
"There's so many people in the same boat as me, and it's taken a long time. I only just got paid out for my contents about two months ago. As far as the house goes we're still a long way off settling that.
"Most people will be back in their homes April-May, personally I won't be back until May-June."
He says he wants contractors doing the repair works to be stopped dead in their tracks.
"We have an engineer coming to Edgecumbe on Tuesday, our lawyers have sent him down. He's supposed to be an expert in his field and he will be giving a report.
"He's already been down and I missed out seeing him but I was told he said the whole thing is a disaster waiting to happen. All that will happen is it will breach at the next weakest point.
"We know this, and I'm going to take him around and show him different sites I know where water came through."
Graeme says the geographic makeup of the bank has been expected previously.
"Regional council has drilled the area once before. They went down about 50ft at a section right across the road from Edgecumbe College.
"They did about 18 drillings where they went through pumice, sand, peat, mud and remnants of the Taupo eruption – which was all vegetation. That's all that's holding the water from coming through.
"The people who built that wall are the ones who have now been given the contract to repair the stopbank, and they're not capable. It doesn't give us any faith."
A march to protest the work is now in the pipelines.
"We're in the process of planning how to stop the job going ahead and that is going to start with our march.
"They won't listen so we have to do something about it."