Greerton retailers who took a long list of complaints to the city council about "gangs of feral beggars infesting the shopping precinct", were given a different view of their situation by Western Bay of plenty area commander Police Inspector Clifford Paxton.
Analysis of the 36 calls police have received to Greerton over the last four months reveals 80 per cent of the calls are related to social issues not criminal offences, says Clifford speaking at the city council Community and Culture meeting on Tuesday.
"What we are seeing in Greerton is not necessarily unique to Greerton," says Clifford.
"There were three or four calls last week to similar incidents right across the Western Bay of Plenty, where groups of people are moving into the area and some of our community members are feeling vulnerable and quite unsafe.
"The challenge is in determining what is the behaviour or actions that are occurring, and what is being labelled in relation to homelessness or begging, or gang related."
Once police get involved what they are seeing is not necessarily what they were called for, says Clifford.
"I think that's why we need to be careful around how we label. How we cast aspersions relating to some groups. What we find is sometimes it creates a lot of noise, but does not necessarily identify the behaviour or the actions we're trying to address underneath."
He was speaking after a number of Greerton retailers related incidents and behaviour that has grown over the last year to the point, where one says he's going to leave if there is no change over the next ten months.
Another retailer says three staff have left over recent months but she won't have to replace all of them because customer numbers are also dropping.
They blame the gang of 'feral beggars' that is intimidating customers, bullying and threatening staff, and using stand over tactics to take medication off elderly customers.
One retailer didn't want her name used because of the impact the publicity may have on her business.
"What we are talking about today are not the needy or homeless," says the retailer.
"This gang thrives off intimidation and stand over tactics. They are described by the public as irrational and feral. They are far from needy.
"They are taking advantage of Greerton Village's most vulnerable and the retailers here are on the front line seeing this every day."
Over the past five years, the business enjoyed a stable staff and annual growth. Now staff are leaving and customer numbers are dropping off.
The retailer is concerned about public safety. The beggars are asking elderly and vulnerable customers for their medication. Customers on crutches get hassled on the street for their pain meds.
"We have reports from elderly customers who have lost their medication only to later admit that they have given it to the gang," says the retailer.
"One elderly lady had a gang member standing behind her car and another tapping on her window. She felt so she had choice but to hand over their tablets.
"These customers are left feeling embarrassed, used, and scared. Some are too ashamed to admit what has happened, and go without their medication."
Dan Hughes at Copyman in Greerton Road says there are often large numbers of people shouting and creating a lot of noise outside his business.
"We have witnessed fights erupting from said talking," says Dan.
"The ambient noise levels raised right up, shouting, talking. A lot of it is quite vulgar. A lot of swearing, fights.
He's been having customers arriving in the shop visibly upset and frightened by the people.
Another business owner, who didn't want to be named, says the gang also takes the cards off elderly customers and uses the paywave.
"We need to wind the clock back six years ago to when I arrived," says another retailer. "We need our customers to feel safe."
Tauranga City Council has installed four new security cameras in Greerton, and employed two security guards who patrol during business hours and also gather data about incidents on the street.
It has introduced a 'Your Help may Harm' campaign to discourage giving to beggars. Retailers say the beggars pull the signs down when they can.
There is a staff member talking to the people on the street to get their story and refer them to appropriate social services. Retailers hopes in the council's anti-begging bylaw may be unfounded.
Cr Larry Baldock says there are human rights issues preventing the council from introducing a bylaw that has a blanket ban on begging.
"It may be a breach of the Bill of Rights to ban begging anywhere," says Larry.
Retailers say they will be happy with a bylaw that bans begging with 10m of a business doorway.
Clifford says at the moment most of the issues fit in the social framework not the police framework.
Even the 20 per cent of incidents that relate to offences do not always result in prosecution because they do not reach the threshold.
"At the end of the day if we can't change the behaviour of these people and address the drivers of some of this offending, we are destined to repeat the same thing. We are going to keep getting called back time and time again without there being any noticeable change," says Clifford.
"The question for us as a community is how do we start to address that? How do we start to change that? And what do we do to try and get the outcomes that we want for this community?"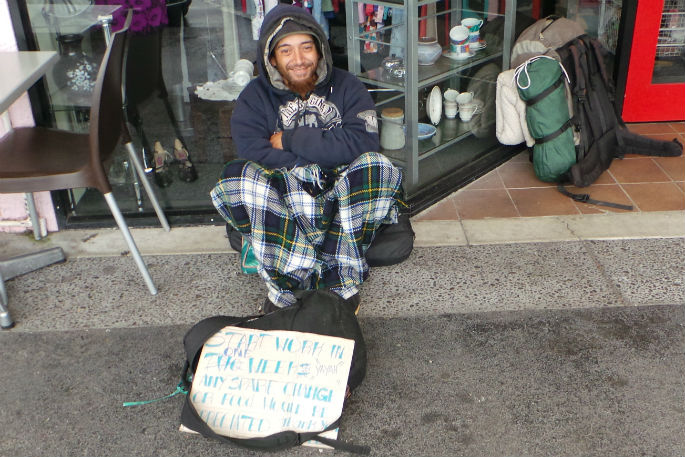 Greerton homeless man TJ in Chadwick Road today in a balmy 6 degrees. Photo: Andrew Campbell