Commuters who normally travel on Fifteenth Avenue and Turret Road are advised to take an alternate route as hordes of dolphin watchers are making the road almost impassable.
The pod of about 20 bottlenose dolphins has been in the pool upstream of the bridge since daybreak and the crowds of dolphin watchers have intensified since schools closed.
"People are picking their kids up after school and taking them down there to have a look," says a reporter at the scene.
"There are people everywhere, there are people lined up all along the bridge. It is total parking carnage."
School buses are also affected. A journey that normally takes 15 minutes this afternoon took about an hour because traffic is at a crawl.
The dolphins were first seen at daybreak today in the pool beside the Silver Birch Holiday Park.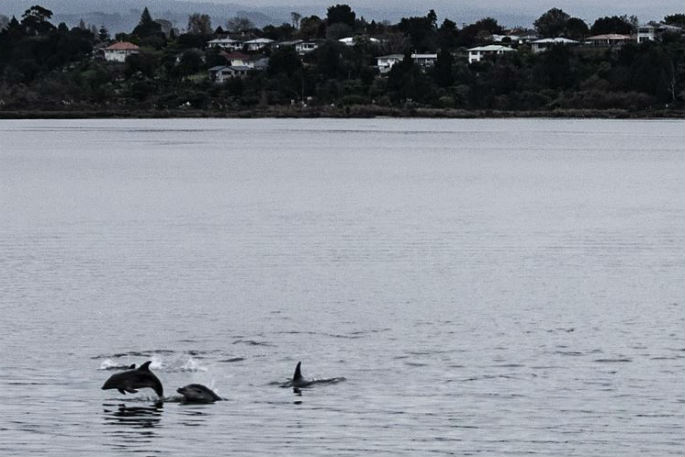 Dolphin action caught today by Josh Malmo.
A dolphin pod previously visited the Waimapu estuary in July 1997, with a tragic outcome as several dolphins stranded in the estuary over that weekend, and one died.
Five were stranded and refloated but a female beached and died near the top of the estuary. A local paper reported that the surviving dolphins circled the area all day including a calf found near the dead animal and refloated by those first on the scene.
Volunteers tied ropes round their fins and dragged them back to the water.
Three dolphins that stranded on the eastern side of the bridge were also refloated by volunteers before the pod made its way back to sea.