A new bus lane will be installed from Hairini Street and along Turret Road, starting from the Hairini Street bus stop.
The bus lane will allow buses to take an uninterrupted trip down Hairini Street and onto the causeway toward the Turret Road Bridge.
A separate exit and controlled left turn will be built at the end of Hairini Street for people driving cars onto Turret Road.
The new bus lane is part of a larger effort to help make bus trips more reliable between Welcome Bay and the central city, says Tauranga City Council's transportation manager Martin Parkes.
"This is one of several opportunities we've been investigating to help improve bus travel times. The bus lane is a step towards this. If traffic is stationary the new lane will allow the bus to pass about 110 cars."
The council has been looking at ways to make travel safer and easier for more people between Welcome Bay and Cameron Road, including bus priority measures and upgrades to the cycle network.
Community information sessions will be held in June 2018 for people to learn more about proposed bus lanes and other improvements for 15th Avenue.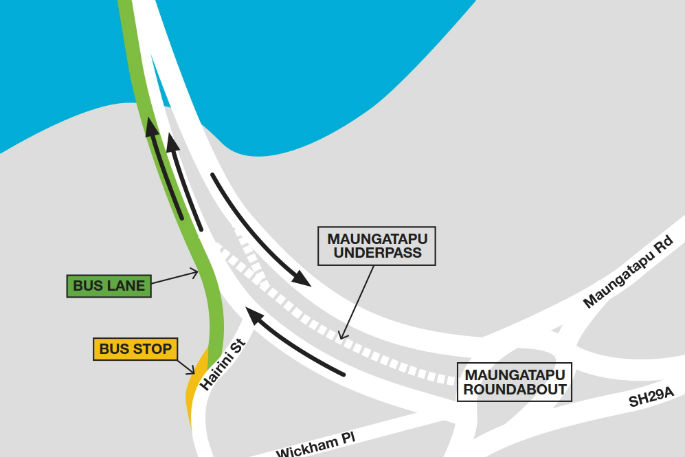 The council has postponed work on a bus lane proposed for a section of Welcome Bay Road.
"We had a lot of valuable feedback about the Welcome Bay Road bus lane," says Martin.
"Weighing up the feedback, we've set that project aside until after the Maungatapu Underpass is open.
"In the meantime, the NZ Transport Agency and Regional Council have been supporting our planning toward putting a bus lane down Hairini Street and Turret Road."
The NZ Transport Agency will build the new bus lane as part of the Maungatapu Underpass construction contract.