Around 50 people marched down Devonport Road and around the CBD this afternoon to protest a proposed bylaw that would ban rough sleeping in the city.
Councillors voted 6-2 in favour of the bylaw amendment at a Community and Culture committee meeting last week, despite advice from the council's legal staff saying the bylaw would be unenforceable.
The hikoi, organised by Kai Aroha and Street Kai, was a peaceful affair, beginning at the corner of Third Avenue and Devonport Road at around 1.30pm, before continuing down the latter thoroughfare at a leisurely pace.
Marchers chanted 'Peace of mind they can keep if they have a place to sleep'; 'No bed to lay their head, on the street is where they sleep'; and 'Kotahitanga one for all and all for one'.
Traffic was only slightly impeded during the march, which kept to the left and generally on the footpath.
Marcia Taikato-Whauwhau, of Kai Aroha, says her group provides meals and kai packs for those in need to take home, and are based at the Greerton Hall in winter.
She says they're not against the banning of begging, but the ban on sleeping within five metres of a retail premises will put 'streeties' in danger.
"If they can't sleep in doorways, where there's light, shelter, and security cameras, they'll be forced to be in the dark, where it isn't safe."
She says drunk people coming to the CBD on a Thursday, Friday, and Saturday night can sometimes cause problems for rough sleepers, getting into altercations with them.
"We want the council to work with us and at least offer street people somewhere to go. We have a shelter, but it's only for men. We need to accommodate women, too. A drop in centre during the day would also give the homeless somewhere to get some sleep and shower, wash."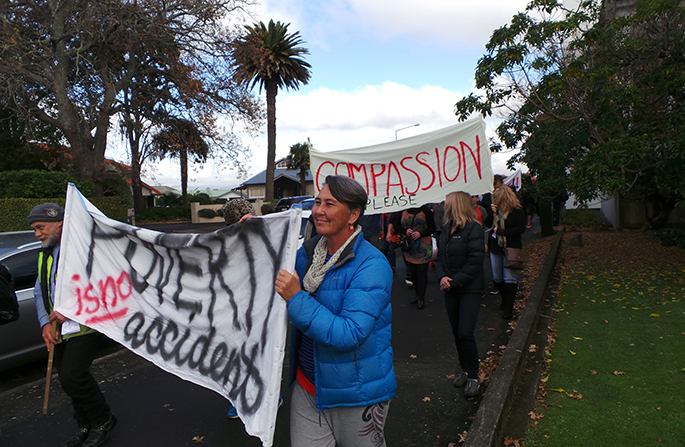 Tracey Carlton, of Street Kai, says her group provides meals twice a week at the Willow Street bus stop. She agrees with Marcia, saying 'practical solutions' are needed.
"There's a growing number of women living on the street, and it's of great concern for us," she says.
"It's a very complex issue. You can't just tell these people to go and live in a house – there's a lack of housing at the moment."
PROPOSED BYLAW ALREADY DEEMED A FAILURE
However, it would appear the proposed amendments to the Street Use and Public Places bylaw would make no difference to the situation.
Tauranga City Council staff, reporting back to members of the Community and Culture committee in May, pointed out that similar amendments to bylaws had been made by councils around New Zealand, but had proved unenforceable.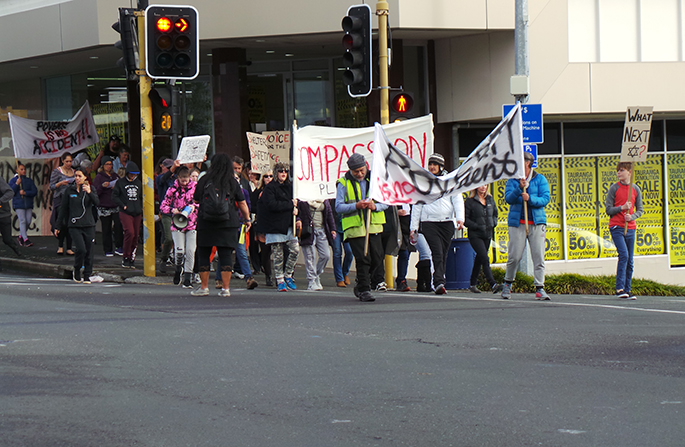 "Napier City Council attempted to prosecute three men for begging under their Public Places bylaw last year. However, the defence argued that the bylaw was in breach of the New Zealand Bill of Rights relating to begging in that 'to deny a person the right to ask others for help is the most fundamental breach of the freedom of expression possible'. Napier City Council dropped the charges and pursued other steps to address the problems with people begging."
TCC community services general manager Philip King says if the amendments become law, it would be up to the council's bylaws officers to enforce the begging and rough sleeping ban.
"Police are not able to enforce this particular bylaw.
"Enforcement would only involve our bylaw officers asking people to move more than five metres away from shop fronts and restaurants. Bylaw officers do not have the power to physically move anyone who is begging or rough sleeping. To successfully implement this city-wide, it would require additional resourcing."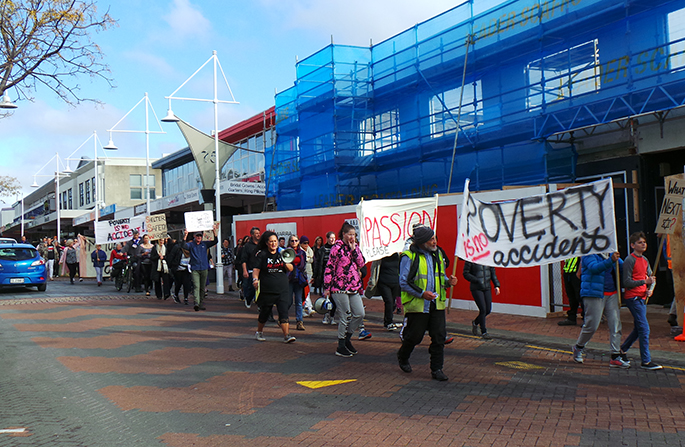 He says there is no ability to charge infringement fees for begging or rough sleeping.
"In the first instance, our bylaws officers would look to connect someone begging or rough sleeping with the appropriate agencies, which is what they already do without the bylaw.
"Furthermore, we are working with a number of organisations/agencies across Tauranga and have a number of initiatives already underway to address begging, homelessness and anti-social behaviours."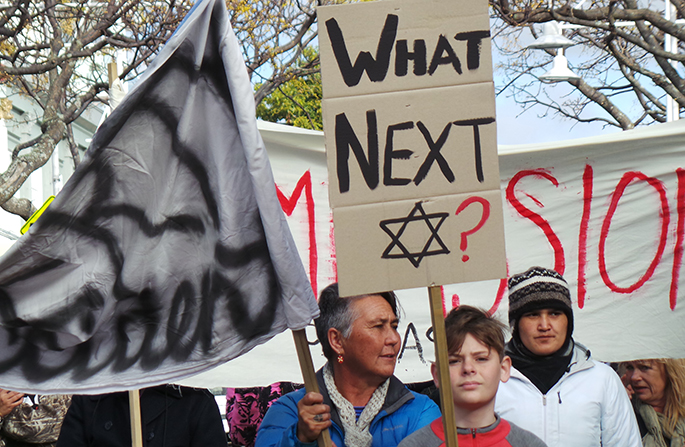 Philip says these include:
- A behaviour change programme, 'Your Help May Harm' being introduced across the city to educate the community about the adverse harm of giving to beggars, and the importance of connecting these people with the services and support they need in the short and longer term. 'Your Help May Harm' cards have been printed and distributed to Greerton, Mount Maunganui, and city centre Mainstreet managers and retailers. Internationally, education programmes are considered one of the most effective methods of dissuading begging, particularly from those who are not in genuine need.
- A City Safety Plan was adopted in March 2018 with a variety of initiatives to improve safety and reduce anti-social behaviour across Tauranga.
- Bylaws officers engage daily with those begging and connect them to social services agencies where possible.
- Establishment of a 0800 number for people to phone directly if they are concerned about anyone they see on the streets.
- Two security guards patrolling Greerton shops Monday to Saturday.
- Additional CCTV cameras installed in Greerton and across Tauranga.
- An additional staff resource is budgeted in the Long Term Plan and the 2018-19 budget for a City Safety Ambassador who will engage with those begging and/or rough sleeping to connect them with appropriate support services.
- The draft Community Wellbeing Strategic Plan contains objectives and initiatives to reduce homelessness.
- The Housing First Initiative to address homelessness opened its doors in Tauranga in June its year. Housing First prioritises finding people safe, secure and permanent housing first, and then wrapping around the services needed to help people sustain their tenancies, support their health and wellbeing and return to independent living and participating in community life.
"Since establishing the 0800 number, we have received a number of calls from concerned residents about beggars and rough sleepers. Between April 1 and June 10, we have received 59 calls for begging and 115 calls for rough sleeping."