Light winds and clear conditions have kept things cool across much of the country this week.
MetService is forecasting a change this weekend as a frontal system slowly moves up the country bringing heavy rain and strong winds.
The South Island will face the brunt of the weather on Saturday, with a nicer day for the North Island.
However, as the front continues north, Sunday will see a decline in the weather for the North Island, with a wet and windy start to next week.
Primary concerns for the South Island are prolonged heavy rain for western areas and strong northwest gusts across much of the Island, inland high country in particular.
The strong winds will also help for increased rainfall into eastern places, such as the Canterbury High Country, Southern Lakes and Central Otago.
The same weather impacts are forecast for the North Island, but for Sunday into Monday. The weekend's weather is set to be kind on Saturday across the upper North Island, although the wind starts early for southern and eastern regions.
On Sunday, the front marches up the island, spreading the strong winds further north and west as well as bringing the wet weather.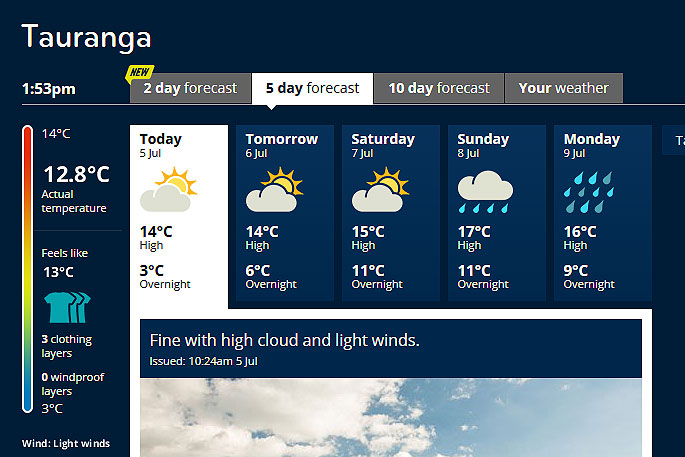 "The front slows over the north of the South Island before progressing north but it still brings significant rain and widespread strong winds," says the MetService, "this will be particularly notable for the upper North Island as we go into Monday morning, making for a wet and windy start to next week."
"There is a small silver lining to the severe weather; the warmer temperatures, which will certainly be welcome, following a frosty week, with some places reaching mid-teens."
While warmer temperatures may be a pleasant surprise, the main takeaways for this weekend are the heavy rain and strong winds.
In situations like these, it is important to stay up to date with the latest severe weather information and to do your best to keep safe.
This can be found http://info.metraweather.com/e/60812/AllWarnings/fz5m1v/722351061 with the next issue of our Severe Weather Outlook due at 3pm this afternoon.