Housing and Urban Development Minister Phil Twyford has met face-to-face with those working on-the-ground to combat homelessness in Tauranga.
The meeting was held at the People's Project office in Grey Street and involved the Minister, along with representatives from the People's Project, Wise Group and Tauranga City Council among others.
Phil says he's proud of the progress the city is making.
"Tauranga's had quite an acute homelessness problem and people in this community understand well, the housing crisis is not just in Auckland.
"Tauranga has had some severe housing stresses including people who have been sleeping rough and this Housing First collective in Tauranga has been doing some great work to combat this."
In Budget 2018 $42m was announced to go towards supporting the rollout of Housing First organisations around the regions.
The announcement resulted in Tauranga's own Housing First Service, the People's Project. The service began in Hamilton and has proven to have been successful in addressing homelessness to their region.
Tauranga's office opened Tuesday June 5, with 10 people waiting outside the door at opening. Since then 37 people having been assisted, with three of those being housed.
Phil says he's impressed to see the investment is paying off.
"In the short space of a month we've seen 37 people actively assisted by the Tauranga team and three housed.
"There has been some early success in terms of helping rough sleepers getting access to the services they need and starting to find sustainable housing for them. The team tell me they are getting good take up and support from landlords and state housing."
He says it's a collaborative effort and a vital service.
"Tauranga City Council have really stepped up, People's Project teams from Hamilton who pioneered Housing First are very actively involved, and obviously MSD and Housing New Zealand each play their role.
"The Housing First Model is an internationally acclaimed way of working with the chronically homeless. It's based on the idea if you give people a roof over their heads, they are in a much better position to get their lives back on track.
"We know internationally most people who are rough sleepers, and chronically homeless, are people who have got addiction and mental health problems and they need quality health services, but without safe and secure housing it's very difficult to do that.
"What's come out of my meeting with the team here today is that for many people who are rough sleepers, they've have had a really rough time in life and have experienced the sharp-edge of bureaucracy.
"Therefore quality of work from the people we have working in organisations such as this, especially in terms of building trust and rapport, determines success or failure."
He says Housing First and Housing New Zealand services are both as crucial as one another.
"We know we have more than 40,000 people in New Zealand who are officially classified as homeless, they are living in severe stresses such as substandard and overcrowded housing, and 90 per cent are simply those who cannot find affordable rent or housing.
"They don't necessarily need the wraparound services, they just need a roof over their head and a rent they can afford to pay."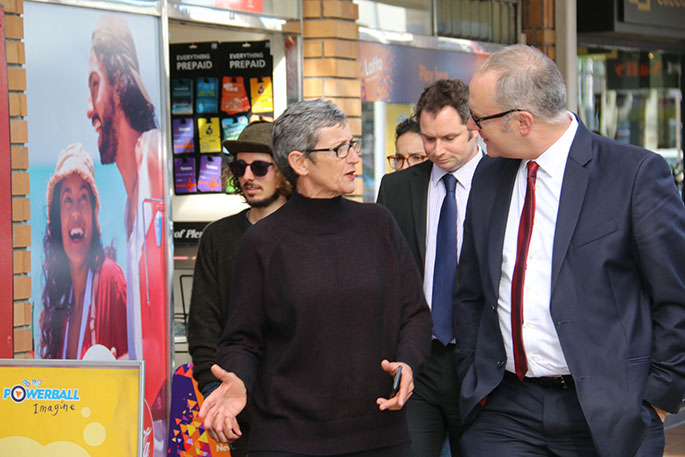 Julie Nelson and Phil Twyford heading into today's meeting.
The People's Project Service was established by the Wise Group.
Joint chief executive Julie Nelson says the meeting with Phil has been a good chance to show the work they are doing.
"It's important we are part of the continuum of housing, transitional and emergency, along with some of the other really good providers in our community.
"We're working with the chronic end, rough sleepers and people who have been on the street for a significant amount of time, and who have complex and serious issues – this is the group Housing First is focussed on. There is no readiness for housing other than needing a home."
To qualify for housing as part of the service, people must be over 18 years old and have been identified as being homeless and having rough-slept for more than 12 months.
Despite this Julie says anyone who walks in the door will be offered some type of assistance.
"The problem with putting criteria on things is you exclude a whole lot of people and some of what we recognise is the people we work with have been excluded from services.
"We've actually said to the Minister, it's important to not be too rigid with some of the contracts."
Finding housing has been one of the biggest challenges, says Julie.
"We've been heartened by people wanting to work in with us, as well as some of the social housing services. We've always said it will take a whole community, working together, to end homelessness."
Tauranga People's Project service manager Simone Cuers says many issues were raised during the meeting including the complexity of the people the service is working with, housing supply and the tightness of the market.
"I presented an internet snapshot of the rental properties available online in Tauranga and it's clear to see there aren't many."
Simone says the snapshot revealed the number of one bedroom and two bedroom properties available for rent in Tauranga.
"A total of 15 one bedroom properties were listed for rent in the region and of those, only five properties fell within the price range of our clients. None of the two bedroom properties were within the price range.
"We know from the profile of the people we work with, the total figure from MSD benefits and accommodations they can attract is about $280 per week and this is the upper end of people's entitlements."
She says it also means this leaves no disposable income past paying for basic living costs.
Julie has commended Phil for showing interest in the service.
"Because the government has increased the investment in Housing First I think it's important the Minister comes and meets the people and very staff who are doing the work.
"It's important to see and hear that investment on the ground."
She says she has invited Phil to return to the region in six months' time for a progress report.