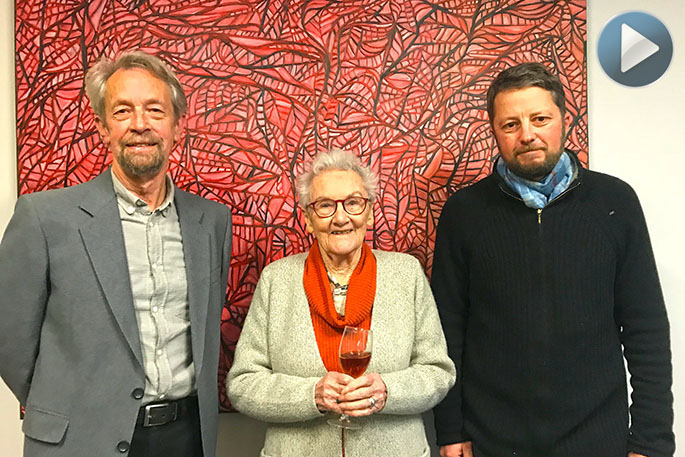 Click the image above to watch the video
New works by three abstract artists are on display at Zeus Gallery in Chapel Street. Graham Crow, Doreen McNeill and Kristian Lomath have come together to show their work in a group exhibition entitled 'Perceptions'.
Opening on Thursday night, the exhibition will run for three weeks until August 30, providing Tauranga art enthusiasts, collectors and businesses the opportunity to enjoy and select from 22 new contemporary works.
Zeus Gallery is an art space owned and operated by Elliot Mason, accompanied by his black border collie/Labrador cross Zeus, for which the gallery is named. Elliot exhibits and sells works primarily from established and emerging Bay of Plenty artists, and also provides a quality picture framing service.
"This is the third year at these premises," says Elliot. "Before that I did another three years at 11th Avenue.
"There's no hard and fast rules as to how long the exhibitions run here. It's mostly monthly and the work we show is quite eclectic. The main common denominator of all the shows is to keep the space for serious practitioners. Mainly painting and sculpture. We've also had some live music shows here."
Doreen McNeill, one of NZ's foremost abstract artists, allows paint to follow an organic flow, building up layers of colour, texture and shapes. Inspired but not bound by landscapes, the beginnings of marks become lines, which break away into terrain, then flow and merge into feelings that are expressed with colour.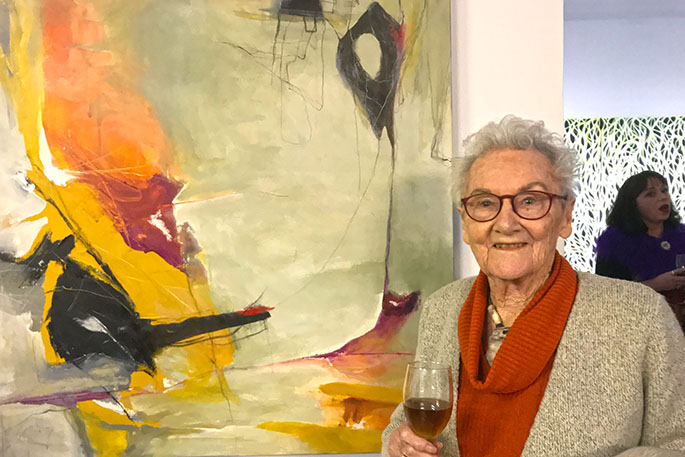 Doreen McNeill.
Doreen drafted navigational charts for aircraft since the 1950s, and began selling her paintings in the mid-1980s. She has exhibited extensively since then. In 2014, she was the winner of the Friends of the Gallery Miles Art Award in 2014 and launched her book 'Expressions in Colour, Shape and Line' in 2017.
"I've been painting forever," jokes Doreen, when I ask her how long she's been painting. I first met Doreen in 1997 when I exhibited her work in a gallery in the Hutt Valley. I feel fortunate to have one of her paintings in my own collection. She has eight paintings for sale in this Perceptions exhibition.
"It's such a beautiful gallery," says Doreen. "Lovely big white walls, and plenty of space. I love putting my work in here. It was really exciting seeing the paintings being hung yesterday."
Graham Crow, a renowned contemporary artist, has a huge following in the Bay of Plenty. His work is loved for its textural qualities, and subtly takes on the light to present to the viewer changing shades of delicately-crafted colours and patterns.
"The texture is made up of a mixture of things available from an art supply place and things that are available from other sources," says Graham. "I mix all those together. Be it the texture or the paint, it's always my own recipe. There's nothing used straight out of a packet, or a product that's bought and used in the painting. It's always a mixture.
"Some artists that come to my studio say 'Graham this is not a studio – this is a lab', because it's always about making stuff and seeing how things work."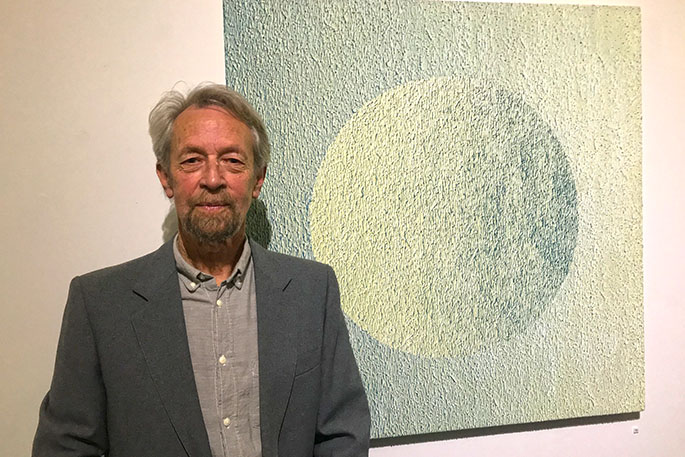 Graham Crow.
Graham has been mixing, making and painting much of his life, and thinks Elliot has put the exhibition together very well.
"When Elliot first suggested it, I knew straight away that the three of us would work well," says Graham. "The paintings would be complementary. It's a great space to be in, and it's good to see Kristian's work. I think it's come together really well, and I'm really pleased with the exhibition layout."
Kristian has seven new paintings in the exhibition, all oils on canvas.
"This gallery is great for big works," says Kristian. "We don't have a lot of space in Tauranga or the Mount that's this good."
The scale of Kristian's work varies from medium to large canvases. He often finds his inspiration for new work comes from previous work.
"After years of painting, the body of work has developed into this quite organic natural style. I used to paint landscapes, but I've moved on from them years ago."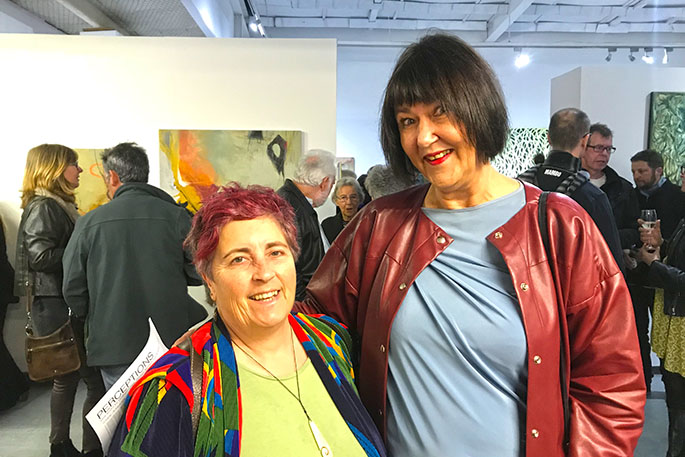 Wendy Pederson and Polly Moore.
He feels that the combined group exhibition flows together well.
"They're different, but there's an element that's familiar in all the works. It's lovely to see it all come together like this."
I feel Tauranga is very fortunate to have Kristian living here, after he relocated from Rotorua about five years ago.
Kristian paints from his studio at The Incubator.
His large oil on canvas works have always drawn me in and held me in moments of thought.
Sometimes I have found his paintings comforting, as I lose myself in the patterns, but then I've stood in front of other paintings with seemingly no pattern, just random shapes, and I find my mind is busy on its own, sorting and reassembling.
I realise and understand that he's sometimes captured my own sense of disquiet at how futile and difficult life can be; and the isolation I've experienced when I've felt lost, or invisible.
But then as I take in the painting and let it unwind on me, I find that the shapes are no longer trapping me, but they have a gentle flow that's letting me go, easing my scattered busy brain. His journey in paint becomes my journey.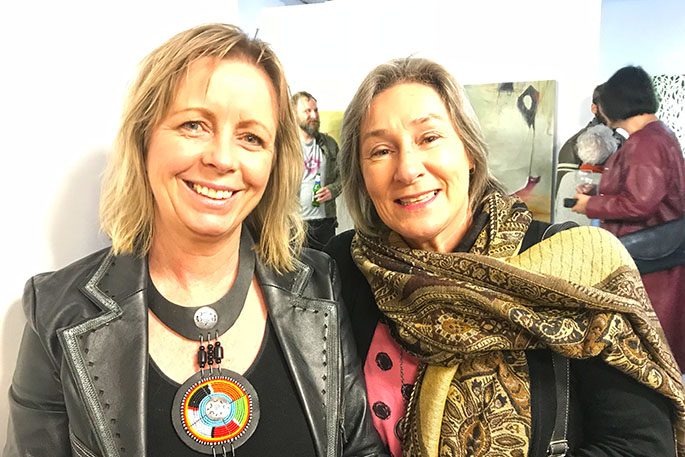 Simone Anderson and Deborah Forkert.
He always gives me the sense that if I go on, with life, that there will be something to lift me up.
And especially in this exhibition at Zeus, he's caught the colour lemon like a delicate butterfly of hope and opened it to me on a canvas that is uplifting, softly joyous and life-giving.
I love that I have to keep returning to his work, that it creates questions in my mind, that it engages me so emotionally, and that it conveys rest too.
"I think anyone looking at any of these works would find some environment that they are reminded of," says Kristian. "Something that we all see in our daily lives.
"We were all having a conversation about what to call the show. And we were talking about how people take on board abstract work. Everyone perceives abstract work differently. Perceptions. So that's the name of the show."
Together, all three artists take us on a walk of discovery.
It's best to come and see their work, all abstract, and translate it into your own feelings.
For me, I enjoy their use of secondary colours, Graham's muted textural expressions, Doreen's fluid free-flow, and Kristian's mellow and calming lemon in his diptych.
Their visual language conveys a soft glow of light and the sense that our peripheral vision is glimpsing a trace of something emerging, maybe the beginnings of a season of spring resounding in our soul.
Their exhibition runs until August 30. Be sure to see it.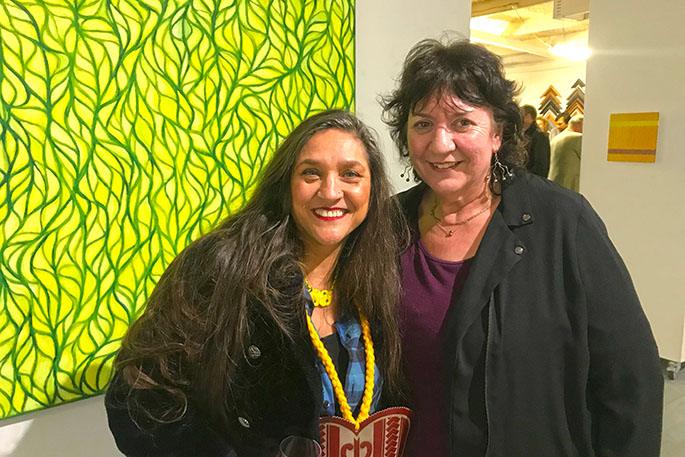 Tanya Trass and Carol Bisset.