Whakatāne-based photographer James Stanbridge is sharing his talent while capturing the essence of the Eastern Bay all at once, through his latest exhibition at Te Kōputu.
The photographer juxtaposes familiarity with discovery in his exhibition titled, Nature is My Church: Visions of the Eastern Bay of Plenty.
The landscapes James depicts are on one hand otherworldly, almost metaphysical, and yet on the other hand, they are comforting - like a choir singing or a waiata calling us.
They could be situated far up a hillside, on a nearby beach, or in a place you never knew existed. No matter where he takes his camera, no matter how daring the process to capture these scenes might be, Stanbridge always offers up unexpected visions.
There is a frenetic sense of acquisition present in the sheer breadth of locations on show.
"It's like collecting Pokémon or baseball cards," says Stanbridge. "I want to catch them all."
But just as the drive to anthologise is accompanied by a need to share what has been collected, so it is with Nature is My Church.
By providing audiences with detailed maps of each location, replete with Google pins and GPS coordinates, Stanbridge is, like an explorer of yesteryear, eager to bestow the treasure trove he has discovered on us all.
Nature is My Church runs until November 25 in the Whakatāne Community Board Gallery at Te Kōputu a te whanga a Toi – the Whakatāne Library and Exhibition Centre.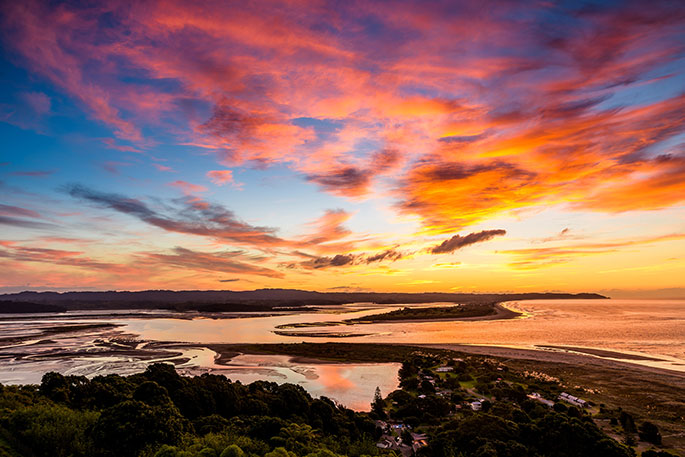 James Stanbridge, View of Ōhiwa Harbour at Sunset from Onekawa Pā, 2018