International Youth Silent Film Festival (IYSFF) NZ project coordinator Jannine Bishop is delighted that actor and director David de Lautour is one of the celebrity judges for this year's 2018 NZ National Awards Final.
More than thirty silent films were entered in this years' competition.
"We have six local judges from within the film community here, who from their wealth of experience in film and storytelling whittled the films down to twelve finalists", says Jannine. "We watched and scored them and then sent those 12 through to the celebrity judges to select first, second and third.
"The local judges will be picking the 'best of' categories, such as best director, best actor, best shot, best cinematographer."
The awards are being held at Baycourt Community & Arts Centre Addison Theatre in Tauranga on Wednesday October 17.
Jannine also ran three-day IYSFF Young Filmmakers workshops during school holidays. Open to filmmakers aged 20 and under, and delivered by Bay of Plenty Film, the workshops aimed to help participants create a three-minute silent movie for entry into the 2018 IYSFF New Zealand Regional Competition.
The workshops helped young people develop their filmmaking skills, with each of the three days focusing on a different skill involved in filmmaking – writing and preparation, shooting a film, and editing – with each tutored by an expert with extensive professional experience in the film and screen industry. The experts involved in this year's workshops were Bay of Plenty Film CEO Anton Steel, TMH Management founder Tanya Horo, and specialist tutors Andrew Taylor, Jannine Bishop, Tessa Blackett and Annie Lawler.
Jannine, who is a member of the Tauranga operations team for Bay of Plenty Film has been involved with the IYSFF coordinating workshops and as a judge, and this year is relishing her role as the project coordinator.
"Bay of Plenty Film was involved from the beginning as a sponsor and this year we're presenting the festival alongside Baycourt. The standard of the films is so exceptional."
Jaden Charrington has been assisting Jannine and is one of the local judges representing youth.
The NZ Regional Awards Final will be attended by IYSFF founder JP Palanuk and the festival's composer Nathan Avakian who will perform the soundtracks to the finalists' films live on Baycourt's original 1926 Mighty Wurlitzer organ.
The top three winning films will go forward to the international final held in Portland, Oregon in June 2019. Last year's IYSFF NZ Regional second place winner Benaiah and Thomas Dunn of Middlemarch, Otago, placed second in the IYSFF Global Awards.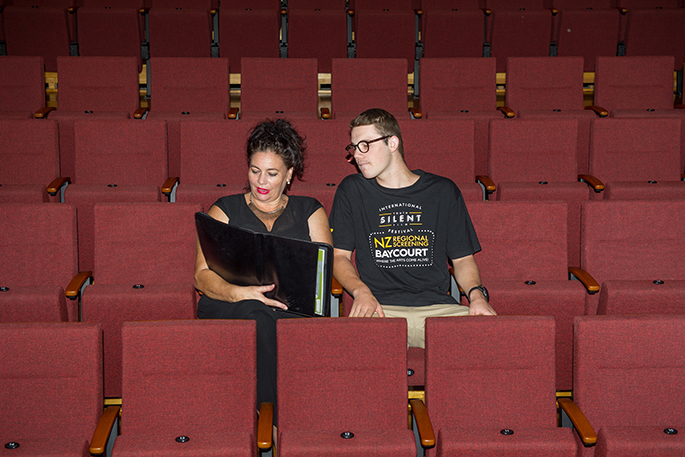 Jannine Bishop and Jaden Charrington. Photo by Bruce Barnard.