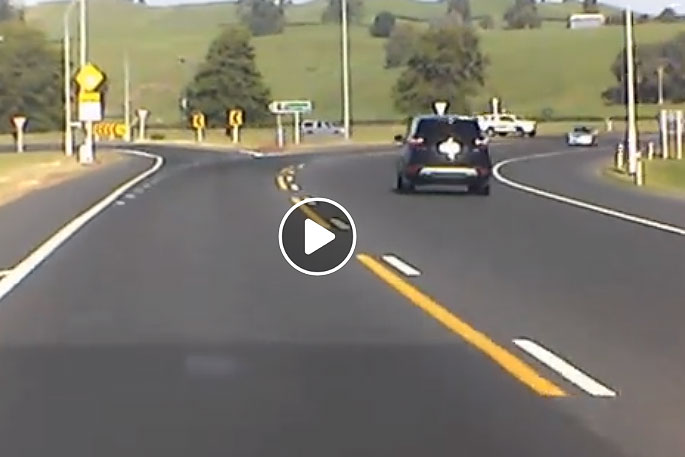 Click the image above to watch the video
Dash cam footage of a vehicle driving on the wrong side of the road in the Waikato has left people on social media astounded.
Kaysi Fredericks posted a video on the Bay of Plenty Accidents Facebook page she captured while driving back from Waikato Hospital last night.
"Tonight on the way back from Waikato Hospital this is what we witnessed," Kaysi posted in the group."
The footage shows a SUV type vehicle crossing double yellow lines and into the path of oncoming vehicles, before swerving back to right side of the road.
This was all at an intersection in a 100km/h area.
"It caught me off guard and glad nobody was injured but it's driving like this that is causing too many accidents these days.
"Please excuse my language."
This driving comes after eight people were injured in two serious accidents on the same stretch of highway in the Waikato on Monday.
The first crash happened at the intersection of State Highway 29 and Hopkins Rd around noon on Monday.
Around the same time emergency services were called to a second crash where someone failed to give way a short distance away at Puketutu Rd and State Highway 27.
A St John spokesperson says seven people were transported by road to Waikato Hospital from the SH29 crash.
One was in a critical condition, three were moderate and three people suffered minor injuries.
-Additional reporting by Stuff.co.nz