This time last year, Andrew Weatherly set himself a goal to run five marathons in the time frame of 12 months, raising funds for the Mental Health Foundation.
Now one year later, Andrew crossed the finish line of his fifth marathon on November 17, completing his goal in just seven months.
Andrew competed in the Rotorua, Hawke's Bay, Wellington, Tauranga and Waihi marathons, with his best time being three hours and 25 minutes at Rotorua.
Andrew says it takes about a month for the body to recover from a marathon, but in his case, sometimes the space between marathons was very short and sharp.
The shortest amount of time that Andrew had between marathons was one week and that was at the very start of the year back in May, for the Rotorua and Hawkes Bay Marathons.
Andrew says the space in between the two marathons, in hindsight, was too close.
"My legs were okay, but only lasted well to the 20km mark where I hit the wall.
"We ran through vineyards for about 12kms and my legs were pretty sore after that. During the last 5kms I had to walk."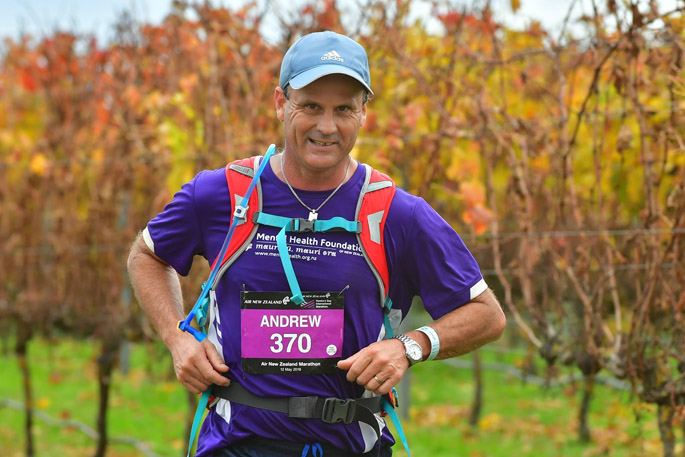 Andrew competing at the Hawkes Bay Marathon. Image supplied.
Competing in marathons only a week a part wasn't the only obstacle that Andrew had to face over the course of this year.
Andrew was set to run the Taupo Marathon in August but had to pull out due to injury.
"I pulled my hamstring, three weeks before the Taupo Marathon. I wasn't sure if I would cancel but two weeks prior I knew I had to pull out.
"I keep pretty fit and have a 'we can do it' attitude so that helped me get through my injury and to carry on completing my goal of running five marathons."
Andrew says it took two – three weeks for his injury to heal, but competed in the Tauranga and Waihi Off-Road Marathon in September and November.
Showing off all five medals that he accomplished over the year, Andrew says he was well organised for each event, and was prepping a couple of days before the race.
"I was well prepared for each race and had a plan for each event.
"There was never a moment when I woke up going 'I don't want to do this', I woke up wanting to compete. Nerves for the run were a big part but also so was the excitement for the race and for the unknown.
"After each run I felt pretty sore in the legs and was tired overall, but I was very pleased just to complete the marathon, as I'm 47 years old and not getting any younger.
"Interestingly enough, I wasn't so sore after running the Waihi Off-Road Marathon as this was taken at a much slower pace but it was tough mentally, but I got through it so I'm very pleased.
"This has been a major goal achieved to travel in my van and complete running five marathons within 12 months."