Bay of Plenty residents have had a busy year, with a handful being recognised in the 2019 New Year Honours List.
Many being Western Bay residents with one from Katikati, Pyes Pa, Welcome Bay, Gate Pa, Te Puke, Bethlehem and two from Whakatane.
Some of these include Tauranga Volunteer Coastguard volunteers Pete Donaldson and Patricia Roser.
Pete, a Katikati local, has been recognised for his volunteer Coastguard work along with Pat.
He says when he heard the news he considered turning it down.
"To be honest my initial response was to turn it down, it's not my thing –especially when you're dealing with something that is as team-based as Coastguard is."
Pete's work with TVCG spans back as far as 1995.
"I started as a volunteer crewman and at the time we were in the process of building our first ever dedicated rescue boat. Prior to this volunteers all used their own boats.
"We're still run by volunteers now, but it's a much different organisation. I'm still a volunteer skipper and I do crew training."
Pete says he's done this since 1998.
"Years ago I met a volunteer sea rescue group in Maketu. The group was mainly made up of volunteer firemen and run by the volunteer fire chief.
"I went down to show them our little inshore rescue boat because at the time they only had a retired surf club boat to work in and it was a bit small to be going out to sea in.
"As a result of that they then did their own fundraising and built their own similar rescue boat to the one I had brought along."
It also probed the Maketu group to consider joining Coastguard.
"They wanted to do some training and because I was the volunteer training officer for Tauranga I volunteered to do it, with the main reason being if they chose to join Coastguard all the training they did with me was counted towards the expectations the Coastguard organisation has for their crews.
"That was a fairly big impact on my time – it was more than an hour's travel time to Maketu from where I live in Katikati, I'd do my days' work then head down to Maketu to do training.
"Fortunately they are up to speed now, they have their own trainers and so now I only go down there for social events and to have a catch up with some of the great guys we have there.
"I've managed to get another few guys to put their names forward and be instructors too, so it's not just me nowadays."
TVCG, while aligned with the national body is a standalone entity and as such it has a governing board. Pete says he is also a member on that board.
"I also help do maintenance work on the rescue boats one day a week."
Pete says he couldn't count the amount of hours he puts in to volunteering.
"I got involved because I found myself with a bit more spare time than normal and I always had the belief that if you live in a society you should contribute to it – not just by your job.
"I've always had a love and passion for the sea so it just seemed a natural fit to join TVCG as a rescue boat crewman.
"This is what got me there, but what keeps me here is the volunteers – they come from all different walks of life but what makes it great is the fact they're not there because they are getting paid they are there because they want to do the right thing and help out – it makes it like a second family."
He says one of the most important parts of being a volunteer for TVCG is having support for it.
"A big part of who I'm thankful to for this award is my wife and two boys, they've been fully supportive and that makes it easy.
"When you come home from a long day at work then have to rush out on the rescue boat it's nice to know you have that support.
"My family always understood this is my thing and I'm passionate about it. It was never a problem and I'm very lucky.
"We live out in the country and just a few months back my crew and I got called out to help paramedics get out to Matakana Island in atrocious conditions because the rescue helicopter couldn't fly in it. We were able to bring a very sick man back to hospital.
"That's one of the things my wife can appreciate, if we don't go someone's life is on the line.
"That's what motivates all the guys. We do a lot of routine jobs like helping people who have run out of fuel and what not but the main reason we're there, what we are trained for and our driving ambition is saving lives and helping others out of serious trouble.
"It's a big ups to all of my family and all of the volunteers who are my second family."
Similarly Pat Roser has also been recognised not only for her work with Coastguard but with children too.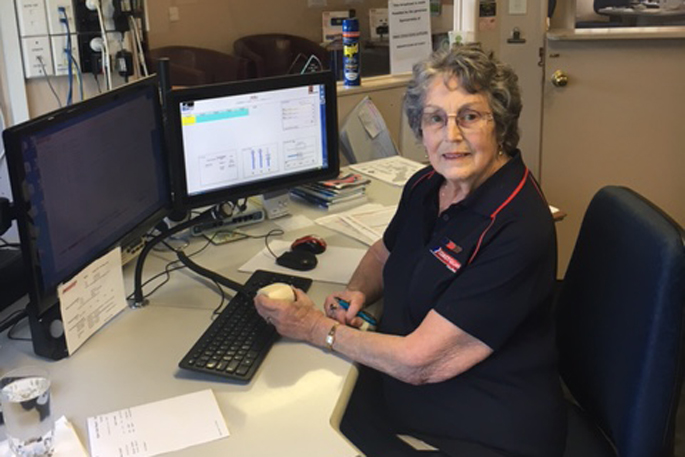 Pat Roser been a volunteer radio operator at TVCG since 1998.
As part of its service TVCG provides a comprehensive radio and rescue service with radio operators logging trip reports called in by boat users. Pat has been a volunteer radio operator at TVCG since 1998.
For the past 17 years Pat has been an operations training officer, training more than 50 operators to New Zealand VHF Operating Standard.
Until 2017 TVCG provided an evening radio service from home bases and Pat helped to facilitate this service for Bay of Plenty boat users, over many evenings.
She has put on a number of functions and fundraising events for the club.
In addition Pat has also been a wish-granting volunteer for Make-A-Wish, assisting to help more than 40 wish children and their families over the past 10 years.
Another Tauranga local Alan Hitchens, made the list for his services to journalism and the community.
Alan says it was such a surprise and a privilege to make the honours list, and he certainly did not expect it.
"The award is also an honour for a great number of people who have worked with me over the years. I have great admiration for the young people with whom I have been associated in journalism in New Zealand and overseas.
"The young are constantly making a vital contribution to journalism, particularly young women these days. They are full of ideas and enthusiasm."
Alan was Chief reporter and then News Editor for 1964 to 1970 of the Wellington morning newspaper the Dominion. He was editor of the Sunday News in the 1970s.
Alan was also the General Manager if News Media Auckland from 1986 to 1994, overseeing newspapers including the Auckland Star, the Sunday Star, the Sunday News, Truth and horse racing magazines.
"Newspapers, particularly Sunday News in its halcyon days, gave me an exciting and happy life. Hopefully, newspaper readers enjoyed the papers we produced. Circulations suggested this was the case," says Alan.
"There have been some sad times. Closing Auckland Star was heart breaking. We were so close to making it work. As today's newspapers struggle, I see young journalists taking to new technology as the future of dissemination of news. But I hope there will always be some form of printed word out there. Newspapers are an integral part of our democracy."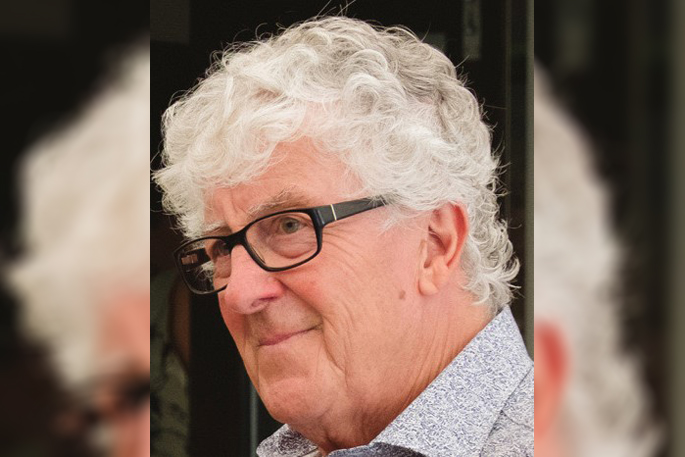 Allan has been in the newspaper industry as an editor and mentor of young journalists.
Within the local community, Alan has been a member of the management board of the Pauanui Sports and Recreation Club and helped guide the club through some troublesome years.
He joined the Hikuai District Trust and over the course of nine years he was responsible for the promotional advertising for outdoor concerts held by the trust that raised $150,000 for the Westpac Rescue Helicopter.
Alan also provided guidance in 2012 for the trust's project to build a community cycle way from Pauanui to Tairua.
Alan says his community efforts have come about in his retirement.
"I have been most impressed with the effort retirees put into their communities. This country would not be the same were it not for the efforts of elderly folk who give of their expertise.
"It gives me pleasure to see the heavy use of the Pauanui to Tairua cycle trail after years of effort by a group of local retired people, men and women. It wasn't easy, but we never gave up!"
Welcome Bay Reverend and JP, George Bryant has also been recognised for his services to publishing and the community.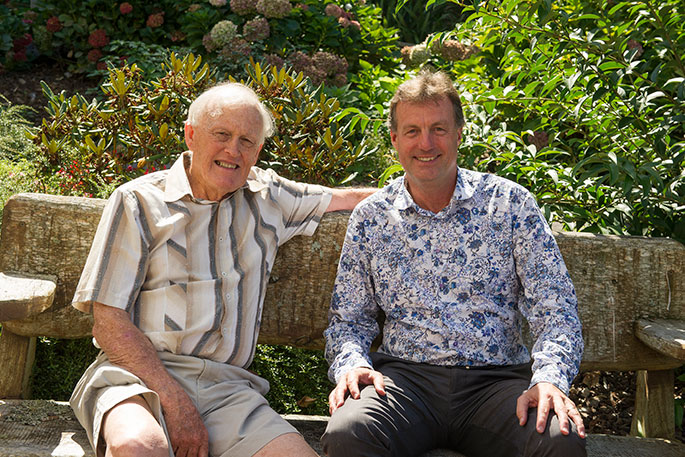 Reverend Bryant is known for his Christian publishing in NZ and has contributed to a range of community organisations. Here he is pictured with Kelvin Clout who features in his book the Agent of Change.
Reverend Bryant has been a pioneer of Christian publishing in New Zealand and has contributed to a range of community organisations nationally and locally in Tauranga and Whangarei.
He is founder and co-director of publishing company DayStar Books, a non-for-profit company that assists authors in publishing books which will assist society in a positive way.
He previously chaired Daystar Christian magazine from 2002 to 2004 and has authored 22 books.
One of these, written earlier this year features deputy Mayor Kelvin Clout who he believes is making a real difference to the way we live.
Reverend Bryant says he has received a few rewards for community work before but to receive one from the Queen surpasses the other by far.
"Over the decades I've worked very hard in several occupations and in community organisations to help improve society, but never expected to be rewarded for my work. However I'm excited to think that some people have noticed my efforts and have thought me worthy of such an award.
"During the last year of primary school I made a boyish vow that whatever I subsequently did in life I wanted to help people. I've tried to do what I can ever since to fulfil that vow."
Reverend Bryant has been a Minister at Welcome Bay Community Church from 1999 to 2004 and is currently honorary assistant pastor at St Enoch's Presbyterian Church Tauranga.
He has been chairman of Whangarei Birthright and was Vice-President of Birthright New Zealand from 1986 to 1990.
He has been involved with Northland Mental Health Trust and was a member of the Education Board of World Vision New Zealand from 1996 to 2000.
He was a Whangarei city councillor from 1983 to 1989, during which he was chairman of town planning and president of the Council of Social Services.
He has also been president of Rotary clubs in both Whangarei and Tauranga.
In addition he was also chair of the Bay of Plenty Symphonia from 2015 to 2016.
Gate Pa local Heather Mclean has also been recognised for her services to genealogy and historical research.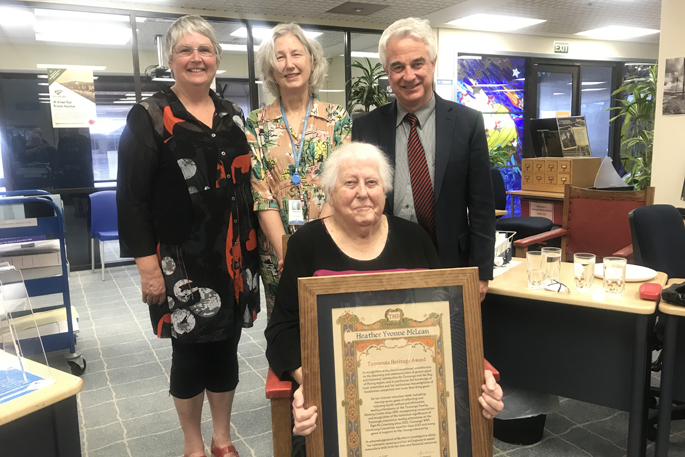 Heather McLean was presented with the Tauranga City Council Centennial Heritage Award by Julie Green (Tauranga Historical Society chair), Stephanie Smith (Tauranga Library) and Mayor Greg Brownless in November.
Heather has played a key role in transcribing headstones in Bay of Plenty cemetaries over the course of 30- years for the benefit of family historians and researchers.
She has volunteered two days a week with Tauranga Family History Library since its inception in 1993 and also volunteers every Wednesday at Tauranga City's Cemetary Records office collating death and cremation notices.
In 2016 she completed a database of air-related deaths from 1899 to 2016 for the New Zealand Society of Genealogists.
Since 1996 she has organised weekend schools for teaching genealogical research and once a month holds a meeting in her home to help instruct beginner genealogists.
Alongside her genealogy work Heather is also a keen member of the Tauranga Historical Society, often giving talks on the history of Tauranga.
She has been on the Tauranga World War One Centernary committee since 2013.
This work has involved her helping to restore the headstones of three soldiers in a local cemetery that had been destroyed.
Earlier this year she was presented with the Tauranga City Council Centennial Heritage Award for her contribution to local history and genealogy.
The award was presented to Heather by Mayor Greg Brownless in the NZ Room at Tauranga City Library, with Tauranga Historical Society President Julie Green and Stephanie Smith speaking about Heather's work and the award.
At the time Stephanie, who has been a past president of the Tauranga Historical Society said it was more than fair Heather be recognised for her work.
"Heather has done so much I don't really know where to start," says Stephanie. "She was one of the first members of the Tauranga branch of the NZ Society of Genealogists.
"Heather, we refer people every day to the headstones projects that you've done in Bay of Plenty cemeteries," says Stephanie. "You've kept track of deaths.
"Not content with just recording information that's on the headstones, you've also cleaned them. You probably have a special relationship with 'Wet and Forget'. The library staff have much reason to thank you.
"Ever since I've been here, you have been knowledgeable and approachable. When our research skills run out we ask Heather.
"We don't bother Heather with things we can find ourselves, but if there's a brick wall, something deep and difficult, then Heather is your woman. She has fantastic skills. She once said to me if she wasn't a genealogist she'd be a private investigator.
"Over the last few years, Heather's been working at Pyes Pa and keeping track of the cremations. The staff have been so impressed with her work that they have placed a seat with her name on it in the gardens. She's also been a very generous donor of the Historical Society.
"Heather has a great generosity of spirit. Family things are emotional and Heather, you've put yourself out to assist researchers in an extraordinary way."
Te Puke resident Valerie Burrell is being recognised for her services to the community and horticulture.
Val has been contributed to community organisations within Te Puke and at regional and nation levels since 1977.
Val has been active with the New Zealand Women's Institute for 57 years and was Te Puke/Paengaroa President for 12 years, amongst other roles.
Val says she was surprised that she was recommended for an award as she is not a NZ citizen.
"I am a permanent resident having lived and worked here for 62 years.
"I think as a compulsive committee person and seemingly unable to say no, I have become involved in so many groups and for many years. This is their way of showing their appreciation.
"I am feeling very humble and a bit overwhelmed."
Val has been Regional President of the Tauranga Federation for four years and served on the National Executive from 2013 to 2017.
She has been involved with the Nation Dahlia Society of New Zeeland for 33 years and has been Northern Secretary, National Secretary/Treasurer, and Privacy Officer.
She has been National Treasurer since 2010 and over the years has assisted with producing the society's magazine and various fundraising efforts.
Her 40 year involvement with the Floral Art Society of New Zealand has included holding the positions of regional and local treasurer.
Val was a member of the Te Puke War Memorial Hall Committee for 10 years.
John Pullar is being recognised for his services to the community.
John was a Whakatane District Councillor from 2013 to 2016, and has also been involved with a range of community organisations within the district.
John has run a successful construction business and his latest community role has been leading a team of volunteers in the Liveable Homes Project.
The project is a response to the damage caused by ex-tropical cyclones Debbie and Cook both of which caused widespread damage throughout the region.
John was involved with fundraising and coordinating the scope of work and rebuild of 17 home within a six-month period.
He was involved in the construction phase of Project Hope, a community-led initiative to build a cancer treatment centre at Whakatane Hospital and his expertise as a building project manager saw the facility build on schedule with substantial cost savings.
This resulted in a considerable sum donated to Eastern Bay Hospice.
John also chairs the Kiwi Trust which has overseen a strong repopulation of the bird in the region, along with building a brand contribution to economic development through regional tourism.
He has chaired the Community Liaison Committee of the Bay of Plenty West Rotary club since 1979, was president in the late 1990s and has also been involved in a number of Rotary fundraising and humanitarian projects.
Pouroto Mgaropo is another Whakatane resident who is being recognised on the 2019 New Years Honours List. He is being recognised for his services to Maori and governance.
Pouroto is chairperson of Te Tawera Hapu Trust and was a driving force behind the re-establishment and upgrading of Iramoko Marae.
Pouroto has been deputy chairperson of Te Runanga o Ngati Awa, was involved in Ngati Awa Treaty settlement negotiations, help positions on Ngati Awa's Arts Council and various other committees, and was previously chairperson on Ngati Awa Education Grants Committee.
He was been involved with kapa haka in a range of roles, including as tutor and leader of Te Tawera Hapu, as a composer of contemporary and traditional waiata, and as leader of kapa haka teams that performed in the United Kingdom in 2008 and 2009.
He has been a trustee of Tuariki Marae, Umuhika Lands Trust, Pou Whakaaro Trust, and Awakaponga Cemetery.
He has been chairperson of the Maori Mataatua Consultative Committee for Pacific Health, Pokerekere Maori Lands Trust, Te Kohika Art Collection, Whakatane District Council Iwi Liaison Committee, and Eastern Bay of Plenty Primary Health Organisation.
He has been a member of Whakatane District Council New Zealand Creative Arts Committee, the Community Arts Council and Whakatane and District Historical Society.
Pouroto has held numerous cultural advisory positions for individuals and organisations ranging from District Health Boards, Ministers of the Crown, media organisations, and private businesses.